Retail
---



Buchanan Galleries : Published 04/11/08
Official site
Planning ref. - 07/01189/DC
Developer - Land Securities/Henderson
Architect - BDP
Height -
Floor space - 400,000sq/ft (1 million sq/ft total)
Cost - £400 million
Location - 220 Buchanan St, North Hanover St, Killermont St, Cathedral St, Dundas St and Cowcaddens Rd
Status - Approved
Start date - 2010
Completion date - 2014
GCC have granted outline planning consent for expansion of Buchanan Galleries encompassing several key elements.

Feature Atrium
The present Concert Hall Steps are to be removed and the space enclosed by a glazed signature, designed to create a dynamic new entrance space that acts as lynchpin on the Sauchiehall/Buchanan St axis, providingnew focus for both,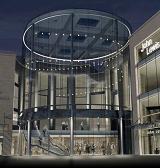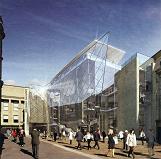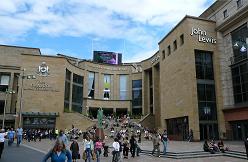 Opinion
A considered response to formalise the present informal meeting point sees the indented hemisphere of the Concert Hall transformed from slunk capitulation to context into a proud celebration of civic prominence. Representing the kind of forceful interjection which fg generally applauds. Expansive use of stone within the pre-existing centre though welcome is overbearing, puncturing this dead weight with light extrusion has merit. Particularly if open aspect from Buchanan Street to the to-ing and fro-ing of retail activity can be effected, come nightfall this will present a far more engaging dynamic. It is interesting that design consciously or no reflects the rival St Enoch Centre fin, squaring off against one another at the front line of a looming retail war.

Potential loss of the spread of steps leading to the Concert Hall would represent significant reduction in outdoor seating capacity from which any future proposal would benefit by reintroduction. A rooftop viewing gallery and cafeteria, though enhancing amenity and vista, does not equate to proper street level interaction. Replacement steps could not fan out in approximation to the existing situation to provide this capacity, ideally with bins, seating, tables etc designed in from the outset. If contained within the embrace of the atrium this would enhance the spaces year round usability.

Eastern Expansion
The Mall will double in size by encompassing the present 2,000 space multi storey car park and airspace above Queen Street station. Vue Entertainment have agreed to take 35,000sq/ft of space.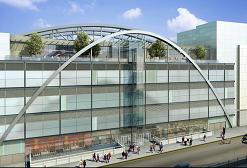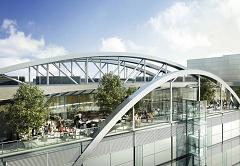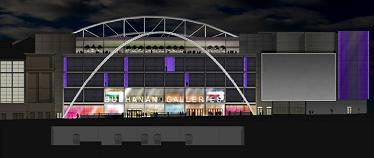 Opinion
There exists exciting potential to rectify the calamity of the brown brick elephant on North Hanover Street by restoring to the urban grid coherent public realm and function. Cathedral Street is a primary node to the heart of the city centre and the existing Centres Service bays and gloomy underpass do not acknowledge this. The listed Queen St Station arch presents planning hurdles as do weight restrictions on the Cathedral St over bridge. Repairs to the bridge must be paramount and ideally the entirety of the below rail lines covered, freeing floorspace, blocking the existing unsuccessful rear facade, bringing activity down this dead section of street with the possibility of reflecting the arch in new build.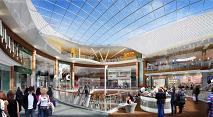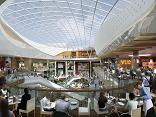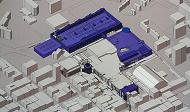 Buchanan Bus Station
Parking will be relocated to a new 3,000 space multi storey above a redeveloped Buchanan bus station interconnecting with the existing Concert Sq car park. The station itself will feature a new concourse, lounges, shops and cafes and will be connected by bridge to Buchanan Galleries. Shop fronts will be created on Killermont Street along with new pavements, lamposts, seating, landscaping, planting and public art, homes will front Cowcaddens Rd.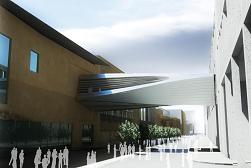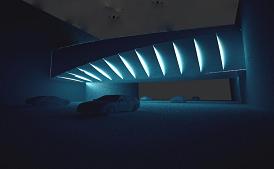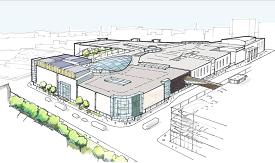 Opinion
The bus station plans are vast constituting one of the largest single redevelopments seen in the city, student housing along Cowcaddens Rd and retail at Killermont St may help mask the worst of the car parking although it would have been better placed underground next to Queen Street Station. The effect on the bus station itself can only be negative with inevitable deterioration in ventilation and light exacerbated by excessive parking provision. Sensible reduction would allow, at the very least, lightwells to be sunk through the concrete mass. Apparently homes fronting Cowcaddens Rd to buffer the car park are being blocked due to concerns over noise and vibration issues, this is short sighted as any issues can be accounted for in construction and incurred cost is more than offset by benefit to the immediate environment of Glasgow Caledonian University. The link bridge entranceway excludes those not arriving by car and does not respect the street, shoppers and mall would be best served by focussing energies on a grand singular street level entrance.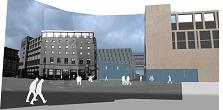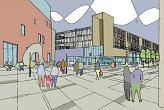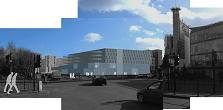 Buchanan Street New Build
A small extension to the south straddling Buchanan and Dundas St's. In addition intent to glaze over Buchanan Street has been aired by Glaswegian businessman James Mortimer, rationale behind such a move being to bring al fresco dining and a more comfortable pedestrian experience by apeing the successful arcade format. For such ambition to be realised however will require engineering solutions sympathetic to an irregular and historic roofline whilst preventing impediment of the axial vista by support columnns, coupled with the not inconsiderable challenge of marshalling support from retailers in financing the endeavour.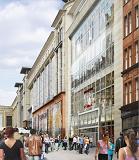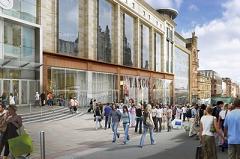 Opinion
Proper interaction between Buchanan Galleries and the first class adjacent transport infrastructure is essential and this site directly above both Buchanan underground and Queen St rail lines is critical. The present subway entrance impedes flow around a critical section of Buchanan St, a new entranceway incorporated within the basement of this build could help fully integrate underground and main line train services whilst drawing enormous captive custom.

Opinion
Glasgow's raw numbers retail floor space expansion has been impressive even if the spaces housing them are less so. Of the new arrivals Buchanan Galleries is the most significant as like it or not it will represent significant expansion of the city centre which should grant it a degree of staying power where some of the more ephemeral out of towners may suffer. An expanding economy drives such change and to a large extent such developments feed off one another, investment thus far has only served to escalate an ongoing retail war. That said no war is fought without casualties and some form of Darwinism is likely to manifest itself before long but such churn is necessary for the city to settle at a higher level of retail provision.


St Enoch Centre : Published 08/06/07
Official site
St Enoch East
Planning ref. - 06/02342/DC, 07/01587/DC
Developer - Mills Corporation/Ivanhoe Cambridge
Architect - Cooper Cromar
Height - 4 floors
Materials - Masonry, glass and ironwork
Floor space - 250,000sq/ft (1,000,000sq/ft total)
Cost - £100 million
Location - 1 St Enoch Centre/2 Stockwell Place
Status - Under Construction
Start date - June 2007
Completion date - End 2009
Proposals aim to establish the St Enoch Centre as Glasgow's primary retail centre by constructing a bold new entrance complementing ongoing regeneration of Dixon Street. New entrances will employ harmonised design heightening brand identity further enhanced by innovative lighting techniques lending the centre impressive night presence. Internally the complex will be refurbished to provide updated retail accommodation and expanded leisure facilities.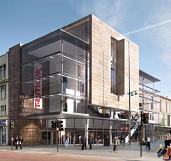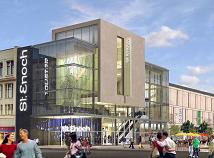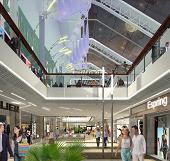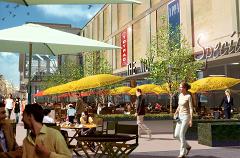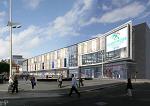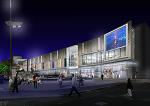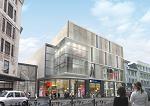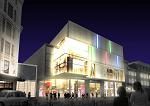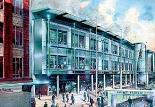 Surface parking to the Centre's eastern Stockwell Street boundary will be brought back into economic use. Lands off vision opposite will see Casino, restaurant, cinema, bars, residential and leisure led regeneration. St Enoch Square will be transformed into an events space with large multimedia screen, entrance canopies to St Enoch Underground Station are to be replaced with granite and glass structures complementing those at Buchanan Street and a circular grid of water jets and uplighters will occupy the southern end of the square. It later emerged that attempts spearheaded by Ivanhoe Cambridge to facilitate interplay of an enhanced St Enoch Centre with the subway system by way of a dedicated entrance have been obstructed by notoriously militant subway employees. Fear of obligation to provide a 24/7 service has stoked determination to aspic current favourable terms, feeding wider calls for urgent mechanisation of the system in order to ease the burden of exorbitant staffing costs.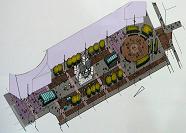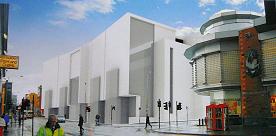 Opinion
This extension can only improve upon the present amenity of St Enoch's Square particularly with the replacement of an existing wall of stairs and service yard with associated bar, outdoor café and multimedia screen. It's also heartening to see large scale retail investment continue in the city centre after the spate of out of town development. Design ambition has been tempered from an initial 7 storey fin down to a 5 storey atrium entrance which succeeds in providing useable floorspace but fails in becoming a landmark.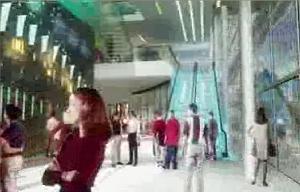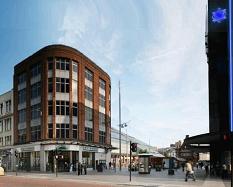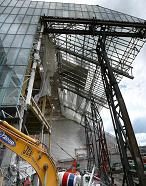 This lack of height is also apparent along the St Enoch Sq frontage where it should have been possible to at least equal the presence of existing buildings along the western square boundary, some office/residential/leisure space could and should have been stacked above the retail. Internally higher levels could have been further decluttered exposing inner retail to greater light and volume maximising the asset that the great roof provides in distinguishing this mall from competitors.


East Kilbride Town Centre
Developer - Retail Property Limited Partnership
Architect -
Area -
Retail space -
Cost - £400 million
Location - East Kilbride Town Centre
Status - Approved
Start date - End 2006
Completion date - 2012-13
East Kilbride's Plaza tower, 13 floors, 46m (150ft), is set to be demolished to make way for retail/leisure expansion, council offices and health centre. In addition to commercial enhancements a new civic heart will be created for the community by the inclusion of a new theatre, civic hall, conference/art centre's, library and town square. The new look Plaza will be 9 floors.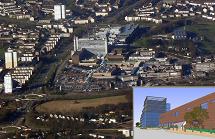 Silverburn : Published 28/10/07
Official site

Developer - Retail Property Holdings
Architect - BDP/JM Architects (Masterplan)
Area - 75 acres
Retail space - 1,000,000sq ft
Cost - £350 million
Location - Brock Road/Cowglen road/Muirshiel Crescent and Peat Road
Status - Complete
Start date - Summer 2005
Completion date - February 2008
The UK's first significant out-of-town development in over a decade will bar lets to downmarket stores, employ an electromagnetic perimeter fence which automatically locks trolley wheels to prevent discardment and introduce an electronic parking system whereby vacant spaces are illuminated. Debenhams, Marks and Spencer and the largest Tesco in Scotland anchor the centre which consists of some 95 shops, 13 cafes, restaurants and bars. A Winter Garden acts as the centrepiece of the scheme enclosed within a dramatic space of Scandinavian wood and glass arranged over a wooden walkway and landmark water feature cascading over a curtain of silver beads. Externally the Centre is fronted by a rockface under lightweight roof alongside landscaped walkway. Internal spaces are finished to a high standard with white marble, black granite and limestone.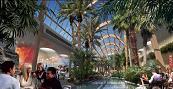 Opinion
Glasgow's status as the UK's 2nd largest retail centre is under twin threat as domestic retail spend is dissipated to new peripheral developments and rival cities redevelop their retail cores with greater pace and distinction. The cities latest mall boasts a greater degree of design input and generous budget producing a better than might be expected product but offering little in respect of genuine innovation and despite the glitz and hype still proves to be a soulless and depressing experience. The scheme will certainly be of considerable economic benefit to Pollok but the environmental impact promises to be severe with heavy local congestion and inflated carbon emissions, the consequences for the wider city also have to be addressed and raises questions as to whether the city centre should prosper at the expense of outlying areas and vice versa.









West Nile/Buchanan Street : Published 17/11/06
Planning ref. - 06/02583/DC
Developer - Atlas Investments
Architect - ADF
Height - 11 floors (West Nile Street)
Office space - 2,100 sq/m
Cost - £30 million
Location - 104-126 West Nile Street/ 185-217 Buchanan Street
Status - Approved
Start date -
Completion date -
Atlas have emerged victorious in their long running legal battle with SCPDL, compulsory purchase orders can now be served enabling this scheme to proceed. Standard Life House will rise opposite on West Nile street, Site image shown courtesy Gary, Odeon and 2 West Regent Street complete the redevelopment of the West Nile Street/West Regent Street intersection.







Opinion
The West Nile Street build will be constructed above and around an existing facade, ADF's scheme respects this with a sympathetic stone finish and set back new build floors, this additional height gives the street a sense of "completeness". Unfortunately the residential "tower" element contains a ground floor garage entrance, not very urbane but probably unavoidable, the existing site has a similar entrance.

Prior Designs
gm+ad sketch showing potential of West nile street site, unfortunately scrapped for being too adventurous. Would have complemented Radisson and built a contemporary glaswegian style. 3DReid's alternate scheme for SCPDL. Note redesigned entrance to Buchanan street subway station. Cancelled 17 November 2006.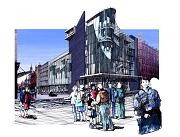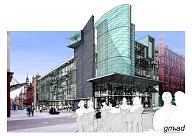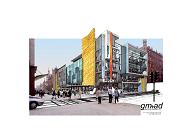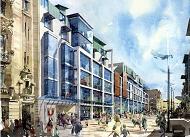 Hamilton Retail/Car Park
Developer - Ediston Properties
Architect - Cooper Cromar
Height - 4 floors
Floor space - 64,000sq/ft
Cost -
Location - Low Patrick Street
Status - Proposed
Start date -
Completion date -
The scheme incorporates 195 parking spaces over 2 floors at roof level, with pedestrian access from Regent's way Shopping Centre. Also in Hamilton a new hotel is proposed and the council chambers have been refurbished.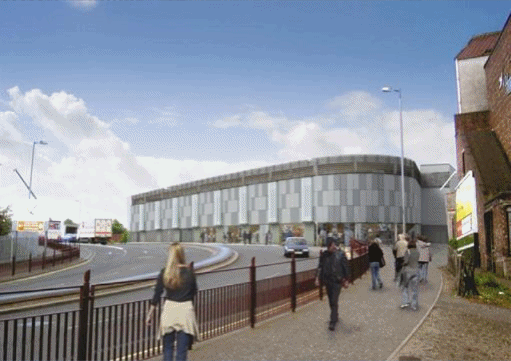 Linwood
Official site
Planning ref. -
Developer - Tesco Stores Ltd
Architect - Ian Burke Associates
Materials -
Cost -
Location -
Status - Proposed
Start date - 2009
Completion date -
The desolate Linwood Shopping Centre is set to make way for a new mixed use development. The new Centre will include a town hall, Tesco supermarket, health centre and retail provision.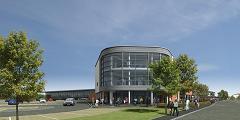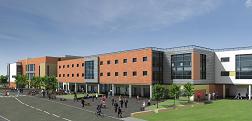 Jamaica Street Car Park
Developer -
Architect - Farrell and Clark
Height - 7 floors
Cost -
Floors space - 4,970sq/m (53,500sq/m)
Parking spaces - 694
Location - 21 Jamaica street
Status - Complete
Start date -
Completion date -
Ground floor retail is provided.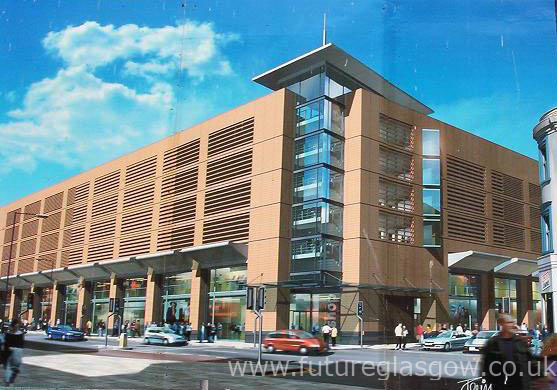 Rutherglen Park
Developer - Vico Properties
Architect - Cooper Cromar
Height - 4 floors
Floor space - 150,000sq/ft Commercial/100,000sq/ft Tesco
Area - 30 acres
Total homes - 120
Cost - £30 million
Location - Dalmarnock
Status - Proposed
Start date -
Completion date -
The scheme incorporates 120 residential flats and is sited across the river from the proposed Dalmarnock tower.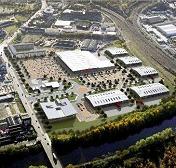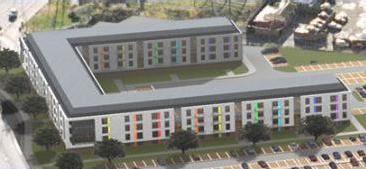 Antonine Centre
Official site The development will contain over 30 stores, foodcourts and 3,000 parking spaces all linked to the town centre via lifts, escalators and walkways.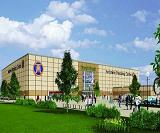 Glasgow Fort : Published 23/09/07
Official site


Developer - British Land
Architect - Cooper Cromar
Floor space - 175,000sq/ft (400k Total)
Cost - £25 million
Location - Auchinlea
Status - Proposed
Start date -
Completion date -
Occupying a semi circular plot, the outer circumference houses enclosed retail units fronting an inner ring designed to mimic a traditional High Street with the remainder of the site surrendered to surface parking. Living up to its name the development occupies an elevated position protected by a perimeter of refractive mettalic scales.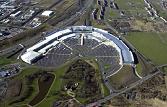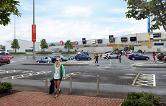 Opinion
By the dismal standards of big box retailing Glasgow Fort is considered something of an exemplar with an imitation High St acknowledging desireability of a more traditional urban environment. This being accepted it seems strange that British Land didn't adopt a real High Street connecting directly with neighbouring housing schemes, as is the complex is architecturally and physically introverted from the sprawling mass of low desireability housing. The area is crying out for a focal point and Glasgow Fort doesn't deliver.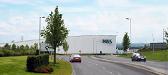 Ruthven Lane : Published 04/04/09
Planning ref. -
Developer - Ruthven Property Partnership
Architect - Riach Partnership Ltd
Usage - retail & commercial
Materials - Pitched slate roof, rendered walls and elements of brick, timber and aluminium
Cost -
Commercial Space -
Location - Dowanside and Ruthven Lane
Status - Approved
Start date -
Completion date -
A row of back street retail units could be set for the chop in favour of a two storey mixed use scheme combining replacement retail provision with upper level office space. It is feared that many independent shops and businesses will be unable to continue trading if rents are raised and it will see the loss of several old byres, thought to have given Byres Road its name. A lockable barrier will control access from Byres Road.