Mixed Use
---



Savoy Centre : Published 24/03/09
Official Site
Planning ref. -
Developer - PBN Property
Architect - Povall Worthington
Materials - Patinated copper, glazing
Height - 30 floors (109m)
Cost - £80 million
Total beds - 221
Commercial Space - 70,000sq/ft
Location - Renfrew, Hope and Sauchiehall streets
Status - Proposed
Start date -
Completion date - 2014
Unpeturbed by the wreckage of previous attempts to reach for Glasgows skies PBN Property plan to renovate existing retail provision within the Savoy Centre and extend upon it with a mixed use hotel/commercial tower on the corner of Renfrew and Hope St's, opposite Broadway. Built atop a splt level retail podium the Savoy Hotel rises through the first 16 level to a dramatic double height restaurant before continuing as office space to a further panoramic restaurant in the crown which will house a tri colour LED strip capable of displaying messages and illumination. A sheer glass facade is broken by horizontal indents articulating floor level and a miniature spire crowns the taller of the towers. Visual interest is attained through a course of alternating glazed panels encasing stairwells in a mirror of the patinated copper podium. An obtrusive high level walkway over Renfrew Street would also be swept away under the plans.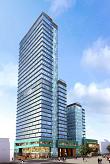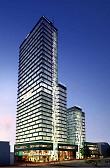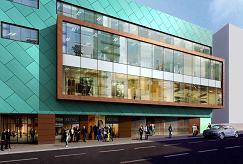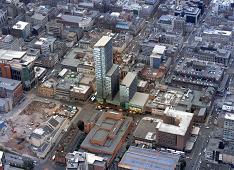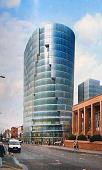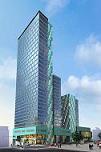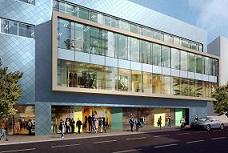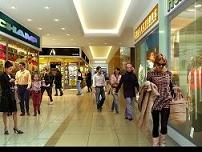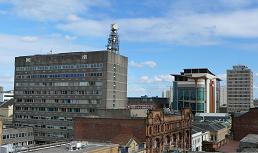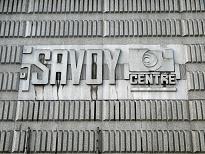 Previous design
Decision to retain the not fit for purpose bones of the Savoy Centre leads to Uncomfortable proximity of old and new resolved by narrowing the girth of the lower portion of new build tower or, ideally, razing the existing structure entirely. Building tall on such an elevated site breaks convention of locating talls toward the Broomielaw and Charing Cross but fits the precedent set by such architectural luminaries as Cineworld and St Andrews House.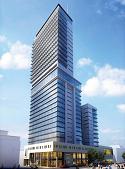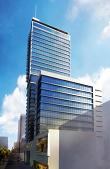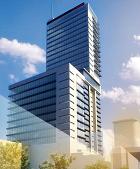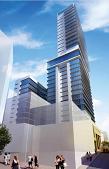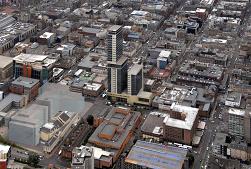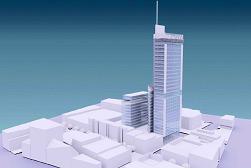 Anderston Masterplan : Published 29/02/08
Official Site
Planning ref. - 05/04166/DC / 08/02389/DC
Developer - Taylor Woodrow
Architect - Aedas (Masterplan) & Burnet Bell (Refurb)
Graphics - Pixel Image (Argyle St West & Internal perspectives)
Usage - Commercial, hotel, residential. multi storey parking, leisure and retail
Materials - Precast portland stone effect concrete, modular ceramic rainscreen cladding and glazed curtain walling (Cuprum) & curtain walling with insulated infill panels and insulated render (refurb)
Height - 20 floors, 62m (Residential)/ 7 floors, 31.8m (Commercial) (Cuprum)
Cost - £35 million (Cuprum) & £7m (Refurb)
Total Homes - 122 (Cuprum)
Commercial Space - 96,000 sq/ft (Cuprum)
Location - Cadzow Street/Oak Street at Argyle street
Status - Outline Consent
Start date - 2009-13
Completion date - Autumn 2008 (Cuprum)
Negotiations are ongoing between Taylor Woodrow and Marriott International for aquisition of lands adjacent to the existing Anderston masterplan area. An official decision has yet to be made but with Marriott keen to remain competitive in a rapidly expanding market currently scouting for premises and Taylor Woodrow eager for tenants, marriage would convenience both parties subject to amicable terms. Relocation to Waterloo St replacing an existing decayed podium structure with a purpose built ~30 storey tower would grant Marriott dominance over a triumvirate of hoteliers following similar moves by sector rivals Hilton and Holiday Inn lending developmental credence to the fabled tortoise and hare.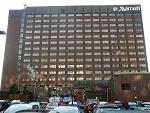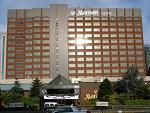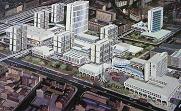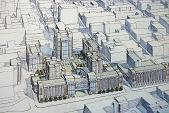 Cadogan Square can hopefully reurbanise this present, desolate, section of west Argyle Street by inching the city centre further toward Charing Cross. The office component will have an internal courtyard functioning as surface car park, ie no underground parking. Cadogan Square is situated two blocks up from The Bridge.










Original Cadogan Square designs showing use of modular ceramic rainscreen cladding, copper rainscreen cladding and copper.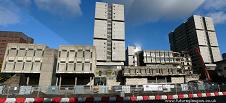 Structural repairs, including overcladding and re-roofing, are to be carried out on the Dalriada, Columba and Davaar blocks of the Anderston estate. The architects have attempted to retain the integrity of the existing buildings by reflecting the highly modelled facades in material and colour selection. Balconies will be enclosed on the principal elevations with tinted glazing at inset levels accentuating horizontality.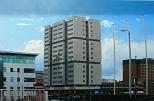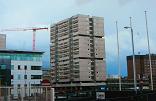 Opinion
Latest visualisations reveal a slightly amended colour scheme with polished concrete at the base of the tower giving way to a darker material, alternating lime green panels scaling the height of the tower are now a common grey giving floor levels greater horizontal accentuation with the illusion of increased glazing and contrast well with the towers verticality. Greater differentiation of corner glazing on upper and lower halves (and playing around with perspective) changes perception of height, this split iteration cumulatively promotes the corner aspect to a greater degree.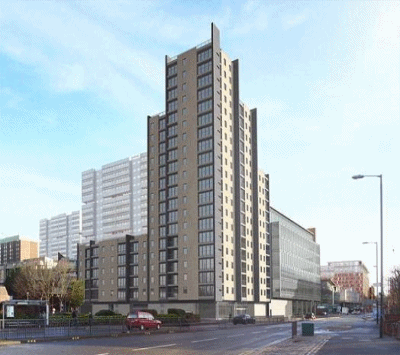 The residential/commercial divide has been lessened with the loss of the copper feature on the offices and now reads more clearly as one building although visual cohesion might be further enhanced by stacking residential above commercial as one block rather two adjoining buildings. That said the use of copper was the originals strongest attribute, suitably industrial, visually tying with neighbouring terracotta and sandstone blocks and more suited to a wet climate. The precast concrete and lime green patchwork now lend an unfortunate impression of refurbished council block or Spanish apartment complex. The northern residential wing could do with being bulked out, ideally to bring it into proportion with the office wing for the tower currently lacks symmetry (although planning constraints rendered this impossible due to loss of light for existing residents), it's also disappointing that utilities prevent the provision of underground parking.


Meadowside Quay
Planning ref. - 08/02395/DC
Developer - Peel Holdings/MGM Mirage
Architect - Chapman Taylor
Height - 36 floors
Floor space - 295,000sq/ft
Total flats - 250
Total beds - 200 (5*)
Cost - £1.2 billion
Location - Confluence of Clyde and Kelvin
Status - Outline consent
Start date -
Completion date - 2011-2016
A revised planning application outlines a triple sided residential tower on a restaurant plinth served by a Fastlink. Complimentary retail and leisure uses would flow out and around the base, connected by covered streets on 3 interlinked levels. Facilities would incorporate a Namco family entertainment area and a 10 screen cinema complex. Offices screen a large multi storey car park at ground and first floor level to arrivals, preventing vehicular penetration of the site. The original dock entrance to the Graving Dock, since infilled, will be restored as a significant feature within Central Square with restored dock gates and stepped sides creating an amphitheatre for people to sit and relax. This public open space provides clear lines of sight to the Transport museum. The curve of the hotel on Pointhouse Quay reflects the geometry of the restaurant and residential crescent on opposing banks of the Kelvin. An extensive podium could house a mooted MGM Casino, landscaped roof terraces opening a vista to the Clyde and Transport Museum to guests. Further west a sequence of three office blocks occupy a diminishing sliver of land.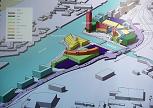 Previous schemes
A crassly overblown lump of classical revivalism would have housed a 3,770sq/m casino, leisure and retail floor space. Fortunately Peels effort to foist a tasteless Trafford Centre death upon the Clyde have been deservedly binned. Ink drawing shown courtesy Crusty Bint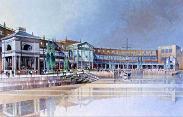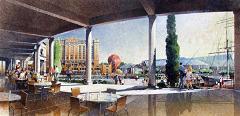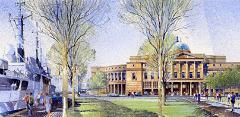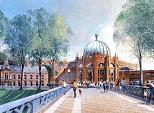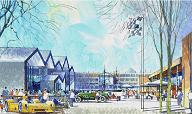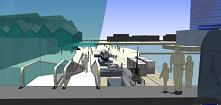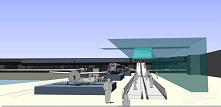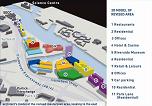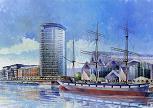 Early 1999 concepts for KPF and Nicholas Grimshaw's Glasgow harbour commercial district featured a cylindrical glass tower, unfortunately ditched as uncertainty grew in the office market, replaced by residential. Landscape improvements are to be made to the Clydeside Expressway. A tram (Fastlink's predecessor) was initially proposed to serve the development.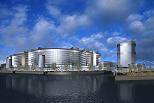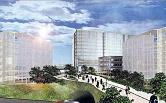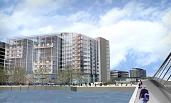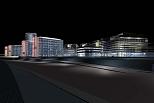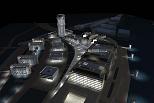 Glasgow Harbour (Phase 1)
Official site
Developer - Clydeport Plc/Bryant/CALA/Park Lane
Architect - Cooper Cromar/RMJM
Materials - White render, terracotta tiles, pannelling and glass.
Height - Tower 1 : 20 floors, ~60m
Tower 2 : 15 floors, ~45m
Tower 3 : 13 floors, ~39m
Tower 4 : 12 floors, ~36m

Total flats - 360 (Bryant) / 173 (CALA) / 155 (Park Lane) / 688 (Total)
Cost - ~£100 million
Location - Partick
Area - 120 acres
Status - U/C
Start date -
n/a
Completion date - 2006
With the collapse of the city's shipyards, Glasgow has been left with an enormous legacy of prime riverfront land for redevelopment. The revitalisation process began in the 1980's with the successful "Garden Festival" and SECC complex. Redevelopment continues apace today with a string of waterfront developments constituting the largest development area in Glasgow. It aims to exploit the present fashion for city and waterfront living by expanding the popular west end district to the Clyde, once again making the river the focal point of the community and bringing back into productive use 100's of acres of derelict land. Infrastructural improvements such as the Clydeside Expressway, Fastlink and Partick Interchange will service the new community. Further expansion is both underway and planned at Peel's Commercial district and the Dandara's Phase 2 site.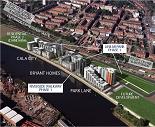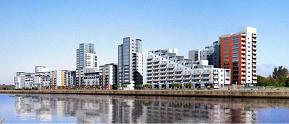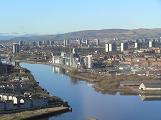 Glasgow Harbour (Phase 2) : Published 12/11/07
Official site
Construction gallery
Planning ref. - 07/03430/DC
Developer -Dandara
Architect - gm+ad
Usage - Residential
Materials - White facing brick, black facing block, render,aluminium curtain walling, white etched glass, black polished granite, glazed and gloss white ceramic terracotta and preoxidised copper
Height Tower 1 : 23 floors, 68.7m

Tower 2-5 : 17 floors, 51.8m

Total flats - 819
Cost - £80 million
Location - Partick
Status - Approved
Start date - Spring 2005
Completion date - Summer 2010
Dandara have reappraised their apartment mix for phases 2 and 3 of gh2o. Market research and sales experience from phase 1 (where 200 of 282 apartments have now sold), has led the developer to reduce the number of 2 bed apartments with a greater emphasis on studio and 1 beds leading to an overall net increase of 49 homes. Related to this change in make up will be a number of significant design amendments, specifically a centrally located reception/security and collection point will now form a public front door entrance to the estate and the central tower is now the black sheep of the family, inverting the symmetrical materials mix of adjacent properties in order that it might act as pivot to phases 1 and 3, this is reflected in the tenemental block to the immediate north which now visually stands apart with the use of alternative materials whilst maintaining physical connection. The use of white brick and stacked windows is deliberately analogous to the sites prior granary buildings, an attempt to invoke the ghost of harbour past.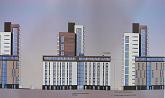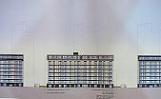 Each tower is divided into copper and ceramic halves to reduce apparent width, with a black central core acting as chimmney feature to extrude the solid granite base. The impetus to build tall stemmed from a desire to increase densities and practical necessities on site relating to sunlight, hence Kohn Pederson Fox's masterplan was deliberately dropped to open up vistas and through light. Some commercial units are provided, opening onto public terraces and squares. Private gardens are provided at the base of the towers. Architect and developer of phase 2 have incorporated superior materials pallette in a workable scheme, glazing is overlaid and criss crossed for detail.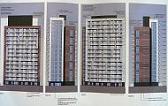 This marks continuing evolution of design from March 2005,










back to November 2004, with a Young and Gault feasiblity from 2003 for CALA.







Opinion
gh2o could be a delicate sell, the design is boldly modernist and makes no apologies for it, this could/has been misinterpreted by the uneducated in a nation and city still suffering the traumas of the 60's/70's an ambition not aided by some poor attention to detail on balcony areas. Stark concrete and grey render on so large an exposed surface belies attempts to counter the critics, that said the target market won't have had first hand experience of that era and the high quality materials and design standards elsewhere may go far towards slaying the ghost of modernism.





Glasgow Harbour (Phase 3) : Published 08/02/07
Developer - Centrex Estates/Oakwood Homes
Architect - Ross Woods
Height - 19 floors
Total homes - 102
Cost -
Location - South St/Ferryden Rd
Status -
Start date -
Completion date - Mid 2009
The scheme incorporates underground parking, despite the Clyde tunnel occupying the western site fringe, ground and first floors are given over to a bar/bistro, swimming pool and gymnasium. The site occupies the NW plot of Glasgow Harbour Phase 3.









Opinion
Much hinges on the quality (or lack thereof) in the cladding, but the increased height gives it some soar, hopefully the rooftop gardens will make the jump to reality and the zinc extension provides welcome curves, if rather grey.

Opinion : Previous design
Unfortunately in design terms this scheme appears to ignore strides made with Glasgow Harbour 2 and instead regress back to the previous costa del Clyde bulk and hulk standard model.





City Wharf : Published 07/12/07
Official site
Planning ref. - 07/01159/DC
Developer - Dandara Ltd
Architect - gm+ad
Usage - Residential and Commercial
Materials - Glass curtain walling, granite, proprietary metal panels and coloured stucco
Height - 4x22 floors
Cost - £180 million
Total homes - 853
Commercial Space - 200,000sq/ft
Location - Cheapside/Warnoch Street
Status - Approved
Start date - Spring 2009
Completion date - Summer 2014
With the announcement that City Wharf has been granted planning consent gm+ad have published plans to suspend circular feature disks to the underside of the Kingston bridge with hard landscaping from public areas extended beneath. Beige granite and embedded recessed LED's indicate through routes past coloured parking bays set in mild grey granite. Planting will shelter, screen and define occupied areas and dramatic uplighting will illuminate the undercroft come nightfall to make it a viable public and leisure space.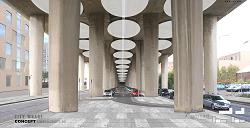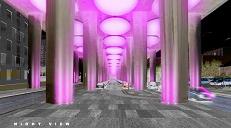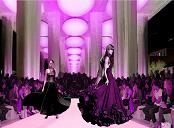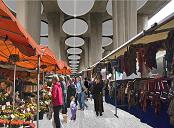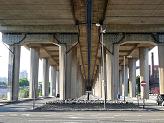 Anderston Quay comprises 6 buildings dominated by 4 residential towers marching down Cheapside St, the bulk of the blocks being massed to sit one to the side of the other preventing an overly regimented appearance and cutting a new central avenue with Warnoch St based around small public piazzas. Commercial space flanks the motorway to cushion residentials from noise, vibration and pollution whilst maintaining an easterly aspect for loftier residents. It will also feature a 740 space underground car park, the largest in Glasgow. Pedestrian routes are being created to the IFSD and Argyle Street centred on a unique public open space formed by pathways, art and lighting beneath the M8 canopy. Anderston low level is to be enhanced with connections to the river and a light rapid Fastlink bus stop, the Clyde Walkway will be hard landscaped with new footbridges built across the Clydeside Expressway and river.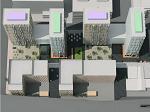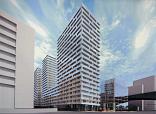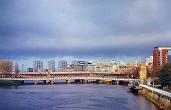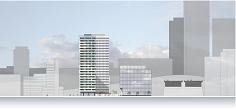 Opinion
Anderston Quay is in the unusual situation of providing bona fide riverfront land, unparalleled transport links and proximity to the IFSD within the Charing Cross high rise zone at the heart of the city centre. Surprising then that neighbouring schemes, step forward Snodgrass Mill and Central Quay should disregard this status and plump for offerings which would embarass most small towns, perhaps only Glasgow can sustain such farce. However Anderston Quay must be judged on its own merits apart from the failures of others and on this disappointment cannot be avoided.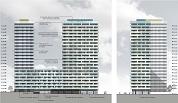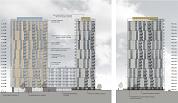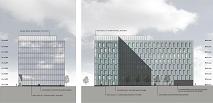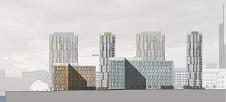 With a lot of imagination and not a lot of money the Charing Cross corridor has potential to be transformed into a spectacular contemporary public space. The unique environment affords opportunity for two distinct outdoor spaces above and below motorway grade as it fords the river and dives beneath the city. Within the underworld below the Kingston Bridge approach why not hang great chandeliers to blur distinction between indoor and outdoor and accentuate the cathedral like qualities of space and light? Demolish the Anderston station ticket hall and fully excavate the mechanical machinations below delivering a goth/punk experience that would make for one hell of a club.... Mr King?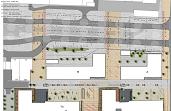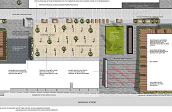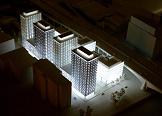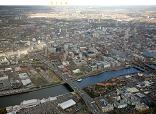 Above ground deck over the motorway cutting, permitted quality laser and neon ads for traffic would generate advertising streams for public realm work. Transport the sculpture and statuary from a dying George Square to be re-erected as a saintly refuge, appropriately above the hedonism below, forming a true heart for the city. Glasgow School of Art's future vision may be arriving sooner than was thought.




Design is strikingly similar to gh2o which is perhaps unflattering in what should be an exponentially more important site and with through routes lost to both tower pairings now being conjoined by podium blocks. In addition the stucco finished balconies which weakened the overall exceptional quality of those towers reappear here, the criss crossing glazed balconies do enliven the facade but would perhaps be more successful if combined to a single glazed conservatory. The developer may have missed a trick in omitting the previously mooted hotel component, this would have achieved the twin aims of providing much needed vertical stimulus whilst reducing financial reliance on housing upon a site providing the sort of advertisement to passing trade that money can't buy. As is the scheme loses focus for the loss of a marker tower at the riverfront and the uniformity of height in the remainder dampens skyline appeal, although this is offset by distinguishing illuminated lanterns of coloured metal. M8 facing commercial buildings have been reduced to the minimum required to mask the Kingston bridge hence failing to impress upon it and now present a disappointingly typical corporate glazed finish.








gm+ad have clearly done their best against market restrictions and against the odds created something not without merit, 4 successive towers for the Charing Cross area impresses and will create the most densely urban district within the city. The attention to detail paid to through routes, riverfront and landscaping should make it an interesting pedestrian destination but it is difficult to appreciate severe architectural sacrifices and easy to mourn what could and should have been.


Cheapside Competition
An architectural competition was held in 2005 for this the most prominent site in the city at the junction of road and river, CBD and inner city. This status is reflected in the design of Ian Simpson's proposal, Elder and Cannon's design bears similarity with their 220 Broomielaw.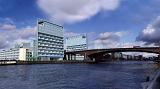 gm+ad's proposal seeks to utilise Cheapside Street as the main public space providing east-west and diagonal through routes. Neighbouring developments include Central Quay to the immediate west, River Heights, Skypark and the Anderston estate to the north. Unfortunately Snodgrass Mill faces on the M8's eastern flank.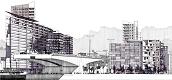 The development comprising residential and commercial was to have incorporated a 150 bed 4 star hotel and occupies lands between Warnoch and Cheapside streets cutting a new central avenue due south between maximising light penetration and dissected by three public squares, the bulk of the blocks being massed to sit one to the side of the shadow in front. Commercial space will flank the motorway to cushion residentials from noise, vibration and pollution whilst maintaining an easterly aspect for loftier residents. Pedestrian routes are being created to the IFSD and Argyle Street centred on a unique public open space formed by pathways, art and lighting beneath the M8 canopy. Anderston low level is to be enhanced with connections to the river and a light rapid Fastlink bus stop, the Clyde Walkway will be hard landscaped with new footbridges built across the Clydeside Expressway and river.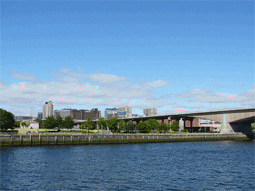 Opinion
Dandara/gm+ad are literally building a new skyline from scratch here albeit short by national standards, the city centre site is exponentially more important than Glasgow Harbour and this should have manifested itself in scale, the overall density however is certainly impressive and moreover essential if Anderston is to be reclaimed. It is probably fitting that Elphinstone Place (which looks like being the cluster pinnacle) crowns the backdrop rather blocked from the foreground. Towers are better set back from the river in general, but something of exceptional design on the riverbank would work, Latis for instance, or a twin tower approach either side of the motorway, portals to the city centre, sadly not to be due to land ownership issues (see Snodgrass Mill). The height limit of 24 flrs has been set by Dandara, not the council or architect, anything higher only being viable with an increase in land values. Skyline montage courtesy Russell Davies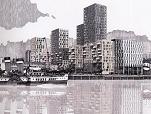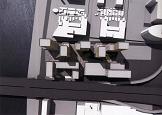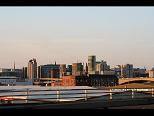 The designs have a tech-noir appeal, not immediately beautiful but distinctively gm+ad and distinctively Glasgow? It's definitely modernist, a hi-tech, industrial, supra dense and extravagant interpretation of seventies brutalism, each block is self similar as if cut from a larger whole but done with distinctive chutzpah and style. Great to see glass curtain walling not being used as generally gm+ad employ top spec finishes.


Sawmill Square : Published 26/09/07

Planning ref. - 07/02849/DC
Developer - Glasgow Harbour
Architect - Young and Gault
Height - 16 floors
Total homes - 252
Retail - 130,000sq/ft
Cost -
Location - South St, Ferryden Rd, Sawmill Road and the Clyde
Status - Proposed
Start date -
Completion date -
Glasgow Harbour is proposing alternative land for a new supermarket after controversy surrounding TESCO's Beith Street proposal. South Street is considered preferable in terms of accessibility with vehicular access provided by an improved junction with Harmsworth Street. Airspace above the store will accommodate housing stepping back from the river down a series of cascading green roof terraces. A mammoth 938 basement parking spaces are provided beneath store and square.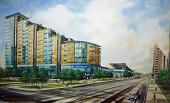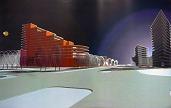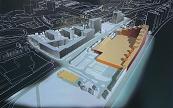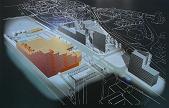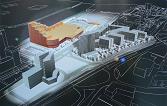 Opinion
Sprawling supermarket floorplates don't lend themselves to graceful design and has here resulted in a giant ziggurat of housing. An alternative approach such as placing the supermarket in the basement level adjacent to multi storey parking might have freed up more public realm with accessibility issues though problematic not insurmountable.


SECC East : Published 14/03/08
Urban Village
Arena
Planning ref. - 08/03280/DC (car park)
Developer - Macdonald Estates/Pavilion Developments Ltd
Architects - EPR Architects Ltd (Hotel), KKA car park
Cost - £100 million
Location - Stobcross Rd/Finnieston St
Floor space - 150,000sq/ft
Total beds - 179
Materials - Aluminium panels (Hotel), Metallic silver, random perforated aluminium cladding & curtain wall glazing (car park)
Height - 10 floors (Hotel), 9 floors (Offices)
Status - Proposed
Construction date - Multi storey (1.750 space) - 2008-09
Office - 2009-10
Hotel - 2010-11
Following failure to secure a casino license SECC Ltd are pressing ahead with a mixed use scheme to capitalise on planned expansion at the SECC by providing a complimentary 4/5* Hilton Garden Inn hotel and parking facilities with an office block fronting Finnieston St, although a casino is not precluded at a later date presuming favourable legislation. A simple rectilinear form of chequer board glazed fenestration remains flush throughout the body of the building with upper floor windows punched out to act as a "frieze". A sequence of external uplighting and recessed downlights are being investigated to contribute to Glasgow's lighting strategy. The ground floor façade will incorporate recessed LEDs to provide a flush of light to side walls. This marks another significant regeneration package for the area coming on the heels of Elphinstone urban village and the Arena. A new guided bus system will connect the development to both the Harbour and City Centre.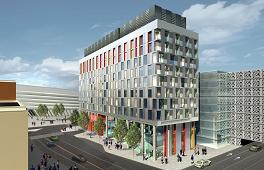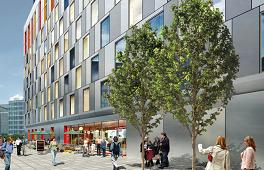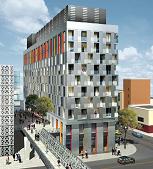 Opinion : Previous design
Previous expansion plans from CDA promised to connect the SECC and Skypark in a rapidly expanding Finnieston quarter. An office block showed up the poor Infiniti with sweeping stepped curves and interesting louvred screen with dramatic roof terrace aiding the rapid urbanisation of Finnieston St. The hotel disappoints when considered against original plans having lost height, colour and flair it is now no longer the landmark it promised to be. A pedestrian walkway will usher guests and visitors direct to the new Arena but kills the street with front door services all on the first floor.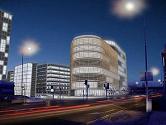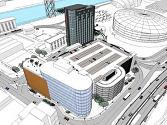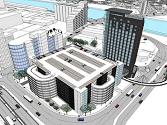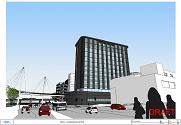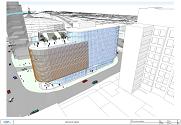 An arresting patternated rainbow of glass sweeps around the Arena facing curve of initial designs, fusing with an artistically sheathed car park ramp, the hotel podium and curvaceous office block further mask the car park and will aid in the canyonisation of Finnieston St. Rooftop garden terracing features prominently but ever the first feature to fall to value engineering it's uncertain to make the final cut. The elevated walkways are overwrought and superfluous and unlikely to find favour with jay walking pedestrians. The unchosen Aedas entry sought to cede design authority to the Foster arena but seems ultimately to have been too unambitious.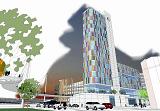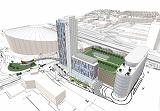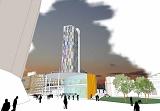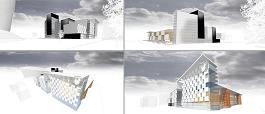 Arena
Official site
SECC East
Urban Village
Planning ref. - 05/03513/DC
Developer - Elphinstone/Kerzner International
Architect - Foster and Partners
Total rooms - 150 room (5*)
Cost - £67 million
Location - Queen's Dock
Capacity - 12,500
Status - Arena approved, casino mothballed
Start date - 2011
Completion date - 2014
The upper part of the Arena is clad in translucent material which allows the front of the building to glow and facilitate the projection of patterns or images onto the façade. The external envelope consists of a standing seam metal roof system, stainless steel edge profile, ETFTE cushion cladding, framed double glazing with solid or louvred panels to back operations and a concrete or masonry finish at ground. The Arena marks the return of Lord Foster to the city after the success of his adjacent "Armadillo" building. The mothballed casino and hotel would have established a new city block with a "tower element" and 4,500m2 roof garden providing a "defining element" to the public square. Alongside a hefty 1,600 parking spaces.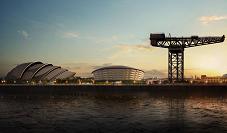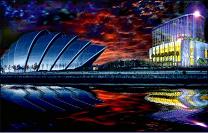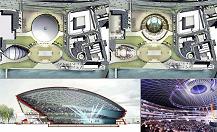 Opinion
The Arena will stand apart as the centrepiece of Queens Dock 2. Very much an "object" building it is lacking in cohesive streetscape and 24hr life. Although this lack of urbanity doesn't detract and probably enhances the architecture it will mitigate its success as a building. Despite this the Arena is visually exciting partivularly the facility to project images onto a translucent facade.

The circular car park in front of the Armadillo/arena is disastrous, at present a glorified taxi rank/drop off point it looks unchanged. The irony is they've labelled it as "event space" as though it will be superfluous to parking needs anyway? With the multi storey's going up why have it at all? Landscaped parkland is the best way of containing "object" buildings, it would relieve the high density of the rest of the site and be a great foil for stunning architecture.


Sustainable Village : Published 21/03/08
SECC East
Arena

Planning ref. - 05/03162/DC
Developer - Elphinstone
Architect - Draw
Height - Tower 1 : 28 floors, 84m
Towers 2 : ~ 20 floors, ~60m
Commercial - 45,000 sq/m
Cost - £350 million
Total homes - 1,600
Area - 25 acres
Location - Queen's Dock
Status - Outline planning permission
Start date - 2007
Completion date - 2012
Redundant lands at SECC West are to be rewrought with high intensity housing. A raft of complimentary facilities inculding a post office, pub, surgery and nursery along a central boulevard are intended to give promise of a self sustained community. A diversity of townhomes, tenements and towers reflect the resident population and democratically expose the riverfront to the entirety of the estate beyond a privileged few. The resultant depth of field avoids walling off the riverfront suggesting Draw have heeded well the failures of Glasgow Harbour.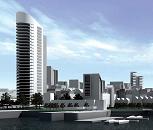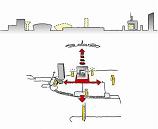 Opinion
For the heart of sv Draw have dropped two geometric frames from the sky, Tetris style. The resultant void establishes defined reference vistas to Glasgow's twin pillars of Science and knowledge. An interesting if prosaic refashioning of the celestial timepiece. the ancient practice of tracking the movement of sun and stars through monuments albeit with druids and sun worshippers displaced by clerical staff and shopping disciples.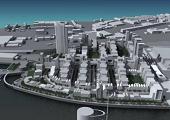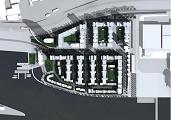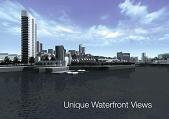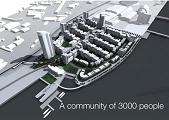 Washington Street
Planning ref. - 08/02621/DC
Developer -
Architect -
Height - 12 floors
Commercial space - 17,000sq/m
Hotel beds - 120 3* and 160 5*
Materials -
Cost -
Location - 35-55 Washington Street/Balaclava Street/47 McAlpine Street
Status - Outline Planning
Start date -
Completion date -
After a limited competition in which Aedas beat off their sole challenger with a thirty storey flat iron inspired tower a vanishing residential market and commercial floor plate imperatives have seen this scale subsequently reduced. The proposal knits alongside 220 Broomielaw, 236 Broomielaw and linking with Cheapside These plans supercede a 2004 proposal by Halliday Fraser Munro and Strathclyde Homes for a 178 home residential block comprising Synthetic ashlar blocks (ground floor), terracotta blockwork (main body), light grey aluminium panels (penthouses) and render (rear).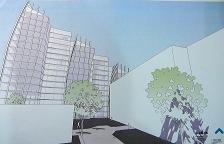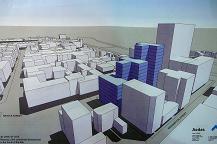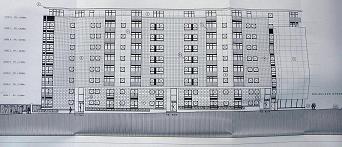 gm+ad drew up these plans for the warehouse opposite.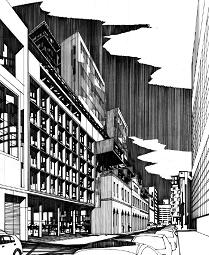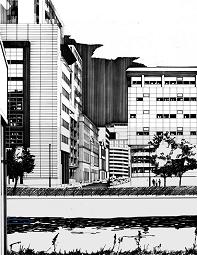 The Paramount Building : Published 09/11/07
Developer - Duddingston House Properties
Architect - gm+ad
Height - 10 floors
Floor space - 150,000sq/ft
Cost - £80 million
Location - 56 Renfield Street
Status - Approved
Start date - Jan 2009
Completion date -
A traditional sketch perspective of The Paramount Building has been published by gm+ad, illustrative of dramatic change soon to be effected along the course of West Nile Street. Loss of extraneous surrounding detail amidst a decluttered streetscape draws architectural detail to the fore from an idealised environment, lending clarity of expression to the subject whilst showcasing the talent of artist over software.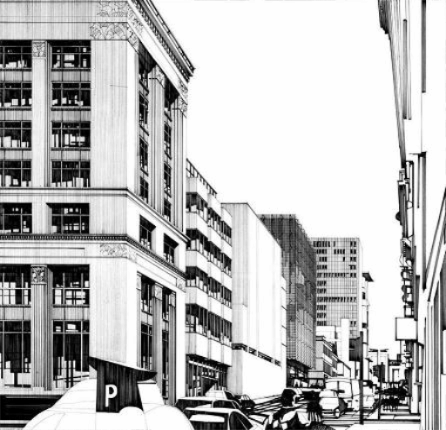 A revised application for The Paramount Building has received planning consent from GCC. The design has been subject to a reduction in height of 1 floor with a correspondent increase in width with the upper 6 levels projected out on east and west elevations, additional openings are proposed on the upper level of the retained cinema frontage and along West Regent St.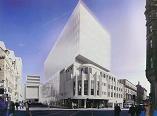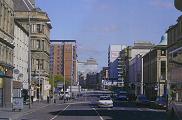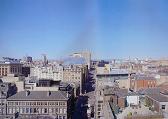 Transition from art deco to modern is negotiated by the datum line of the historic theatre denoted by a recessed feature of the new build wonderfully connotated as the "memory veil". This describes a glass layer distinguished by an acid etched or screen printed frit pattern floating above and without an independant self bracing support structure placed on the current building line to replicate massing of the demolished brick facades. This creates a void between veil and new build filled by a series of cantilevered boxes and animated by merge and interplay of the seperate layers as perspective and lighting conditions combine chaotically to affect perception. Advanced LED technology is being incorporated allowing projected images and animations to be overlayed across an external skin of glazing with a series of organic luminescent lamp standards reinforcing public realm. Adhering to strict modernist tenets offices rising above the veil consist of simple curtain wall with minimal detail around a homogenous geometric prism merging with sky.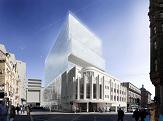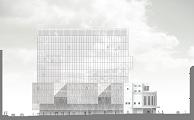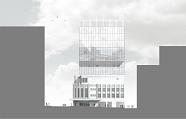 Previous designs, a recessed collonade runs the length of West Regent St giving access to the new retail and leisure opportunities. Redevelopment of the General Accident building and Standard Life House at the West Regent/Nile St intersection is planned shortly.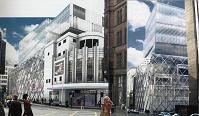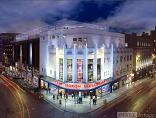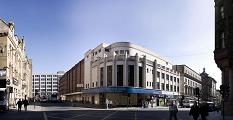 Opinion
This final design iteration loses visual drama with much greater bulk through the loss of angled offset floors and height coupled with increased girth. A modernist solution of whatever quality may not be the ideal approach for a cinema site demanding gaiety and fun. A more brazen reworking of art deco as evidenced at 236 Clyde Street by the same practice though riskier from a design perspective is naturally imbued with a sense of history, colour and a lightness of touch largely absent from the somewhat cold corporatism of modernism. That said Duddingston House are to be congratulated on taking the time and stumping up additional investment to deliver a much improved scheme, by tapping into a burdgeoning office market it has been possible to build to a scale befitting the Central Business District. The daring design manages to make a visual statement whilst maintaining the integrity of the urban grid and enlivens the presently unprepossessing West Nile Street frontage. With a combination of light and theatre the facade should evoke the glamour and drama of cinemas heyday.





Paisley : Published 27/02/08
Developer - McGarvey Construction
Architect - SMC Davis Duncan
Height - 9 floors
Hotel size - 139 Rooms
Commercial space - 70,000sq/ft
Homes - 26
Cost - £30 million
Location - New Sneddon Street, Christie Lane & Niddry St
Start date -
Completion date -
This redevelopment of a key brownfield site adjacent to Gilmour Street Station and the White Cart river encompasses 3 distinct buildings defined by use. These thread together a rooftop bar, gym & conference facilities within an expansive ground level atria. The developer aims to use this investment as tool for forging a new business quarter in the heart of a town hit in recent years by the leaching of trade to purpose built malls at Braehead and Silverburn.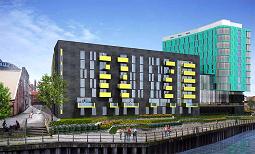 The primary hotel block is draped within a pre-oxidised copper envelope punctured by de rigeur Rafael Moneo inspired offset windows. Rectangular in form the mass is softened by a glazed curvature to respect the White Cart riverfront. Vivid colour is extrapolated into the residential wing where a black stone clad block serves as canvas to a projecting sequence of primary coloured balconies, cleverly echoed by the daffodils of an enhanced public realm. An office block completes the trinity, comprising a conventional glazed curtain wall defined by stone outline. A tinted crown references the hotels hue.


Broadway & citizenM : Published 02/12/07
Official Site
Planning ref. - 07/02472/DC
Developer - IVG Immobilien AG / Ediston Properties / citizenM
Architect - Cooper Cromar & Concrete Architectural Associates
Height - 7 and 8 floors
Materials - Natural stone walling, metal panelling, render, curtain walling, dark granite and polished masonry base
Commercial Space - 275,000sq/ft
Total beds - 180
Retail - 10,500sq/ft
Total flats - 12
Cost - £100 million
Location - 200 Renfield St, Hope St, Renfrew St and Cowcaddens Rd
Status - U/C
Start date - Late 2007
Completion date - June 2009
Citizen M's 3rd hotel and 1st outside Holland employs a distinctive concept from award winning Dutch design firm Concrete Architectural Associates. Design employs full height multi angled windows set in dark granite and a dynamic adornment of artwork at the Cowcaddens Rd intersection. A consistent quality of manufacture is achieved through a modular building method which allows rooms to be completely prefabricated at citizenM's own production facility prior to transportation on site. Assembly is carried out over an 8-10 month build period.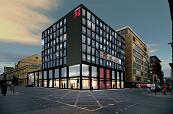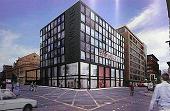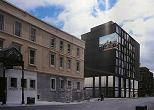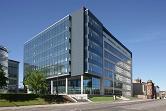 Broadway represents an important urban expansion of the city centre into the incohesive Cowcaddens district adopting international clinical corporatism to draw business to an ill favoured corner of town. Moody uplighters define cold natural stone broken by projecting glazed bays that channel pedestrian activity through a newly formed public corridor to Cowcaddens Rd and buttress a landscaped plaza area that serves to facilitate the interplay of successive phases. Incorporating 132 space underground car park and twin office buildings each with a double height reception area and retail frontage along Renfield St and elsewhere determined on assessed commercial viability. The peripheral location will allow the developers to bring the scheme to market at a discounted rate on a site vacated by Scottish TV who have relocated to new Docklands offices. Renfrew Chambers neighbours.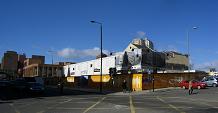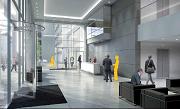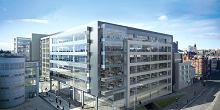 Opinion
A higher value end use has afforded an improved scheme with a higher overall quality of finish, although not reflected on Cowcaddens Rd. As with 9 Wellington St it is impressive to see this volume of stone incorporated although the effect is rather flat and heavy. Despite lacking some streetscape muscle (ideally it would have broken the office datum to augment its superior design), the amended hotel plan is the schemes strongest architectural element sporting full height multi angled windows set in dark granite and a dynamic adornment of artwork. The Renfield St elevation employs a clean contemporary cut less constrained by setting although hindered by the poor SMG HQ opposite which also blocks Renfield St's access to Cowcaddens Rd, although a pedestrian link will be provided.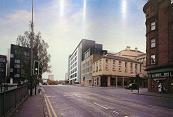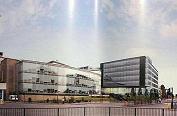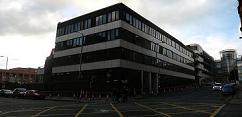 Prior Designs.
Scotia Homes original plans for 314 flats were superceded when the site was sold to Ediston Properties who will take the scheme forward with a reduced reliance on flats (down to 100), replaced by increased office provision and 10,000sq/ft of retail space. As with 9 Wellington St it is impressive to see this volume of stone incorporated, although the effect is rather flat and heavy a feature white protruding highlight gives some soar. The poor quality finish on Cowcaddens rd reflects low commercial attractiveness.