Masterplans
---



Commonwealth Games 2014 : Published 11/11/07
Official site
East End Gallery
Developer - Progress Property/Glasgow City Council
Cost - £250 million (Total), £70 million (Arena)
Location - Dalmarnock
Status - Approved
Start date - 2009 (Arena)
Completion date - 2010-2014
GCC have awarded City Legacy Consortium led by Davis Langdon with RMJM, Cruden Estates, McTaggart & Mickel, Citybuilding and CCG the contract to design and deliver the Glasgow 2014 Commonwealth Games Athletes Village. With Glasgow emphatically securing the 2014 Commonwealth Games, easily eclipsing its nearest rival by a margin of 2:1, At Dalmarnock Village it is intended to develop an exemplar in ecological development with 1,000 homes for 7,000 athletes nestling in 40 hectares of verdant previously abandoned landscape at the Clyde Gateway. Housing stock will comprise a mix of apartments, townhouses, detached and semi detached houses which will be marketed for sale and rent in the games aftermath it remaining to be seen if Ian Simpson's services entail densification of ambition.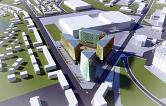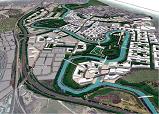 In addition to housing the Village will accommodate all ancillary services required of such an event producing a self sufficient community and introducing a number of key facilities foreign to present day Dalmarnock. These include a hotel, conference suites, security pens, media zones, shopping and entertainment facilities. The centrepiece of the Games will be a new stadium sporting two arenas under one roof, the 5,000 seat National Indoor Sports Arena and 2,000 seat velodrome with Sport Scotland HQ on a central avenue between, proposed for land adjacent to Celtic Park.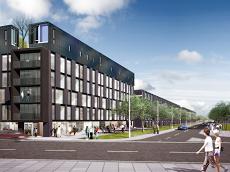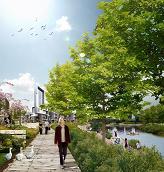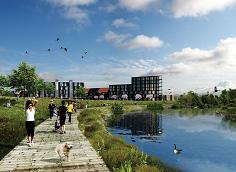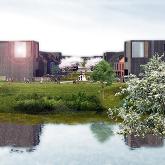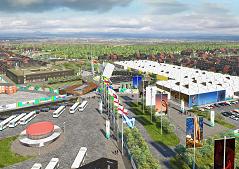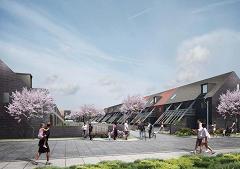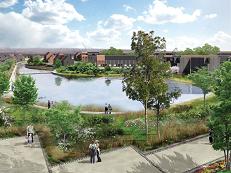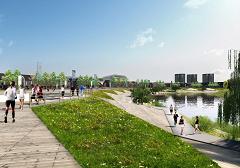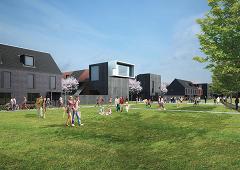 With demolition of four 24 storey tower blocks at 4, 40 & 50 Millerfield Place and 131 Allen Street and scores of corporation tenements Dalmarnock is now clear to host the Commonwealth Games rejuvenating the Dalmarnock area which presently resembles a ghost town. Demolition footage provided courtesy Zolita @ Flickr.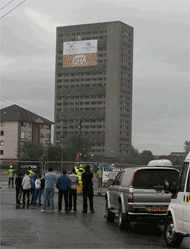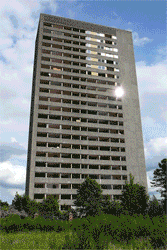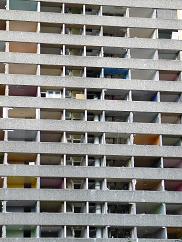 Opinion
Dalmarnock is full of latent potential, occupying a bend in the Clyde it enjoys a a semi rural aspect with much open space and a riverbank setting, if the Games can take advantage of this situation they will be spectacular. By 2029 it is hoped some £1.6bn will have been invested in 10,000 homes and 400,000sq/m of commercial space can be created across the Clyde Gateway aided by the M74 extension and East End Regeneration Route alongside a possible reopened Bridgeton/Parkhead rail service.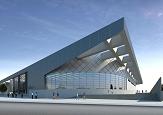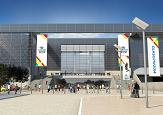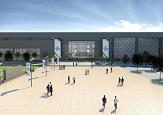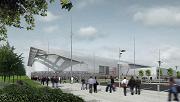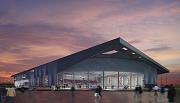 What is critical to creating a genuine urban environment is restoration of the Edwardian tenements further down Millerfield Road. Pre war housing should be given utmost priority for grant aid as such homes constitute the very essence of Glasgow. The tenements surviving today have done so because they were rehabilitated in the eighties and nineties, although this is clearly futile if they are subsequently abandoned. The Games carry the carrot of a sustainable future for the area, the first such opportunity in a generation.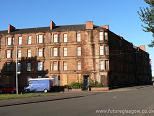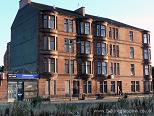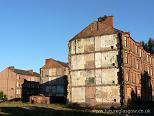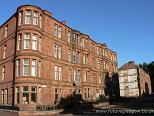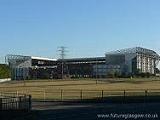 Prior designs
In design RMJM's Athlete Village concept is determinedly low density, perhaps symptom of the quantity of land available but also product of a generous proportion of green space, amenity and water features although designs have certainly been revised downward and contrast with the spectacular red herring at East One. The village is to be divided into 6-8 themed glens denoted by signpost and colour to aid orientation with a fleet of electric buses set to ferry athletes to the venues. Progress Property have formed a collaborative partnership with Mace Group as construction manager & City Building (Glasgow) LLP for Construction Services and Ian Simpson, gm+adand Nord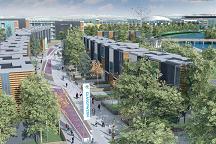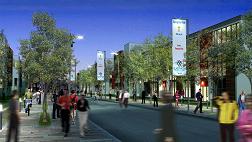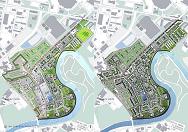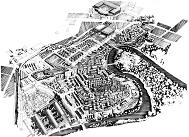 Collegelands : Published 29/08/07


Planning ref. - 07/02124/DC, 07/02125/DC
Developer - TDI Corporation, Dawn Group
Architect - Page and Park
Materials - Precast concrete panels with brick facing and granite cladding, PPL windows including coloured insulated panels
Height - 8 floors
Area - 13 acres
Commercial space - 550,000 sq/ft
Total homes - 400
Cost - £150 million
Location - Former College goods yard, bounded by High, Duke and Hunter Street
Status - Phase 1 planning submitted
Start date - Early 2007
Completion date - 2017 (Summer 2011 Phase 1)
Phase 1 will incorporate a 102,000sq/ft office block, 1,000 space multi storey car park, 190 bed hotel and 250 tudent accommodation units. Successive future phases will add a further 500,000sq/ft of office space and 400 homes. A hotel is scheduled for the High Street curve corner at plot A to make an urban statement with the rest of the huge site forming a green pedestrian corridor with canal, feature fountains and garden areas paralleling the Drumgelloch rail line. The proposed Crossrail extension at High Street station is a focus of the plans with New Station Street linking it directly with High Street.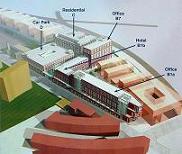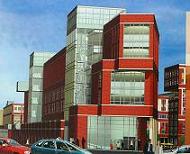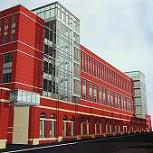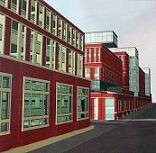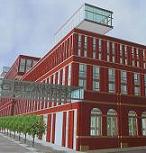 Design philosophy follows the three archetypes of classical theatre, the comic (Gardens), tragic (New Station St) and rustic (Ladywell setting). In practical terms this results in a New Station Street that is a formal, sober avenue of reserved colour and architecture. Inset colour panels on garden elevations and a grill of waterjets sunk in paving provide the gaiety required of garden quarters whilst the setting of Ladywell is intended as timeless reflection of nature.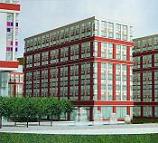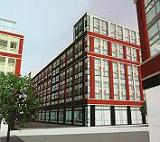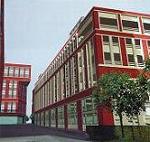 The masterplan traces site heritage by working with the original 18th century street layout whilst retaining the wall of the former goods yard fronting Duke st, historical significance is recognised through artwork and plaques. Construction of Blackfriars student accommodation has diminished potential for axial expansion of Ingram Street and is not accounted for in present plans, although not ruled out in the long term. The scheme borders but does not incorporate the grade A listed Ladywell business Park, Ingram Street masterplan and Great Eastern and should also complement the neighbouring Science Park and College Heights residential.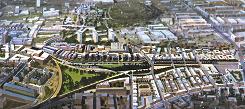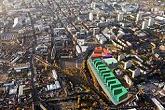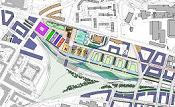 Opinion
A conscious effort to trace site heritage has created a somewhat retro feel whilst extensive use of brick, unusual for Glasgow though following the precedent of the Goods Yard, creates distinct identity. Dressing the car park in a mock warehouse skin has a hint of POMO about it but the High Street office block demonstrates ingenuity in working with the traditional to produce contemporary design. The scheme should come together in the landscaped pedestrian through route which promises to be an exciting addition to the city's public realm.


Bellgrove Masterplan : Published 04/12/07

Dawn Developments are creating opportunity for new design talent in taking on a swathe of brownfield east end land, formerly home to a meat processing plant. When considered alongside the developers adjacent Collegelands proposal this open ended grid will re-establish a continuous urban area from Dennistoun to the Merchant City, a district of Glasgow lost to 1970's urban clearance programs. Bellgrove will feature a mixture of flats, townhomes and maisonettes capped with solar panels all with individually designed backcourt gardens with water features interspersed throughout and provision for a new supermarket within the listed former market sheds. A large public square will integrate Bellgrove Station with the development.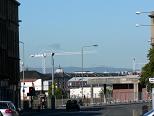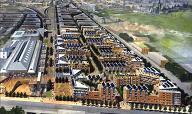 Unselected designs from Gareth Hoskins Architects.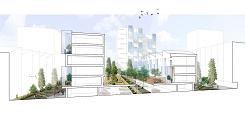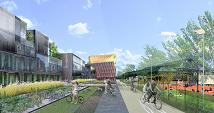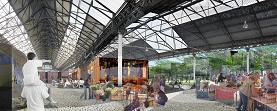 Gallowgate Masterplan : Published 19/04/2008


Planning ref. - 08/00557/DC
Developer - Strathcarron Estates Ltd
Architect - DMD
Materials - Natural sandstone, terracotta rainscreen and render
Height - 7 and 9 floors
Total homes - 111 (Phase 1)
Cost -
Location - Gallowgate, Spoutmouth, Molendinar St (Phase 1)
Gallowgate, Moir St, London Rd (Phase 2)
Status - Proposed
Start date -
Completion date -
Gholami Baines are promoting a masterplan for the Gallowgate area to tie their and others work together, predominantly a series of dense mid rise blocks it is dominated by a large tower to the head of London Road. Strathcarron meanwhile have submitted their own phased intentions to planning:

Phase 1 will see two separate blocks linked by deck access around a triangular central courtyard. The taller 9 storey block flanks the Crossrail line, the smaller 7 storey block runs south wrapping onto Gallowgate. Each block terminates with curved forms at SW and NE points of entry and seek to address present weak street frontage by recreating a strong urban presence in the near east. Railway arches are to be refurbished with glass and steel to form an additional retail link.
Phase 2 stresses the importance of improved connections by way of the high level Crossrail line bisecting the site. Building heights continue massing of the Mercat building but fail to breach it stifling skyline dynamism. A new civic space at Station Square will form the heart of the proposals.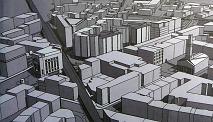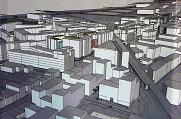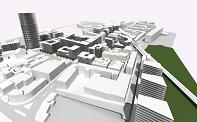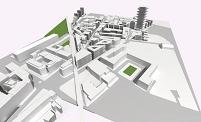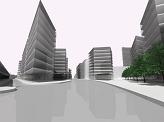 Prior Designs
Early indicative proposals for an elegant tapering tower have been superceded as height gives way to bulk in the latest massing models, sacrificing visibility from Argyle Street and the Trongate.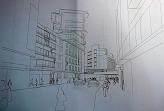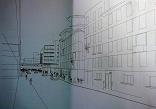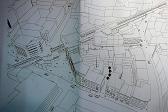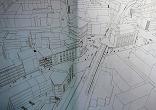 Greater Govan
With the flagship £850m Southern General Hospital (SGH) taking shape, Govan is beginning to refashion itself anew. A well built stock of solid tenements frame a grand public avenue to the SGH down Govan Road, formidable qualities that are soon to be acknowledged through establishment of a conservation area straddling Govan Cross through Elder Park.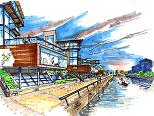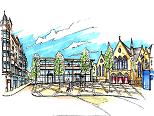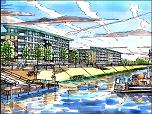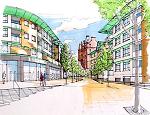 However Govan Cross itself is not aided by disastrous road interventions, which see through traffic routed around the town centre and a housing policy which sees high concentrations of poverty and social problems. Nevertheless Govan's relationship with the Clyde will be restored by engaging the river with housing along Water Row, accessible by public walkways and boulevard interlinking a revamped town square to the Clyde. Public art, notably a Linthouse gable canvas from Hugh Donaghy, is serving to open up a new urban dimension.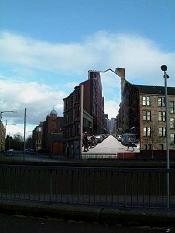 A revamped Govan Interchange is a bold attempt to capitalise on strategic location, enhance connectivity and re-establish a streetscape that is cognisant of underlying urban principles. Unfortunately a lack of cross pollination between diametrically opposed riverbanks restricts diversity of stock hampering both sides, commercial high rises are not inappropriate to an important and expanding transport hub, as is it is left to local housing associations to produce innovative solutions.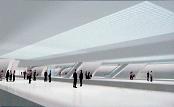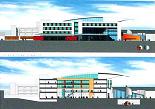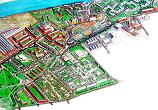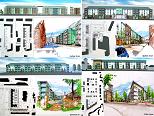 One such example will see Do Architects on behalf of Govan Housing Association and Cruden Estates creating a dramatic new terrace onto Golspie Street housing 110 new apartments for rent, sale and part sale. Broken down into smaller unique blocks using full height glazed stairwells between adjacent blocks, visually connecting street to courtyard. Change of material and varying façade depth compliment projecting bays which introduce colour to the streetscape and reference the fine ceramic tiles in traditional Glasgow close stairwells. the project isis expected to commence on site in January 2009. Down the road the best preserved pre war dockyard office in the UK, Fairfields, is to be restored by Clydeport and ADF whilst creating 60 apartments. Housing on both sides of the listed offices picks up on the 'towers' of the Fairfield building and the traditional corners of the surrounding tenements. The public will be allowed access to heritage elements within the site such as the wood-panelled ornate interiors and a fully-restored map-room.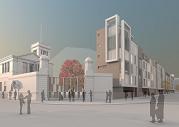 Elsewhere a dramatic rainbow of patternated glass envelops mixed tenancy homes and commercial space in this feasibility study. Amenity is prioritised by undercroft parking with a raised deck and rooftop gardens affording spectacular panoramas of the river. Landscaped public space is offset to the throughfare of Govan Rd to defer authority to the "potted heid", Govan's very own pot of gold.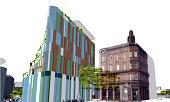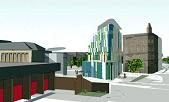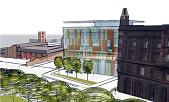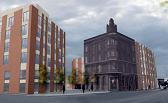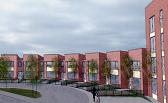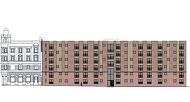 An application to demolish Napier House has been made by Glasgow City Council following an earlier decision to demolish Elder Park Primary, an imposing Edwardian edifice designed by Bruce & Hay in 1899 that lies just outside the nascent Govan conservation areas boundary. Set amidst several blocks of contiguous tenement streetscape, the building is nevertheless unlisted and not regarded as architecturally significant by either the council or Quarriers who propose to demolish it for a new National Epilepsy Centre.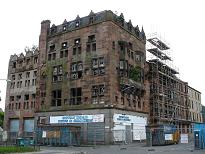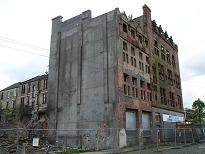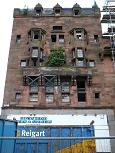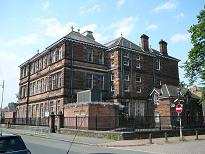 £11.5m proposals have been submitted by Elderpark Housing Association and Anderson Bell + Christie for mixed tenure housing and offices at the former St Anthony's School. The scheme entails provision of several blocks each sharing common materials, window proportions and large 'feature' indentations but retaining distinct identity. A greater urban scale is afforded to Govan Road, reflecting its tenemental character and further enhanced by flicking up the parapet line towards the corner. The fenestration of the Elder Street elevation meanwhile is less formal but regular large indentations for the entrances serve to create more regular rhythm and also mirror the language of the Govan Road elevation. The Elder Park elevation is treated as a set piece and is more complex than any of the other blocks with end terrace townhouses featuring corner windows, allowing the gables to animate Garmouth Street and a new street to the north. It is scheduled to go on site in January 2010 for completion in 2011.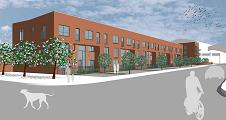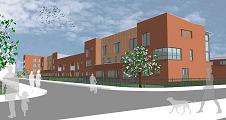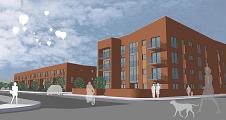 Elsewhere LUV, in conjunction with Do Architects, had applied to construct five business units and a cafeteria around a restored farmhouse within Elder Park. The non profit venture had secured funding from the Big Lottery Fund and tenants were lined up including The Scottish School of Herbal Medicine. However, despite mustering 88% support from residents in an exhaustive door-todoor survey, a vocal minority opposed the moves citing that £4million pounds of investment should cover the whole park, not just the farmhouse, further complaining that commercial development of the parkland was inappropriate.




The streets of Govan may not be paved with gold but if do architectures plans had been realised the buildings would. Gold copper alloy makes virtue of vice by contrasting with Glasgow's predominantly leaden skies, this architectural alchemy promises to sparkle on even the grimmest winter evening producing no fools gold and rather heralding a new Govan gold rush, sadly replaced by brick as a cost cutting measure. two bookend blocks at Aboukir Street provide 24 apartments including 12 homestake shared equity homes for first time buyers.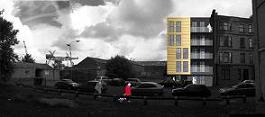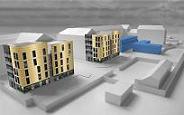 Do Architects have also produced a set of proposals for former sub-stations which originally served the Govan shipyard, these may soon be transformed into a community hub. LHA and the LUV Project are working together to create artist's studios, gallery space, small office units, an aluminium recycling facility accessible by the public and a community enterprise to provide meaningful employment.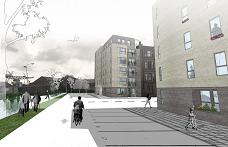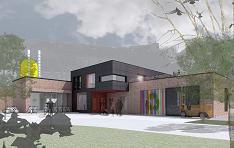 Forth & Clyde Canal
Official site
Planning ref. - 06/00845/DC (Speirs)
Developer - ISIS/British Waterways
Architect - Make, Rankine Fraser, KOAN3 and Kevin Murray Associates
Materials -
Height - 8 & 11 floors
Area - 1000 acres
Commercial space - 100,000sq/ft
Total homes - 250 (Speirs) & 800 (Maryhill)
Cost - £100 million (Speirs) & £100m (Maryhill)
Status - Masterplanning
Start date - 2009
Completion date - 2020
Speirs Locks is the centrepiece of the Port Dundas Canal Link which reconnects the Forth and Clyde Canal to Port Dundas Basin with a 100ft wide floodlit waterfall over granite, showcasing the development to M8 travellers.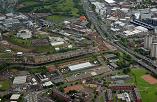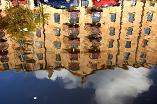 Initial designs from RMJM and Bradford Robertson comprised a copper/brass alloy designed to prevent oxidisation in the atmosphere. Although this merely dressed a drab dark grey terracotta, zinc and acrylic render tower block which presented an unfortunate blank wall to the canalside. Something the client felt didn't set an eadequate benchmark or meet the aspirations of the community.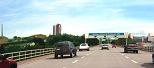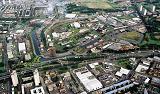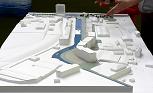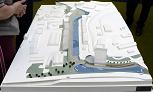 A healthy mix of hotels, studio flats, towhhouses, businesses and the New Phoenix Park will reconnect Great Western Rd through the existing landscape of Port Dundas and Sighthill. Garscube Road will be transformed into a boulevard from the present four lane highway despite lack of development to the west leaving it inevitably one sided.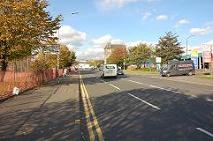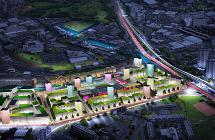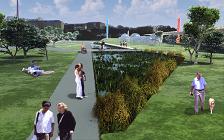 Routes to the canal are based on existing streets, tree lined to the north to maximize the sun, part of the public realm strategy is to terminate these streets with a series of public steps and ramps. The whole canal and the retaining wall itself is a scheduled monument but an external lift could be provided at the shallowest rise, where there is a break in the retaining wall. On the canal itself the idea is to layer over timber decks that lead out to these pontoons that rest on top of the towpath. Existing arts facilities will be remodeled as a new cultural quarter comprising Scottish Opera, the Glasgow Academy of Music Theatre and Arts and the National Theatre. A periscope building will be created from Scottish Opera to a new café and visitor centre that leads to a floating stage for performances and events.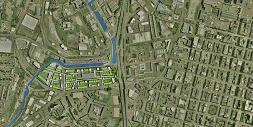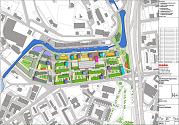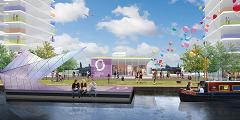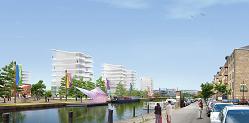 The masterplan is orientated primarily on the north/south axis, working with the topography of the site which is steeply sloping. A spread of fingers cascade down the slope of the site, punctuated by taller elements to signal the presence of the canal to the city. Terraces run along the contours not against, tying in with orientation to maximise sunlight from the south, its effect mitigated by passive environmental measures to minimise reliance on air conditioning. The intention is to grass over some of these green roofs, the rest would be terraces and usable amenity space. The varying levels of the site allow 3 levels of parking to be tucked in below grade. One of the justifications for establishing taller elements was the Cullen Report which called for bastions of height around the M8. In response to this views from the towpath to key landmarks were identified with view cones devised to establish precisely where high rise development was appropriate.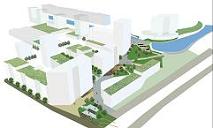 Key to the first phase is getting the quality right on the connection through the M8 underpass, enlivening the underside of the carriage so that people are happy to walk through. There are 16 connections to Glasgow over, under and across the M8 and not one of them is particularly impressive.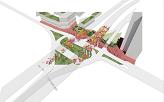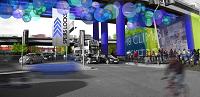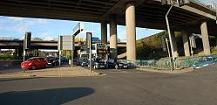 Meanwhile a mix of flats, terraces, duplexes and mews homes for social and private occupiers are planned for land adjacent to Maryhill Locks with first phase work being funded by Maryhill Housing Association.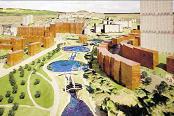 The Forth and Clyde Canal presents many redevelopment opportunities with many smaller schemes underway such as Kelvin Quay by Park Circus Homes & Cooper Cromar, Bellway Homes 176 home, £8m Mondriaan from Holmes and MCM's 142 home, £14m Timber Wharf.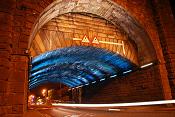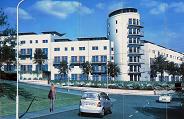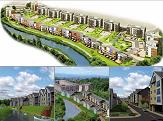 Clydebank Rebuilt
Official site
Developer - West Dumbartonshire council, Scottish Enterprise
Architect - Page and Park / Collective Architecture, Reiach & Hall & gm+ad (Business units)
Area -
Total flats - 1,200
Materials - Coloured Eternit panels with pattern transfers and Polycarbonate glazing (Business Units)
Cost - £250 million (Total), £2.6 million (Titan), £1.5 million (Business Units)
Location - Clydebank
Status - Approved
Start date - 2003
Completion date - 2010
The only grade A listed structure in Clydebank, the refurbished Titan is hoped to become an iconic new emblem for the town. Illumination forms a central part of the restoration, the engine cab and grounds will be bathed in white light with red emanating from within.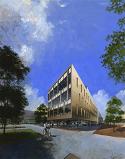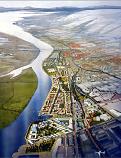 Four L plan industrial starter units finished to an unusually high standard thanks to public subsidy by Clydebank Rebuilt. Facades are patternated by a style known as Castle Stitch evoking imagery from the now closed Singer sewing machine factory and topped by polycarbonate light boxes.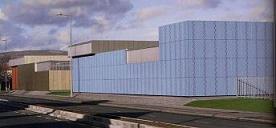 Ravenscraig : Published 15/11/07
Official site
Developer - Wilson Bowden, David Wilson Homes, Motherwell College
Architect - Keppie Design, BDP (College), HOK Sport
Area - 1,100 ares
Total homes - 3,500
Commercial space - 113,000sq/m
Retail space - 66,900 sq/m
Cost - £1.2 billion, £70 million (College), £29 million (Sports Facility)
Location - Wishaw/Motherwell
Status - Phase 1 U/C
Start date - Dec '06 (Phase 1)
Completion date - 2026, Summer 2009 (College)
Construction work is underway at phase 1 of Ravenscraig comprising a suburban housing scheme, Motherell College and a new regional sports facility. Sustainability is emphasised by providing employment opportunity, diversity of usage, specifying low carbon solutions, preserving habitat and encouraging public transport usage with a new interchange, walking and cycling routes. Design codes will be stipulated for developers to adhere to.








College accommodation will comprise a 5 storey teaching block alongside a cylindrical residential tower, designed to evoke the former Ravenscraig steelworks. The Sports Facility minimises dependance on artificial lighting by employing a serrated roof affording daylight penetration, metal bands that rise out from the ground to wrap the structure are a visual reminder of rolled sheets of metal. Biomass fuel will be employed along with rainwater harvesting.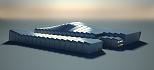 Opinion
Ravenscraig has just overcome legal objections on grounds it'll exacerbate sprawl, opposition was centred on the development being classified as a town centre to circumvent strict out of town planning policy. Irrespective of the legal situation the scheme (just about) justifies its status certainly it's preferable to a continuation of what's occurring already ie piecemeal ad hoc sprawl around the fringes of Motherwell and Wishaw, this promises to inject at least a degree of urbanity to a heavily suburbanized region. The plans have much to commend particularly in the breadth of facilities offered and infrastructural improvements, it is claimed that a 10,000 seater arena, multiplex cinema, church, schools, nature reserve and transport interchange via a Wishaw spur line.











Obviously the masterplan has serious failings, outdated traffic management (the road network with roundabouts have already been built ), low density housing and business units outside the city centre offer nothing new. It is also true that redevelopment of the existing town centres is much preferable but in the real world Motherwell/Wishaw will never raise £1 billion of private investment, the raw injection of capital here should percolate out to surrounding towns.

Original plans for a central tower are now gone and a sculpted roof designed to reduce wind shear at Motherwell College is no more.










Oatlands : Published 01/09/07
Official site
Planning ref. -
Developer - Gladedale (Lead developer), Glasgow City Council (Promotion and monitoring)
Architect - Holmes Partnership (Residential phases)
Height - 6 floors for blocks overlooking river and at focal points; 4 storey frontages to Richmond Park and main roads; 2 and 3 storey housing behind the main frontages.
Materials - Predominantly artificial stone (red or buff) and white render. Also panels of grey smooth render and some zinc cladding. No facing brick will be permitted on site.
Total homes - 1,290 (mainly flats, but with a substantial proportion of family houses). 144 social-rented houses (Link Housing Association) will be subsidised to rehouse existing tenants, plus 69 by Glasgow Housing Association.
Cost - £220 million approx.
All aspects of development (except for property acquisition, 69 Glasgow Housing Association houses and grant aid to community facility) primarily funded by the lead developer.
Location - Rutherglen Road
Status - 332 dwellings completed (119 private and all 213 social-rented) with 32 being built; first phase of The Boulevard/Rutherglen Road Diversion was completed in December 2006 and second/final phase to Shawfield is under construction. Detailed planning permissions in place for new road network and for Phases 1, 2 and 3 of the housing, plus shop units and relocated allotments. 32 houses at Silverfir Street and the £2 million upgrading of Richmond Park also have detailed permission.
Start date - April 2005
Completion date - 2014
In addition to housing, shop units will be provided in the centre of the neighbourhood with community facilities, relocated allotments and major road diversion (including new boulevard) completing the mix. A family pub/restaurant will overlook the pond in Richmond Park. The development will employ consistent use of colour (dark blue) for window frames, doors, railings, lampposts and street furniture, complementing an upgraded specification for roads and pavements.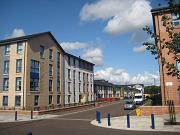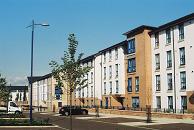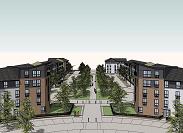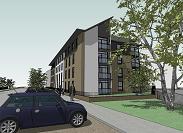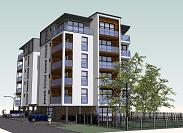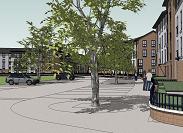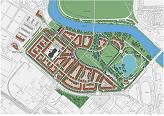 Alternate scheme
Page & Park devised the original masterplan, they remain involved with the conversion of St Margaret's and Polmadie church into a community centre.






Riverside Inverclyde : Published 09/10/06
Official site

Developer - Inverclyde council/ Clydeport Ltd/Turnberry Homes (The Harbours)/Kenmore Homes (James watt Dock)
Architect - ADF (The Harbours)
Area - 120 acres (Total), 30.6 acres (The Harbours), 50 acres (James watt Dock)
Total flats - 3,200 (James Watt Dock) / 290 (The Harbours)
Cost - £342 million (Total), £45 million (The Harbours)
Location - Port Glasgow/Gourock/Greenock
Status -
Start date -
Completion date - 2020
Development focusses on The Harbours (pictured) which covers the former Victoria Harbour and East India Dock. James Watt Dock will be the largest of the Riverside Inverclyde regeneration areas. Development will also focus around Kingston, Cartsdyke and Campbell Street.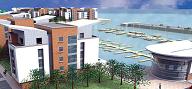 Renfrew Riverside : Published 24/04/09
Official site The first pjase of Ferry Village is now complete. Comprising a mixture of flats , townhouses and a small element of retail wuth works on the urban design of phase 2 and 3 being progressed. Renfrew Riverside is now dominated by the Braehead shopping mall and XScape leisure centre.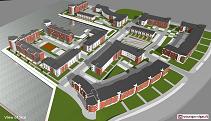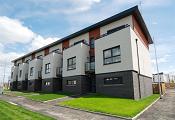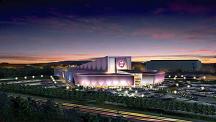 Kirkintilloch's Initiative
Official Site
The Kirkintilloch Initiative is an umbrella organisation overseeing the implementation of a number of projects across the town, each aiming aim to improve amenity. An Arts and Cultural Centre , part funded by the Scottish Arts Council, is to be the schemes new centrepiece. The centre provides theatre and studio space alongside bar and restaurant facilities to assume real civic importance. The site augments Southbank Marina which is being transformed into a business and leisure park by provision of office space and a footbridge that connects both banks of the canal. Facilitating the success of these developments will be enhanced connections to boost accessibility. A new link road will connect the town to the motorway network and a series of pedestrian and cycle routes will be created open up areas in and around Kirkintilloch to leisure traffic.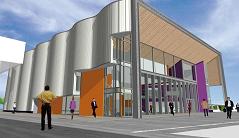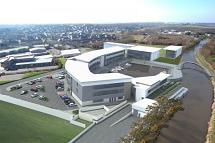 Irvine Bay : Published 15/03/08
Efforts are being mounted to redress the stagnant economies, population decline and peripheral isolation of the Irvine Bay area by tapping the economy of the greater Glasgow region through consolidation of business and residences to new commercial and waterfront centres, surplus land being turned over to parkland and mixed use development. Diluted impact from a geographic spread of investment is mitigated through creation of a coastal corridor interlinking the five towns through a series of 10 architecturally commisioned floodlit beacons exploiting tourism potential by economising the areas natural beauty. Commercial tree planting will be introduced to reduce exposure, define urban areas and facilitate recreation potential.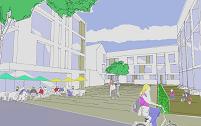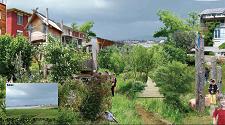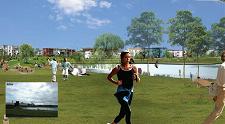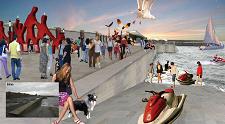 Key Features:
Stevenston - Beach sand dune landscaping, eco village, extreme watersports centre
Irvine - Links golf course and hotel, Magnum relocated to town centre, mudflats boardwalk, nature reserve, eco village, redeveloped riverside shopping centre, mixed use harbourside tower, maritime museum, civic prominence through expanded courts and police HQ
Saltcoats - landmark hotel on headland, coastal park, redeveloped pier
Kilwinning - Events space for fairs and markets, college expansion
Ardrossan - esplanade, residential towers on headland and marina, redevelopment of Montgomerie St council flats for mixed use
Opinion
Holmes's winning RIAS sponsored Saltcoats competition entry deploys stepping stone massing to bridge suburban volume inland by scaling proportions upward and rotating successive fingers through steady shallow degree in a gesture to primary seaward frontage. This mathematical consistency creates a rhythmic reference to the swelling waves of a seafront location whilst echoing the vibrant eclecticism of traditional beach huts and boats to forge a meaningful relationship between town and nature.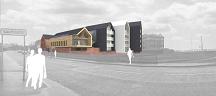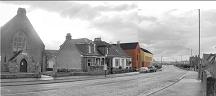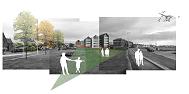 Weirs Factory : Uploaded : 16/09/06

Planning ref. - 06/02211/DC
Developer - CALA
Architect - Young and Gault
Height - 5 floors
Total flats -
Cost -
Location - Newlands Road
Status - Planning
Start date -
Completion date -
The main office and amenity building are to be renovated for housing with further residential construction on former industrial land behind.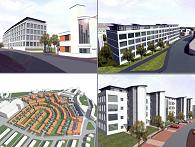 Barrhead Masterplan : Published : 21/02/09
Official site
A health centre, homes, offices, supermarket and a further education college are envisioned and a new civic square could be in place by 2010.