Health, Education, Culture & Defence
---

Rationalisation of NHS Greater Glasgow Hospital Services will involve complete rebuilding of EVERY major hospital in the city. Specifically all inpatient services will be catered for by new South, West and Royal Hospitals. Stobhill and Victoria Infirmaries will be downgraded to cater for outpatients only whilst the Western Infirmary and Yorkhill will be demolished. Yorkhill being replaced by a new Children's Hospital at the South Glasgow Hospital, thus freeing up valuable development land adjacent to Kelvingrove for University/Residential expansion.

Stobhill ACAD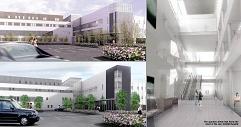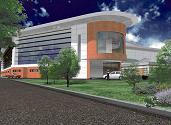 Victoria ACAD : Published : 06/10/06 South Glasgow Hospital.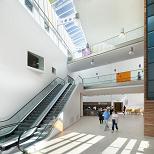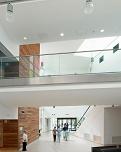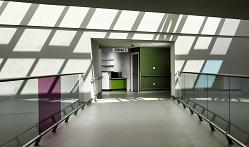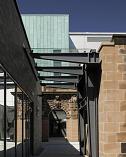 J Cooper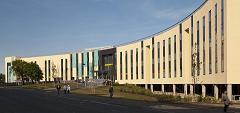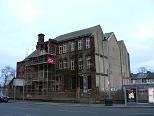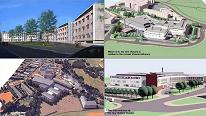 South West Community Health & Care Partnership Headquarters : Published 12/11/07
236 Broomielaw, it having been assumed public funding would underwrite the scheme: "We thought because it was a public building it would be protected from the downturn. We've been working on it for over two years and we were all ready to go. We think it's a brilliant project that would change the way social services are delivered in Glasgow."

As GCC pick up the pieces options being explored include securing: "new facilities at the Junction 24 business park development on a lease basis with a neutral cost effect to the Council."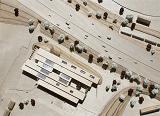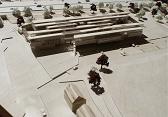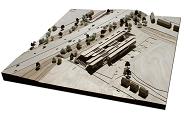 GCC's current biggest capital project would have provided community care and office facilities for Govan. The signature building was sunk low to the ground working with the contours of the land across a sequence of six linear blocks which shadow lanes of the adjacent motorway and interact with internal courtyards to provide light and break out space. Public and private areas are segregated by an east/west "blade". The scheme boasts strong environmental credentials promising to become Scotland's first carbon neutral building by harvesting rainwater, utilising natural materials and incorporating the mass of the land to provide insulation with aerofoil roofs oriented to maximise daylight penetration.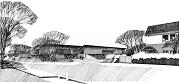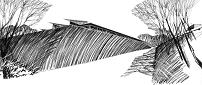 Opinion
Striking serrated blades of metal should cut a dash in an unattractive corner of Govan although the peripheral location combined with secluded form and setting does limit the buildings impact. A more central location and urban character would have lent greater community presence to the design.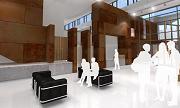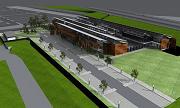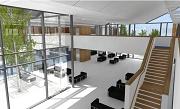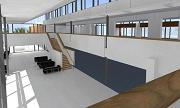 Royal Infirmary Parade Park. Right hand image represents an unrealised gm+ad masterplan.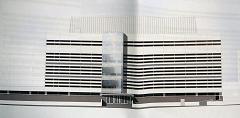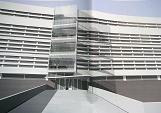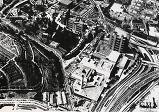 Katrine Water Project
Official Site




Strathclyde Single Campus : Published 01/12/08
Biomedical facility bringing together a multi disciplinary team to tackle drug discovery and development, architecturally this will sit on an elevated glass podium interlinked with the existing John Arbuthnott Building via link bridges. It represents the universities largest single project to date and is hoped the laboratories will attract leading scientists to Glasgow.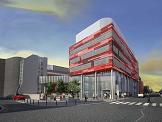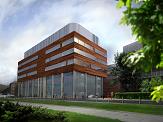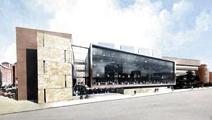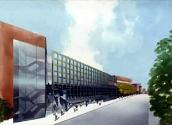 Opposite this will rise the planned Sports Centre featuring 25m pool, two halls, fitness suite, treatment rooms and a climbing wall adjacent to the existing Library.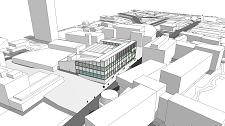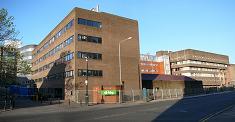 Elsewhere migration of the Faculty of Education to George St which in a display of enlightenment will bathe key entrance and roof canopies with light. Diffused through a composite glazing and filtered by a mesh cladding this will produce an ambient glow. This system takes advantage of the shadows cast by users within to become a "living element", achieved by projecting light from the back wall. Lines of light on all floors reinforce an appearance of verticality. Motorised translucent fins create an animated façade by day whilst enhancing colour and reflection by night. Recessed LED strips in the structural beams are intended to extrapolate this dynamism into the roof space with alternatively concealed up lighting to bask the soffits in an even light. The piece de la resistance (given suitable funding) could be a mesh of LED's embedded into a rooftop plant level, acting as a matrix wall for images, video and text to impart sponsored messages. Budget constraints however may entail simply extending vertical light in an equaliser pattern.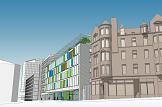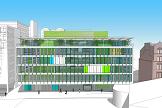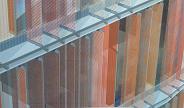 This will free up land at Jordanhill for a new masterplan which will see refurbishment of the B listed David Stow building into residential accommodation, offices or a hotel. Selective demolition on the remainder of the estate will see removal of several later additions, notably the Sir Henry Wood Building. Meanwhile at Glasgow Airport the Advanced Forming Research Centre will develop technologies in support of the design and manufacture of new products and components.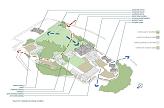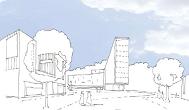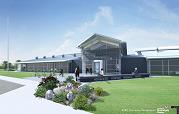 Works in the longer term involve demolition of the 17 floor Livingstone Tower for a new McCance Building. A new "Front door" will rise on site of the old Rottenrow maternity Hospital facing a landscaped garden area and the existing Colville building is to be refurbished.











Glasgow School of Art : Published 08/09/09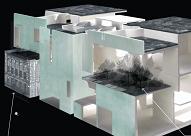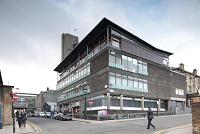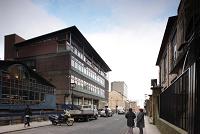 Alternate designs
Amongst the practices to submit were Elder & Cannon who have adopted a solid, tactile approach, displaying a robust copper finish lightened by full height glazing in a regimented rhythm along the length of Renfrew Street. Francisco Mangado on the other hand are pursuing a playful approach with a grand foyer space displaying due deference to the masters work across the road and offset by a feature cantilever above. Slender external skeleton of subtly hued fins inject a splash of colour. Hopkins has made use of the south facing façade to create a new sun trap on Renfrew Street along pedestrianised outdoor steps.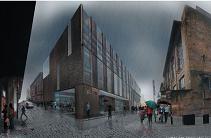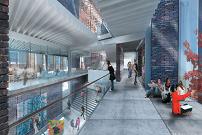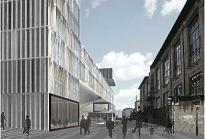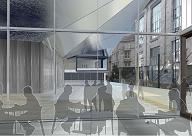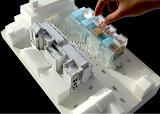 Utilising a wood cut model John McAslan and Nord have produced a sculptural response to context, developing a series of stacked cubes to break down the buildings mass and disguising a voluminous central atrium space. Benson & Forsyth who propose a multi layered angular box draped with greenery and topped by a dramatic roof garden. Central to the project is a grand double entrance directly facing the famous steps of the Mack. An enigmatic entry follows from Grafton Architects, with indistinct line drawings appearing to show the common dual height entrance space, decorated by hanging art. A solid masonry façade is broken by Tetris style inserts whilst a glazed ground level grants sight direct to a basement level.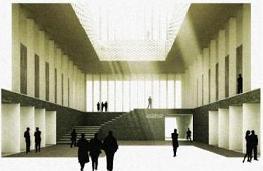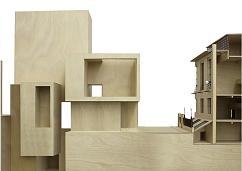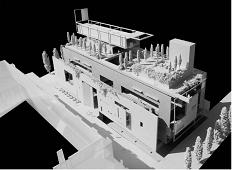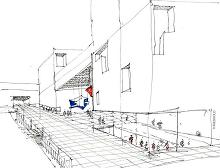 Anniesland College : Published 26/01/07
Motherwell College, being developed in tandem.




Jordanhill School : Published 03/10/09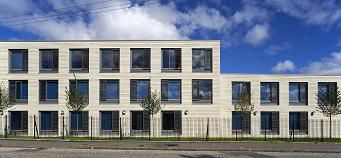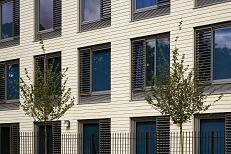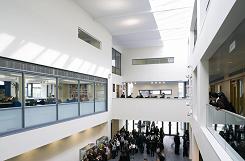 Hillhead Primary : Published 21/02/09





The street is addressed via a sandstone wall that encloses a courtyard play area before deflecting inwards to provide breathing space for a sweeping cascade of steps, this elegant parallelism of lines creates a natural sense of depth and culmination at the primary entrance. Doubtless this is intended as an external break out space and published perspectives duly depict content punters reclining in the sun, further focus is accorded by a sculptural window overlooking proceedings and any untoward antics that might otherwise be attempted. Despite such architectural aplomb, particularly in such a long suffering arena as educational provision, the issue of height (or lack thereof) is a bone of contention. The low slung school is dwarfed by its neighbours, choosing instead to slink from prominence in a back seat capacity. The school will take pupils from Dowanhill, Hillhead, Kelvinhaugh and Willowbank primaries. All of which will close when the new school opens its doors.


Tinto Primary : Published 02/03/09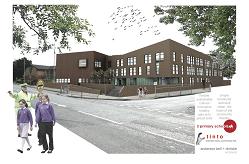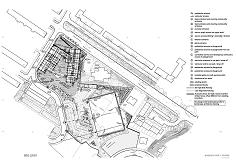 The present Tinto Primary building, branded "weak" by HM Inspectors in September 2006, will be demolished to make way for the facility. Amongst other failings inspectors were perturbed by an odoriferous boys toilets, water ingress, dry rot, vandalism, poor disability provision and hallways part used for storage.


Merrylee Primary : Published 15/08/09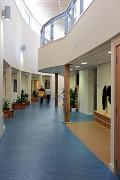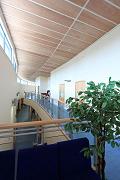 Glasgow University : Masterplan : Published 20/05/07
Lilybank Apartments & Artizan neighbour the Glasgow University estates. A pedestrian link bridge was planned to sit on the axis of Glasgow University and Kelvingrove Museum above the river Kelvin by John McAslan + Partners.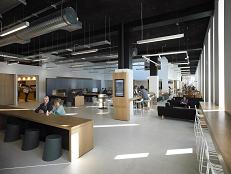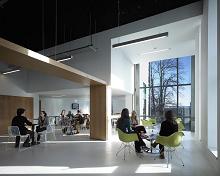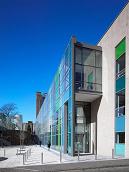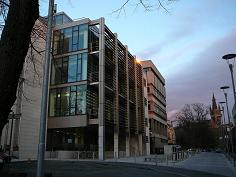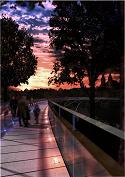 Clydebank College : Published 03/01/08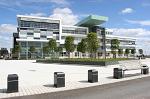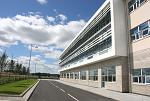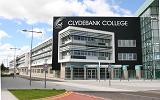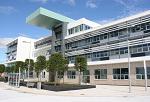 Opinion
Close collaboration with end users has produced a College successful not only in efficient delivery of curriculum but in wider community engagement. Horizontal emphasis of teaching space encourages formation of new streetscape, perhaps compromised by ground level blockwork which falls below the standard attained in landscaping, but enlivened by bold feature atria delineating points of entry. Tenemental proportions foster a new urban context for the Titan Crane, re-engaging Clydebank with its forgotten docks and exposing the latent potential of river as tool for economic invigoration.


North Glasgow College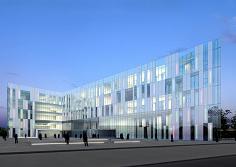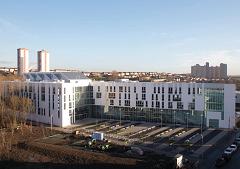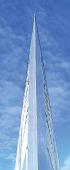 University of the West of Scotland
Published : 12/07/09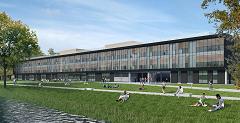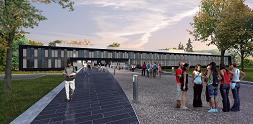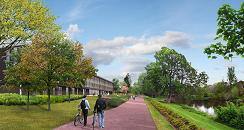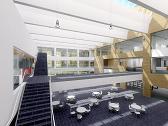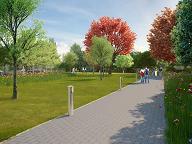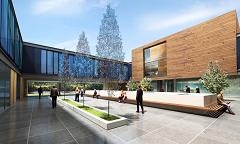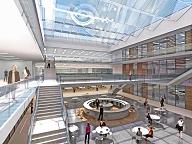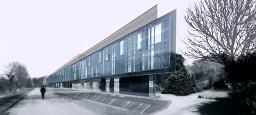 Inverclyde Schools : Published 21/03/08













Hazelwood School : Published 14/03/08 Civic Trust award recognising pioneering work in adoption of tactile, auditory and visual distinction between class areas.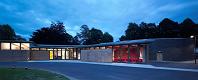 The school is conceived as a self contained garden enviroment of Lime and Beech trees enveloping the organic form of the teaching block as it flows freely across the contours of the land. This blurring of traditional indoor/outdoor boundaries allows sunlight to penetrate classrooms through specially designed screens contributing to an open, less intimidating learning environment. The building eliminates harsh angular forms for a soft sweeping crescent, by hugging the ground level the building is humanised, the stress of stairs and lifts are eliminated and teaching environments are brought closer to nature.
















Langside College : Published 08/01/08 Victoria ACAD unit.









Opinion
An undoubted enhancement of accommodation and facility is tempered by a muted palette of yellow tiling that does not exhibit the playfulness of character evident in the superior Clydebank College. An apparent steel mesh screening device is employed presumably for privacy aka 236 Clyde St but doesn't aid the creation of a welcoming environment, nor does the build engage with the important Battlefield Rd being segregated by landscaping and surface parking whilst a spartan brick finish to ground floor levels does not invite entry. Sport and Arts halls to the rear are utilitarian in appearance with extensive blue render though helping to reflect light and colour are unlikely to age gracefully. Public spaces are more successful in opening the site up to pedestrain activity and increasing the attractiveness of Mount Florida Station.







Royal Scottish Academy of Music and Drama



Go Ape! : Published 27/02/08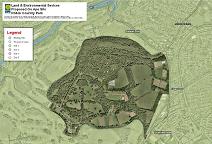 Countervailing argument adopts reversed perspective holding such "problems", if encountered, as symptomatic of the parks success against what is at present an underutilised resource, with Go Ape's founder at pains to stress these issues would be properly managed and addressed. But such flexibility is not reflected within an opposition where there remains fundamental disconnect and entrenched distrust. Bad publicity is no publicity and GO Ape! are presumably happy to ride out the stushie in anticipation of eager summer crowds of the bemused.


One Alexander Thomson Place : Published 10/04/09 Egyptian Halls and St Vincent Street Church comeintriguing plans to transform the crumbling A listed ruin into a custodian of Thomson's work, an archive to better communicate what was special about his contribution to the city. This is envisaged to take shape in similar fashion to Le Corbusier's Villa La Roche and Centro Internazionale di Studi di Architettura Andrea Palladio, Vicenza.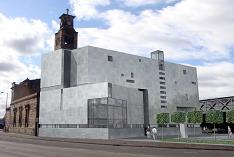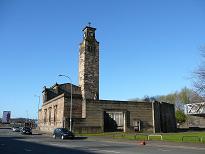 By reaching out to a still somewhat moribund swathe of city, despite the intervention of New Gorbals which itself is walled off from neighbours, it is hoped the development can be a catalyst not only for Thomson but Glasgow as a whole, establishing a meaningful partnership with the Mackintosh Society for cross collaboration, perhaps even realising a long held ambition of bringing tourist buses south of the Clyde. Early on it was recognised that a gallery alone wouldn't be sufficient to attract large numbers of people, different uses were needed to enrich the space with meeting, rooms, studios, apartments and museum. Entrance to the building begins at a public space, defined by granite setts and a statue of Thomson strategically sited to greet visitors. A tall narrow slot on axis with the tower leads visitors uder the new building and into a central courtyard lined with planting derived from classical decoration. The courtyard acts as a haven from nearby noise and pollution and is the main source of natural ventilation. Within the courtyard a stone doorway rescued by the Thomson Society from a warehouse on Watson Street leads into the Thomson Gallery and Study Centre.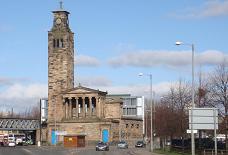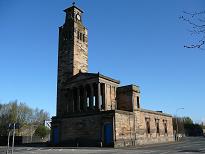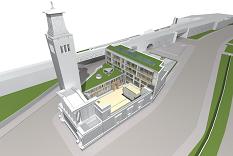 Most dramatically the site will witness the construction of five storey new build accommodation on land adjoining the partial church gable, this satisfies the dual aim of recalling the scale of original tenements whilst reinstating a northern frontage with ten serviced flats. A minimalist facade of polished silver grey granite to the north uses glazing sparingly to create a smooth geometric sheen that will reflect the light and weather. South facing conservatories to the apartments view the tower. Mark Baines describes: "Thomson's buildings are all monolithic, even timber detail is made to look like masonry, so we didn't want a mix of materials but something that was sharp, precise and machine cut." Sedum roofs with solar panels will be incorporated with built in roof level lanterns and floor to ceiling glazing drawing in light.


Riverside Museum : Published 05/04/07
Glasgow Harbour
Present site Gareth Hoskinsand PRSA shown right.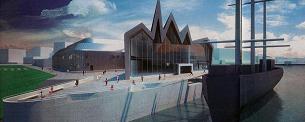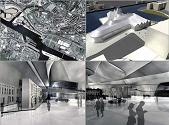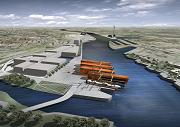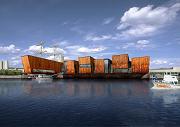 Opinion
The much lauded Zaha Hadid's first foray into Glasgow does not impress, the glass frontage does take best advantage of a riverfront setting despite a lumpen entrance way and is the only point of view where the abstract roof profile takes effect. Although this doesn't mask what is a simple warehouse albeit highly specced and with GCC cost cutting it likely won't. Shaving a few million for hard pressed council tax payers is certainly laudible but in a scheme with an already over inflated budget you have to question whether starting again might represent better value as happened with the Tradeston Bridge.


Imuya : Published 30/12/07
Commonwealth Games Village at the heart of the Clyde Gateway regeneration area. The structure will house a tropical habitat of rainforest and plant life populated by indigenous mammals and exotic birds. To achieve this feat the latest environmental control technology is utilised to fully customise light, temperature, humidity and shade providing capability to turn day into night. Conference suites will enjoy panoramic aspect across the jungle and visitors will be able to explore the environment along a series of paths and elevated walkways.





Kelvingrove : Published 11/07/06
Official site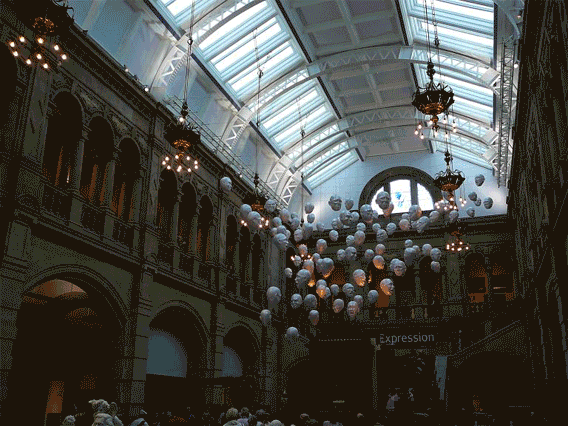 Trongate 103 : Published 12/09/09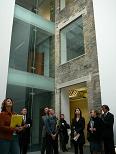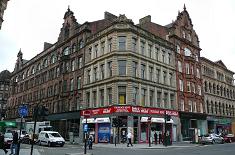 Mitchell Library RMJM having been downsized to an internal refurbishment catering for improved access and permeability. Andrew Carnegie's philanthropy makes for an impressive space adjacent to Cafe India at the foot of the Elmbank tower vision.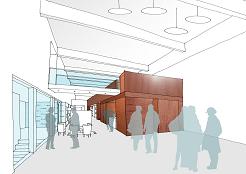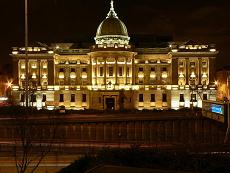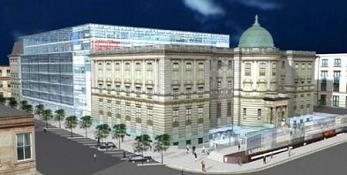 Carrier Vessel Future (CVF) : Published 12/07/2008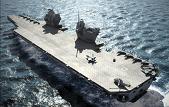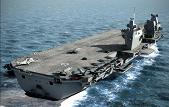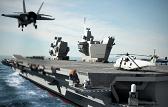 Twin Queen Elizabeth class vessels will re-establish the United Kingdom on the front tier of naval powers providing an independant expeditionary capacity 2nd only to that of the U.S. In honouring her duty as mature democracy Britain will possess the capability to safeguard national and global security from the manouvres of increasingly ugly emergant regimes.

Photograph submitted by Alan Watson.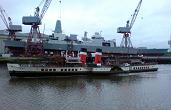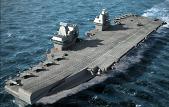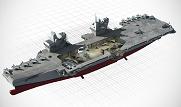 St Andrew's Cathedral : Published 01/02/09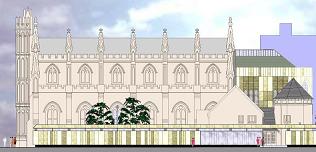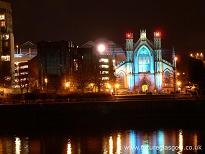 Gurdwara : Published 27/02/2008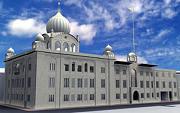 Glasgow City Mission : Published 20/12/07
Official site
220 Broomielaw). The only costs incurred on the Jesus loving carers will be the expense of adding facilities and systems that do not exist in, or cannot be moved from, their current offices. The block is situated adjacent to the mooted Fraser Suites Serviced Apartments.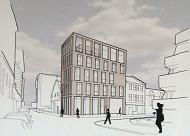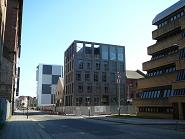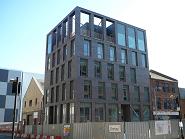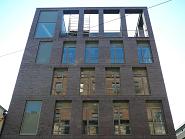 Presently dispersed administration and storage units will be combined within the new hub saving on logistical and rental expense. As a shelter for the homeless the new unit provides one to one support, pastoral care, clubs, trips and activities. These will all benefit from a new IT room and café, open plan arts space with kiln and potters wheel, gym, music room and a rooftop garden. In addition a range of catering, educational and medical facilities are provided.


The Briggait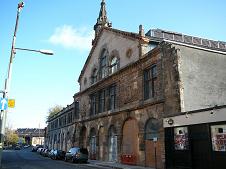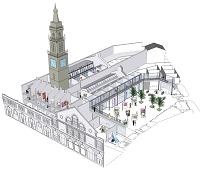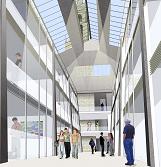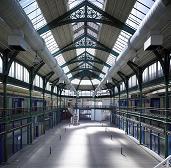 Colston Milton Parish Church : Published 04/09/09


Milton is something of a time warp with its poverty keeping the detritus of prosperity Ð executive homes, business parks and retail sheds at bay more effectively than legislation ever could. The limit of the city's urban extent is marked by a canal, a row of six tower blocks and thenÉ fields. It is one of the most dramatic urban boundaries in the city and makes for a surreal sight, particularly with many post war tenements being demolished and replaced withÉ nothing. Effectively this is the high water mark of a city in retreat. It is into this landscape that Colston Milton Parish Church and the local community plan a project of greater audacity than many of the big budget extravagances in the city centre: a community space, activity hall and place of worship, constructed from nothing but recycled materials and built, largely, from local labour.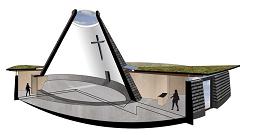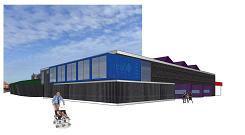 The scheme was initially sparked by the decision of the church to sell off land and their main worship space for flats, leaving just a hall which the organisation had to share with the boy's brigade and several community groups. This alone was costing £10k a year to heat and power, prompting the minister, Rev Christopher Rowe, to stipulate any new building be self sustainable in its energy use and be built by local people under ownership of the community. Rowe brought onboard architect Lee Ivett, of Baxendale Design Co. Ltd, who described a faltering start with wild rumours circulating through the community that a drug rehabilitation centre was planned and with several locals up in arms about having any development near their homes. Tackling the rumour mill head on Ivett took time out to go door to door with a model of his plans: "There was no local council and a history of apathy with things not getting done so we set out with a consultation to establish what the community needed. It isn't a token thing; literally anyone can join this organisation and own the project.Ê It's not like the Council has built a new resource and residents are involved because they were consulted, or planted some trees or have a membership card people were genuinely integral to the process.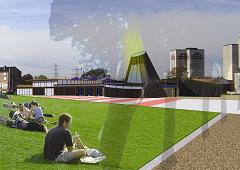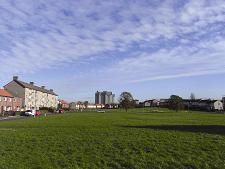 "We looked at what the need was for the project, we didn't say what do you want? We asked what do you like/hate about where you live and got to the root causes of people's positive or negative perceptions because what people want is a swimming pool or a Tesco and that isn't necessarily what can be delivered. It's about informing the community about what they can achieve, the level that they can achieve, off their own back and how that can start meeting some of the particular needs of that area." To effect this the Love Milton brand was developed, which is now a company ltd by guarantee and applying for charitable status. Ivett recalls: "Forming a group of people with no track record and seeing people progress through steering groups to a proper constituted committee and on to form a companyÉ that is a model for regenerating communities."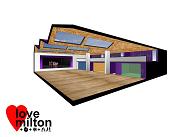 The church identified a location right in the heart of the area with the worst anti social behaviour and crime rate, a move that proved surprisingly reassuring for Ivett who welcomes this brave embrace of adversity. Landscape architects have been brought on board to look at the wider public realm to avoid creating a walled compound but rather a building within an urban park. This means existing pedestrian routes on the site can be maintained such that every elevation is supervised passively. Milton's flock numbers only around 50 so Ivett was keen to avoid building something vast in plan; instead a sense of scale was developed through height and volume. In addition the congregation was looking to move away from a hierarchical layout of pews toward something that was more inclusive with the minister in the centre of a semi circle. This dictation of plan led to the natural adoption of an ellipse shaped tepee like structure, topped by a central south facing aperture that focuses light down upon the sermon.

This sense of drama is accentuated by sinking the sanctuary space 1.5m below ground level so people have to descend a processional ramp to reach the central chamber. The idea behind this is to build a sense of anticipation, gradation and theatre, rather than merely opening a door and being hit by the space. In form there is no consistency between the constituent parts of the scheme, an approach Ivett admits veers from architectural orthodoxy but then as a project the entire concept is very far from orthodox. "Generally there's a desire, because you've been taught it, to keep a consistent architectural language all the way through. There isn't a consistency in architectural language here but there's a consistency of materials, we're using timber cladding reclaimed pallets, tiles and corrugated metal and in some form each of those three types appear on each elevation."

Shipping containers define internal space within whilst a green roof punctuated by photovoltaic cells, complemented by wind power and/or biomass, will provide half of all power. Ground source heat pumps, essentially a tube inserted one metre into the earth, will draw upon the inherent warmth found there to create a decent ambient temperature. "There may be a design where the local input of volunteers might be more hands on than simply bolting some things together and we're looking at what that involvement would be. We've got a glulam timber structural frame with straw bail infilled walls and are using rammed earth car tyres for the gables. This, along with painting, lining and fitting out the containers, are all things that most people can get involved with.




"We can't have a situation where we're just inviting people to turn up on a weekend and knock something together. We have to develop a process that is professional, rigorous. We looked at whether we could contract it out, put it to tender, get a specialist eco builder in or set up our own company to do it as a social enterprise. By developing the skills and management techniques with this building people can go on and build their own houses or that experience can be sold to other groups. Over 5, 10, 15 years a vehicle and organisation could be established with the wherewithal to improve the community in whichever way they saw fit.

"The idea is they would set up a company to manage and deliver this project, they would hire a project coordinator, a construction manager and that core group of professional people would bring in the relevant training partners, skilled and unskilled labour. It is silly to assume that this will all be done by volunteers. Plumbing, electrics, structural frame all have to be delivered by specialist subcontractors. We've been very specific about which elements can be delivered by work experience programmes and the unemployed."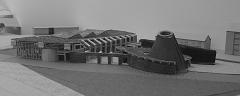 Approaches are being made to the Scottish Climate Challenge fund for further funding but the group will need to find the money for this themselves. Even in the current financial climate Ivett is optimistic of raising the required millions: "It's a high value scheme with a low comparative cost so hopefully money can be raised and the project delivered."GCC have granted a development hold on the site in favour of Love Milton, giving the company until March 2011 to develop their proposals further and also transfer ownership. This means the land cannot be sold to anyone over the next year, ensuring the site remains free for development until funding is found. Before a beer can has even been laid though the scheme is reaping positive spin offs for the Milton area with a documentary in the making alongside copious column inches a dramatic shift for a locale more used to reading about the lowest this or highest percentile that for health and crime. Perhaps the real legacy being built here isn't architectural but societal.


Braehead Police Station : Published : 02/03/09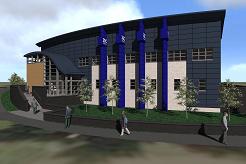 Castlemilk Stables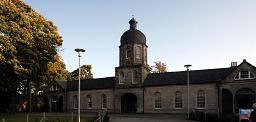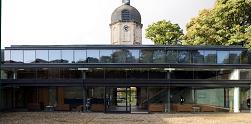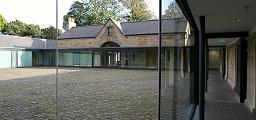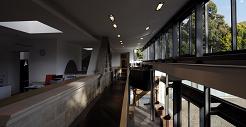 Lambhill Stables : Published 07/03/09