Hotels
---

Note that further hotels are planned within wider mixed use developments at Meadowside Quay, SECC East, citizenM, Collegelands, Skypark and Speirs Locks


Jumeirah Hotel : Published 13/11/07

Planning ref. -
Developer - Progress Property
Architect - Ian Simpson
Height - 26 (92.5m) and 13 floors (48.8m)
Total beds - 158
Materials - Metal panels and glass with wood or leather
Cost - £125 million
Location - 311-319 Argyle St, 85 Robertson St
Status - Approved
Start date - 2009
Completion date - 2011
A planning application has been submitted for this 6 star deluxe hotel development occupying a new build tower at the Argyle St/Robertson St intersection interconnected with 68 serviced apartments at the York St/Argyle St junction within a 2nd smaller tower and refurbished and expanded tenement block. The brainchild of Glaswegian businessman Charles Price the development is designed to be as green as possible by incorporating bore hole technology to get water from the ground to supplement heating, high efficiency boilers, automatic lights, very high insulation and the latest lighting technology.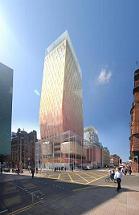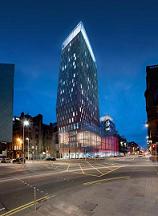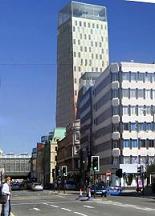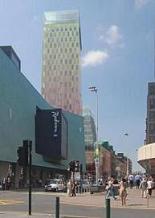 Hotel Facilities
630 person banqueting suite
25th floor Health spa and gym
Pan Asian restaurant
137 space twin level basement car park
Conference suites
Rooftop infinity pool
Publically accessible Sky bar and restaurant
Coffee shop and pavement cafe
Hi tech Business Centre suspended above lobby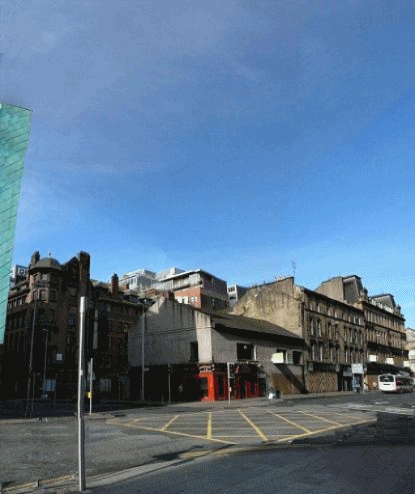 Opinion
Requirement to accommodate the demands of business visitors to the International Financial Services District has produced the most ambitious new build scheme yet seen within Glasgow. An energy efficient skin of metals increase solar reflection by rainbowing through the warm end of the colour spectrum as the tower soars skyward. Public spaces at street level are encased within a glazed atrium, minimising wind sheer and physically marrying new build with retained tenement. Conference suites burst out from the bulk of the tower in a sequence of organic barnacles, warty extrusions on a sleek veneer.

The first truly confident development of 21st century Glasgow promises to redefine the IFSD by creating a beacon across the physical and perceptual barrier of Central Station, something that will be accentuated come nightfall as the building is turned inside out as the glass foyer vanishes and dramatic internal environments are illuminated. Aligned with the waterfront grid the tower is set back from Robertson St to accentuate views. The serviced apartments have a dynamic relationship with York St cantilevering to form a veil beyond the retained stone facade, this differing approach of extruding one tower beyond the building line whilst containing the other within continues the theme of juxtaposition deliberately employed across the complex as elements of hot and cold, internal and external, short and tall, old and new, solid and transparent, all combine to enrich the visual experience.







Maximising a tight footprint the tower bulges outward to a point 1/3 up whereupon it tapers inward to a summit creating a unique form in profile when viewed from the river. Like Babel the tower can't quite reach heaven, although the triple height atrium crown containing sky bar, restaurant and "infiniti" pool promises to go one better in encompassing the best that the divine and Mammon have to offer. Illuminated at night it will create a glowing lantern visible across the city certain to elicit envious stares from those not fortunate enough to be resident whilst affording guests a spectacular eyrie from which to survey the city.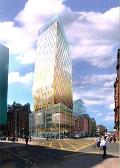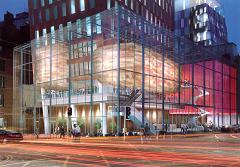 Charles Price Interview (Jumeirah Hotel) : Published : 21/10/08

Do you see rival hotels as direct competitors? Are you involved in a race?
I think that every hotel has a particular niche, Jumeirah have a particular approach to others even in the luxury field, competition is healthy and I hope that everybody raises their game and I hope that these hotels will be a major success because it helps us be successful.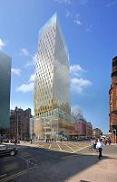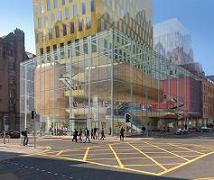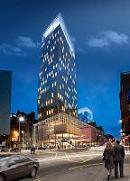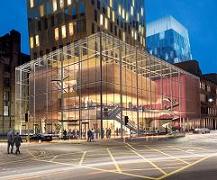 How has the situation with Robert Fox (owner of Biggars pawnbrokers on site) been resolved?
A compulsory purchase order has been issued and that will resolve itself in the not too distant future.

Do you have funding in place?
Not an unexpected question! We have our funding arrangements in place, not only for this but our other developments over in east Dalmarnock. I can't give you specific details because I'm also one of the approved bidders for the Commonwealth Games Village and that's involved in it. So at this moment in time I'm not able to disclose any details but as you can see from the look in my face (smiles), I am quietly confident that even in the present circumstances we will have money available to develop.

What timescale are you working to?
There is no specific date yet but there will be one shortly and we will announce it. At the moment there is a lot of preliminary work going on, todays signing in the background with a technical services agreement. That means we can get on and do the final designs of the actual interior, we've done a lot of them already and start to appoint the professional team, some are appointed, there are some more to be appointed getting contractors, specifications etc. So there is a lot to do but sometime next year we will be on site.

The scheme was earlier described as "six star", now a "deluxe five star". What accounts for this difference?
Well no, basically it was the media and others looking at it which described it as six star. There is no six star classification anywhere in the world at the moment, it's in the eye of the beholder. If people think it's better than the normal five star fare then we've accomplished our purpose and aims. I think it will be, I think one day there may even be a new classification in the world starring of hotels but the designation that's been given to us as something special will apply to this building.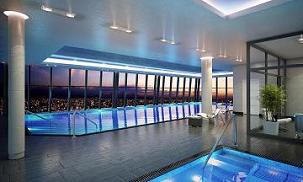 What proportion of inspiration for this project comes from the heart and which from the head?
I think the two happily coincide. It was a commercial decision carefully researched, it's very nice to be in a city that you were born in and come back to it, but it's purely coincidental that we've had this building on a portfolio and expanded into the site. We saw an opportunity which others didn't see and we've proven that opportunity to be real and we'll build that into a major success.


Ian Simpson Interview (Argyle International Hotel) : Published : 29/05/07

futureglasgow was granted an audience with Ian Simpson at the press launch of his latest and greatest scheme, The Argyle International Hotel.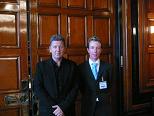 fg Welcome to Glasgow and congratulations on your first project here, you certainly know how to make an entrance!
I.S It's exciting working in Glasgow, we've had a couple of schemes that we've tried to push forward at some stage in the past and we've never moved forward but it's a great city to have the opportunity of working in really. It's exciting for me to be working in cities which embrace change and look forward by recasting themselves in the 21st century in whatever way it is. It just so happens that I'm an architect and we try and make our buildings contribute positively to the cities future, we support that political agenda of regeneration, jobs and investment.

fg What was GCC's response to such a large tower next to the central conservation area?
I.S The time we spent over the past few months working with GCC and the officers, people like Steve Inch and so on has been very, very positive and they have been very constructive in their approach and requirement for information and so forth. We've never been in a situation where we've been battling each other, it's been a case of trying to find the right solution for this scheme.

fg Did retention of listed buildings on site pose any problems? Has the scheme benefitted from their inclusion?
I.S Not really at all, I've tried to take a very positive move in terms of integrating the listed facade and existing cupolas on York St and Argyle St and letting those original floor plates and floor heights dictate the heights within the rest of the development so it is totally integrated at ground level and podium level, we've even taken the parapet height and string courses of the old building and brought those through into the new building and inhabited the space behind the old facade as part of the serviced apartments and also the large ballroom which we're creating there as well. I like the idea of this juxtaposition of the old and the new in the sense of the solid and the transparent and what we've got is a solid existing building and a transparent new portion and then sitting above the transparent podium we've got the solid tower housing the hotel rooms, then over the solid base we've got a more glazed and lightweight tower sitting over the top of that, so it's an inverse effectively.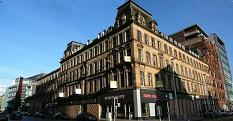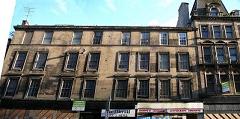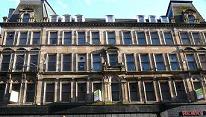 fg The central tower makes dramatic use of colour, what materials express this? Was it always intended to create a landmark building?
I.S The main tower is going to be flush, a very smooth surface with 50% of the building taken by glass which will be windows and the other 50% will be a metal panel, we're going through a process of investigating a variety of different panel types in order to get a gradation of colour from the ochre red sandstone through to the blonde colouration of sandstone as it goes higher. I think it was important on this site which was always a bit tucked away, it's an important piece of the IFSD and an opportunity to create a marker for the business quarter. It tries to take people across the barrier of Central Station, waving at them to show them what's going on this side past the shopping. It's a visual and physical connector but I don't really see it as a very tall building, it's a medium scale building really and we've tried to create something quite distinctive with its form in that's a faceted and tapering structure that's based approximately around the notion of the old cupolas that are on the existing listed building that we're retaining the frontage of.

fg Both towers sport dramatic rooftop crowns highly visible from the Kingston Bridge, Was this intended as advertisement for passing trade?
I.S I think the main tower will be, the smaller tower probably sits more comfortably within the scale of the context of the new developments, it's not really very tall. It's more to do with having quite an interesting juxtaposition of forms from street level, but the taller building will certainly have a presence from the bridge. It won't be something that stands out, we're used to designing 50 storey buildings and we just didn't think it appropriate in this instance here. This was about just trying to create something very specific to Glasgow and just tailor it to suit and I think the height that we've gone to, some people will say is tall but we think it's what it needs to be in order to create not only of the critical mass but to change the perception and visibility of the area as well.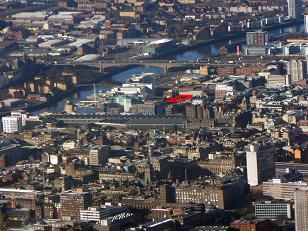 fg The angular forms of the design are broken only by curved appendages projecting into the atrium, what was the rationale behind this?
I.S The main tower takes its angular faceted form from the idea of these sloping cupolas on the old listed building, so we had the idea of this structure that hit the ground and was supported on columns although it was wrapped with this glass foyer space, it rose up flared out and then tapered in to the high level and then the business pods were then elements that were almost floating in the space so they could take a softer more delicate feel to them rather than the angular form of the tower which really had sitting on the foyer space. We're exploring different types of wood and leather so they're quite tactile materials, organic in terms of shape. We want them to be as objects within the space, so with lighting and so forth will have a very dramatic street frontage onto Argyle Street and Robertson St.

fg The tower employs a unique profile by bulging outward initially and then tapering inward. Was this to maximise floorspace on a tight footprint? Will this allow greater light penetration to street level?
I.S What tends to happen is if you have a smaller footprint at street level then it does allow more light to come into space so we wanted the foyer to be very light obviously it's faced with glass but then the structure sits quite delicately within that and the tapering of that form will emphasise, reinforce the quality of light in that space.

fg The site neighbours gm+ad's award winning Radisson Hotel. Did this present specific design challenges when contextualising your build?
I.S Not really, no. I think Alan and Gordon have produced a fantastic scheme there on that site, it's a much bigger floorplate than our building but I just felt their building had a much greater street presence, we've really just got Argyle St effectively. To get the quality of spaces we wanted and the number of rooms we wanted to do, we've decided to adopt the height. You look around that area, you've got the Radisson, The Bridge residential building opposite, the other financial district buildings at the back. It's quite a mixture of not only uses but styles as well and I think we've tried to engage with the building that we've retained and integrate it within the design but then give it almost a simplified contemporary approach in terms of filling in the block with glass and then having the taller structure rising out to the top of it and that's probably more of our approach rather than layers of materials, we're more spatially driven.



fg What measures have been taken to integrate the tower with the street? and what degree of public access will there be to the site?
I.S The ground floor is a big public realm space that has cafes, restaurants, entrances and staircases it's a part of the street really. The Skybar and restaurant will be publically accessible at level 23, which interestingly enough is the same height as Cloud 23 the Skybar we've devised at the Hilton in Manchester and that's a fantastic panorama across the city. What we'll get here in Glasgow is the formality of the rigid grid to the north and then the river to the south and that contrast from the restaurant and bar will be dramatic because you'll obviously have 360 degree views around the building.

fg How have you brought together the seperate buildings and functions across site?
I.S We've taken the facade of the old building and it's just become the facade of the new building so it's one building but it has two different languages to the street. One is the sandstone of the existing building and the other is the glass of the new building but we've integrated as I say serviced apartments behind that facade and we've worked with the floor to floor heights of the old building so the people who occupy those serviced apartments will get a sense of that historic building through the windows, the proportions, the old shutters and the details with that and the floor to floor height which are greater than the new build which sits on top of it, so it's just been encapsulated within the scheme really. There's no point in keeping it unless it can become a totally integrated part of the new proposals.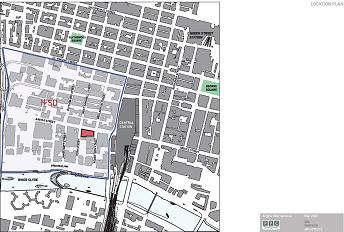 fg Progress Property seem to have pulled out all the stops to outdo the competition, are they the perfect clients?
I.S They're very good clients to work with and very ambitious. They want the best and it's about having that positive outlook, just that ambition to try and achieve that and to push us as well architecturally to respond so it's been a very good working relationship.

fg Looking beyond the Argyle International, is Glasgow a city you would return to for future projects?
I.S I'm working around the country and internationally, so I'd love to have the opportunity of working in Glasgow, it's easier to get to than London is for me. It's a city I feel a lot of affinity with in terms of the same way that Manchester's an industrial city that's reinventing itself, I feel an affinity with Glasgow in the same respect.

fg Tall buildings have taken off in the southern cities in recent years, particularly within your home city, Manchester. Do you think Glasgow is slipping behind?
I.S Not really, I think Glasgow is different in that it has a very strong and very powerful and forceful architecture and grid pattern but you've got these blocks and these grids and this stone and I think that's something great to preserve. But around the edge of the city in areas such as the IFSD then I think you can start to break that down because in many ways that complements the Victorian city itself. I think it's always about an appropriate response, I'm not sure that I would go much taller than we've gone to date in and around that conservation area but certainly further out you could produce taller structures.

fg Thank you for taking the time to speak with futureglasgow, we wish you well as you take the project forward.


Staybridge Suites Hotel : Published 09/03/08
Planning ref. - 07/03997/DC
Developer - City Site Estates PLC / IHG
Architect - Young and Gault
Materials - Curtain wall glazing and stainless steel
Previous: Black and profiled silver aluminium panels with glass curtain walling, marble, natural dark red sandstone and granite tiles
Height - 20 floors
Total beds - 119
Cost - £7.2 million
Location - 54-58 Jamaica St
Status - Proposed
Start date -
Completion date -
Planning officers have eked out further refinement from y&g in this the third and final design iteration, proving (perhaps) that a belated push for good design is being mounted following recent architectural horror shows. Jury's Inn being only the most pertinent.

A fiery explosion of glass radiates outward in inverse cascade diffusing to clear with altitude and surmounted by a beacon of light, clean typeface stencilled into the service core fuses corporate identity with architecture whilst service access is concealed behind electrically secured railway arches. The resultant solution is observant of successful neighbouring development serving to simultaneously augment the Central Station arrival corridor whilst encouraging putative pedestrian revival of Jamaica St. Perhaps best appreciated from afar the lightbox promises to keep good company alongside more illustrious peers, the cumulative impact of this hotel rush potentially representative of the first gestative twitchings of a genuine skyline prior to 236 Broomielaws debut. Having weathered a storm of opprobrium Staybridge promise to confound the cynics with a welcome addition to the urban scene.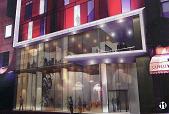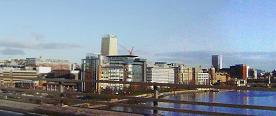 Opinion
Irrespective of the designs subjective merits, real concern was generated by the automated criticism of height originally given voice by Conservative opposition. Contrasting subjective opinions cited in justification variously veered from "hideous", "ghastly", "not high quality" and "not good enough" to "a slick modern building". Wider argument that "design standards fell well below what the city attained in Victorian and Edwardian times" and "below the level of design quality currently accepted by our competitor cities" are substantiated by the growing disparity of construction between regional capitals. Fortunately this particular brand of conservatism, more attuned with middle England nimbyism than promoting business and limiting state intervention, has been quashed by raised design ambition. Local precedent now exists for an optimistic appraisal of future attempts to deviate from 19th century building codes.


Previous Design
Consideration of perspective at street and skyline previously saw the towers verticality broken into 3 distinct sections. Street frontage had been toned down with a remodelled canopy so as not to overpower the listed Macsorleys building, the body (modelled on Optima) respects and maintains the existing building line whilst the crown reflects vertical emphasis and random pattern of mullions seen on The Sentinel. Feature lighting advertises the base complemented by relief lighting at the boundary of sandstone and glass with 2 parallel runs of LED's to north and south elevations. Concern lay at street frontage which appeared conservatised to the point of blankness, a double height glazed restaurant/foyer would better publicise space and facilitate street security.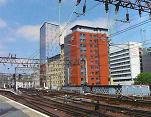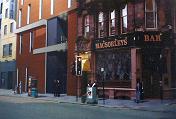 Hotel suites are enveloped within a glass curtain wall which forms an inner skin overlayed by black and silver aluminium panels through which the glass interior is revealed by a sequence of regular horizontal and vertical voids, the effect of which creates a "light box" whereby the interior glows from behind expressing facade detail. Attention is drawn to the street front by a feature red highlight outlining public areas and an upgraded specification of glass and marble. LED lights will run the height of exposed glass on the towers north and south faces these will pick up a stainless steel fin detail in subtly changing single colour.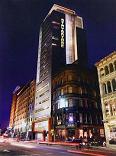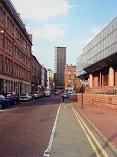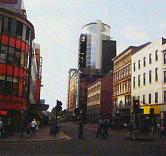 Opinion
Success come nightfall seems assured with dramatic lighting luring pedestrians down Union St although daylight effectiveness appears mixed. As each facade offers differing treatment some are inevitably superior to others with Union St apparently favoured over Howard Street where the strived for visual termination falls flat with a blank 20 storey wall of stacked aluminium. The design statement alluded to the aluminium panels giving way to greater glazing near the summit allowing the tower to merge with the sky by day and act as lighthouse by night, but this is not visible on published perspectives and could certainly be enhanced by dropping the height of aluminium further.


The Hilton

Developer - Hilton
Architect -
Materials - Granite and glass
Total rooms - 319
Height - 20 floors
Cost -
Location - 1 William St
Completion date - 30th Nov 1992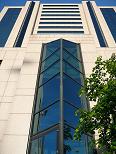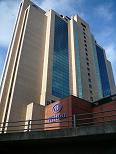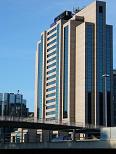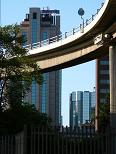 Bothwell Plaza : Published 09/02/09

Planning ref. - 08/02306/DC
Developer - European Development Company (Hotels) Ltd
Architect - Aedas
Height - 18 floors
Materials - Curtain walling, anodised aluminium, black granite effect plinth and carea masonry
Total beds - 320 5* Crowne Plaza
Commercial Space - 260,000sq/ft
Cost - £120 million
Location - 177 Bothwell, Douglas, Pitt and Waterloo St
Status - Approved
Start date - Late 2008
Completion date - 2011
It's third time lucky for Bothwell Plaza as the tallest planned commercial building in Glasgow successfully secured planning permission at the third time of asking. Comprise a mix of office, hotel, retail and leisure space. The design aims to fulfil the developersaspirations for an architectural icon and gratify a rising demand for hotel accommodation in the run-up to the 2014 Commonwealth Games. The project first came to a head back in 2007 with the submission of a Jenkins and Marr scheme. It and subsequent iterations have been repeatedly batted back by the city council however due to over scaled service bays, lop sided public realm and a lack of active frontages, singling out upper levels on Bothwell St as: "a dark grey box." Projecting boxes at roof level on Douglas St giving the building: "a top heavy appearance." and expansive stretches of cladding panels on Waterloo St: "deaden the gable." More recently the scheme fell foul of a scathing ADS critique which lambasted that office and hotel elements being split into stand alone elements limits: "a unified presence", the tower was too wide in proportion to its height and public realm is: "at least as bleak as what previously existed on the site."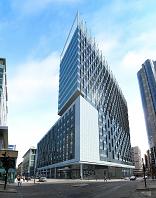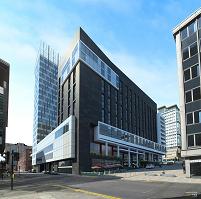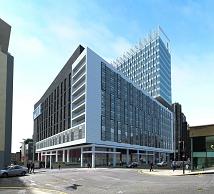 Stuart Graham, Aedas' Project Associate remarked: "We had a dialogue with planners, ADS and others, there were always going to be refinements. We've calmed the hotel down and wrapped up the office tower to be worthy of the scale, it's now much more textured." Inclusion of the Holiday Inn Express "looked like over development" and was removed. "What we've tried to do is go right back to first principals, basically ignore the previously submitted scheme." Stuart continues: "You've got a strong dense historic core and then a different sort of urbanism down to the motorway beyond that. The site is in a transitional zone, the motorway forming a boundary. You're starting to look at a tall buildings zone, with the planners looking at where tall buildings might be permitted and encouraged. You have this cluster running up the side of the motorway with things like the Cheapside development, the Broomielaw and Elphinstone which is certainly approved as a tall building, if unlikely to go ahead in quite that form." Planners had to be convinced of the economic rationale of pplacing offices in a tower format with concern that bringing such a volume of office space to market here may compromise competing developments along the Broomielaw.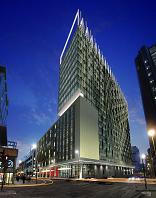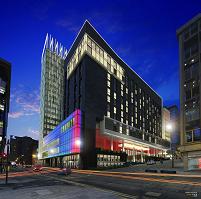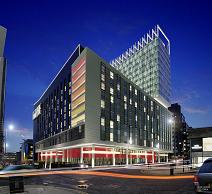 An element of height was considered desireable from an early stage as Bothwell plazawill assume skyline significance given elevated positioning. Glasgow's relatively low level and compact city centre is ringed by clusters of much taller social housing towers. From long distance views and from the air the city centre is difficult to locate, the reverse of North American cities. There are approx 150, 20 storey towers within the city, only 15 in the city centre. Stuart attributes this to a loss of confidence in the 60's and 70's. Right through the 80's it was difficult to do things not in historical styles. Stuart says: "Glasgow has traditionally put tall buildings on the periphery, in suburban areas. There are a whole number of reasons for that, land values and things like that. But brownfield sites are getting used up, people are starting to go higher in the city centre. Our client wants a bit of confidence. Our aspiration is not a million miles from the College of Building and Printing, but dealing with each side of the building in a different manner. There has been an ongoing dialogue over key views and some of our responses to that, there's a kind of compromise. We've looked at 24 and 25 floor options, floated 35 floors at one point, but once you start to go beyond 20 stories you start to get into completely different lift solutions and lifts are a real killer in commercial buildings. The lift consultant initially came back and quoted 10 lifts which take up half the floorspace, you get to a point of diminishing returns. You have such a high population in the building so you need 10 lifts but then you have 10 lifts so you can't have such a high population. It's slightly different when you put the hotel part of the tower because you don't have such high volumes of traffic and waiting times."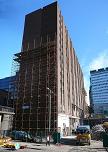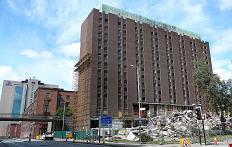 The tower itself now authoritatively struts centre stage thanks to an 8m height extension granted by the incorporation of a series of rooftop trusses that bleed the solid vertical form into a positive contribution to the skyline. This striking crown consists of a sequence of fins subtly angled with mathematical rigour and reflected in the adjoining hotel roofscape. These sculptural adornments are decorated with a system of illuminated LED fins that dapple and splay light across the east and west facades in symphony with localised vortices of air and the internal movement of feature lifts. This theatrical luminescence is extrapolated down the western façade through a series of vertical louvers that will transmit strong white light from the summit to the entrances via a subtle change in tone to warmer hued white. Each fin comprises an oblique hollowed triangle that affords texture and solar shading by assuaging passage of light from the north whilst hindering corresponding southerly light as Graham reveals: "The passive shading devices will be lit to create a shimmering effect across the elevation and merge into the 'crown' at the top of the building to give it a strong architectural quality." A bevel now incorporated into this western facade is a direct quote from the building of printing and further serves to introduce some reflection and movement as your eyes are carried around the structure.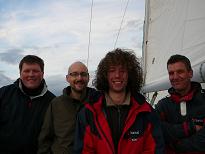 A prominent cantilevered pivot abuts the Bothwell Street roofscape housing a dramatic upper level break out space. Refinement to the Bothwell St façade sees the element read as a masonry frame with an infill of metal and glazing panels, these will be alternatively flush and subtly projected to add a touch of depthed nuance to what had been a featureless cladding expanse. Ground floor areas are now predominantly glazed with recessed colonnades and wider entrances, these will be denoted by uplit columns designed to shimmer in response to pedestrian stimulus. The collonade wraps around three sides of the block, taking full advantage of an expanded pavement and climaxes on Douglas St where a double height restaurant sits atop a podium which bridges a site gradient of 6.5m. It is this street level plinth which will house a dramatic central atrium space according interconnectivity between all the separate elements. This space is decked over with a rooftop terrace garden although open glazing may have bought greater democracy of light.

A key consideration has been linking with the final phase of the Anderston Centre masterplan and how it might expand into the Marriott site. Removal of the remainder of the existing megastructure and overhead walkways would re-establish pedestrian through routes, enhanced by a separate Connect2 proposal to rehabilitate the "bridge to nowhere" as a viable cycle link to the west end via a new cycle path down Waterloo St. Speculation implies that the whole corridor could be denoted by a sequence of events, a cluster of towers.

Opinion
Splitting office and hotel elements into stand alone units is a controvertial move, stunting ability to grow tall and producing a variation of architectural mass and style across the separate elevations. This time around five storeys have been loped off the hotel block thus according the office tower further room to breathe and assuaging Pinnacle residents protests. Unfortunately this has meant hotel space taking precedence elsewhere and this has eaten into the primary western façade, unbalancing the glazed symmetry and consistency with a blank gable presented as first sight when approaching from the motorway. Shorn of its most architecturally expressive element, the projecting penthouse bays, the hotel block arguably now kow tows a little too freely. Extensive skyline analysis conducted by Aedas, which has already seen height stunted to keep below GOMA when viewed from Ingram Street contributes to a squat profile, frustrating those who harbour ambition of height for the city. Once again Glasgow is left cowering in the shadow of past glories.


Previous design
SMC Jenkins and Marr's Original scheme encompassed three seperate buildings, a 5* Crowne Plaza on Pitt St incorporating Glasgow's biggest function suite catering for 1,000 guests, a brasserie, two floor piano bar, gym and conference centre. Waterloo St would have accommodated a 3* Holiday Inn Express and an office block featuring ground level retail above 2 levels of underground parking accommodating 155 vehicles.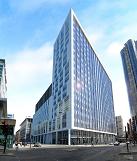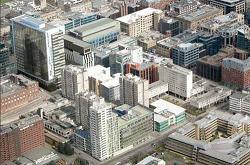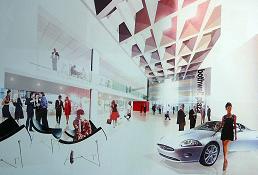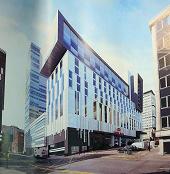 The Bothwell St elevation will form a public entrance to a new courtyard illuminated by decorative low height columns, recessed LED's embedded in the overhanging canopy bathe the courtyard in a cool white light. Signature lighting will transform the complex by night with with the glass facade floodlit by powerful up and down lighters and a layer of sequenced colour changes. Bothwell Plaza represents just one front in a massive transformation of Glasgow's hotel sector over the coming years, joining as it does similarly ambitious plans for the Thistle and Marriott. Holiday Inn also have a new hotel planned for Hamilton. The site neighbours the completed Pinnacle, Aurora, the under construction Franborough House and mothballed Douglas House.













Opinion
Bothwell Plaza constitutes the North's single largest hotels complex representing a quadrupling in scale from the present premises, unfortunately this scale has not manifested itself exceptionally in height terms as the design seeks to exploit the presently underutilised full city block. Consequently the rear elevation has a massiveness which whilst lending urban gravity lacks the elegance a taller solution would have brought, nor is it aided by service bays lining Waterloo St and an outmoded pedestrian link to the Anderston Centre.








A courtyard links twin projecting wings onto Bothwell St offering a dynamic gateway to the CBD from M8 whilst providing a new public space in a high quality setting opening obstructed views to St Vincent St Church, although repositioning to the Bothwell/Pitt St intersection would have created a less claustrophobic environment and exposed the church fully to view. Nonetheless the proposal represents immeasurable improvement of amenity, built form and urban environment ushering significant welcome investment. The creaping canyon of glass and stone now edging down Bothwell St certainly speaks of quality. Unfortunately the contemporary disregard for detailing, grounded in idealistic and cost terms, has contributed to a certain blandisement of environment. Bothwell St suffers immensely from the loss of the YMCA and Christian Institute.


Crowne Plaza Hotel

Developer - Moat House Hotels
Architect -
Materials - glass
Rooms - 283
Usage - Hotel
Height - 18 floors
Cost -
Location - Congress rd
Completion date - 1989




Pitt Street Hotel : Published 17/05/09
Planning ref. - 09/00113/DC
Developer - Bath St Investments Ltd
Architect - RMJM
Height - 15 floors
Materials - etched & clear glass, black ceramic granite and render
Total bedrooms - 200
Commercial space - 22,500sq/ft
Cost - £19m
Location - 340 Bath St, 93 Pitt Street
Status - Planning submitted
Start date -
Completion date -
A public art gallery with cafe and external terrace is to be introduced at eighth floor level, fully accessible by the public it will be adorned with artwork sourced from the Glasgow School of Art and elsewhere. The scheme has the tough/impossible task of filling the boots of the Elgin Congregational Church, demolished with surprising efficiency on Christmas Eve 2004 following a fire. The Church's loss does present significant opportunity for substantial new build emphasising a key corner location. Blaze image provided courtesy Scottish Cinemas.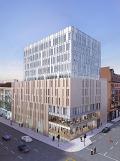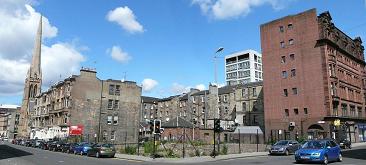 Prior Designs
Loss of three floors sees office space trimmed, reducing skyline impact. Fortunately monotonous sandstone and glass from earlier concepts has also been replaced with tonal glass and black ceramic granite.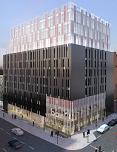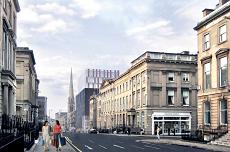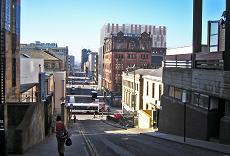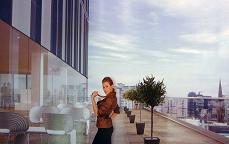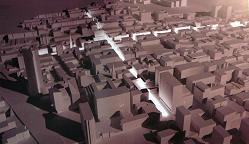 The Bonnington Hotel : Published 13/06/08
Planning ref. - 07/00688/DC
Developer - Clyde View Ltd
Architect - gm+ad
Materials - Curtain walling, brass/copper cladding and copper mesh
Height - 14 floors
Total beds - 182 bed, 4 star hotel
Cost - £16 million
Location - 236-246 Clyde Street
Status - Approved
Start date - Early 2008
Completion date -
A row of undistinguished Georgian terraces are to make way for the city's latest hotel development immediately adjacent to Unicorn. An impressive full height atrium aligned with St Andrew's suspension bridge rises to a glazed roof making fullest use of available light whilst a Steel Mesh Screening device is employed to provide a sense of enclosure and privacy to bedrooms which face onto Clyde St. Spa and function facilities are provided within a split level basement.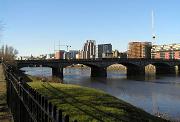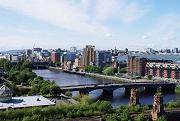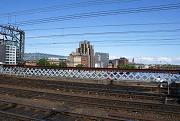 Opinion
With the present attraction of riverfront and city centre property Clyde Street is developing beyond recognition. The most impressive build thus far unveiled marks the cities first attempt at contemporary deco with NY style set backs aligned with key datums and a rich mettalic palette of copper and brass echoing the neighbouring "witches hat" before tapering skyward with a correspondant lightening of finish. This evocation of architectures golden age and its exponent city marks a departure from gm+ad's trend to modernism and a welcome return to the Gotham extravagance of the Radisson.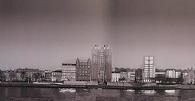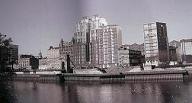 The phased treatment of the neighbouring Unicorn developments makes for greater visual interest by increasing the diversity of architecture. Organic development across each individual plot is how Clyde Street has traditionally developed, but of course all this is soon to be obliterated by Custom House Quay.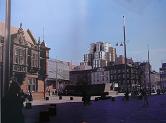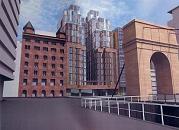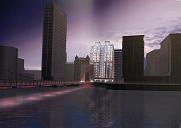 Jurys Inn : Published 20/12/07

Planning ref. - 06/02595/DC
Developer - Jurys Inn/BT/Telereal
Architect - Urban Innovations (previously Broadway Malyan)
Usage - Hotel, office & residential
Materials - Red brick, rainscreen and stone cladding
Total beds - 250, 3*
Total homes - 361
Commercial - 9,249 sq/m
Retail - 1580sq/m
Height - 9 floors (hotel), 13 floors (office)
Cost -
Location - Lancefield Quay, 145-203 Elliot St, Lancefield St
Completion date -
Jurys Inn are to proceed with a second Glasgow hotel, despite a damning verdict on their first venture by architecture pundits. Taking the form of a standalone element the hotel falls within a wider masterplan for the former BT site which entails a neighbouring office block ("a dynamic elegant vessel afloat within Lancefield Quay"), multi storey parking and apartments in later phases. The scheme defers to a new public square at the junction of Elliot Street and Lancefield Quay built atop a landscaped podium deck containing basement and semi basement parking levels. The scheme will be flanked by Park Lane's Lancefield Quay to the east and Cooper Cromar's Lancefield Quay to the west.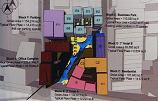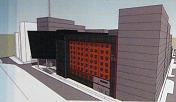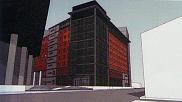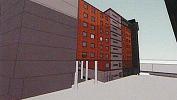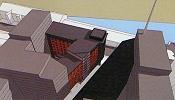 Attempting an industrial aesthetic more akin to Jurys recent King's Dock venture in Liverpool the approach sees the hotel attempt to embody the nearby Finnieston crane, the most architecturally significant structure in the area. In attempting to marry such divergent forms the architects have devised a strong corner element to represent the trunk of the crane, an attic penthouse storey picks up imagery of the crane jib with the elevational façade presented as being suspended from the jib. More prosaically the hotel will reinstate the street frontage and provide good quality paving and planting along Lancefield Quay.

Jurys Inn, Clyde Street (2005)
The future site of Vantage apartments is visible. An early Jury's Inn model is also shown alongside for comparison.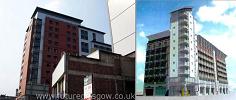 24-30 Jamaica Street : Published 19/07/08

Planning ref. - 08/01632/DC
Developer - Greystones Ltd
Architect - ARM Architects
Height - 11 floors
Materials - Technal MX curtain walling with anodized aluminium finish, tinted and opaque glazing units, granite & structural glass facade at street level.
Total beds - 115
Cost - £6,575,000
Location - 24-30 Jamaica Street
Status - Proposed
Start date - 2009
Completion date -
New hotel provision is proposed to augment Glasgow's exponentially mushrooming stock, hot on the heels of neighbouring Staybridge. Located at a long standing gapsite of some 5 years, the hotel aims to heal a wound in the streetscape whilst simultaneously contextualising the neighbouring Grade A listed Gardners Warehouse. Proposals seek establishment of a basement kitchen area servicing a bar/restaurant on the street frontage, 9 floors of accommodation rest above, the uppermost 4 recessed some 7m for continuity at eaves level.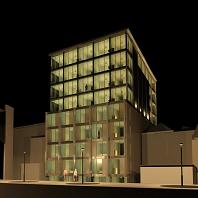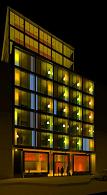 The primary elevation is set within a fully glazed 5x5 grid of bays defined by an externally expressed structural steel frame that identifies each hotel room by 3 vertical panes of glass, some of which will be opaque, this echoes the proportionality of solid to void seen on Gardners. The Central Station corridors importance is equated with Jamaica Street such that front and rear elevations are accorded equivalent architectural consideration. A restricted street frontage is overcome by intoduction of a central atrium allowing bedrooms per floor to be maximised,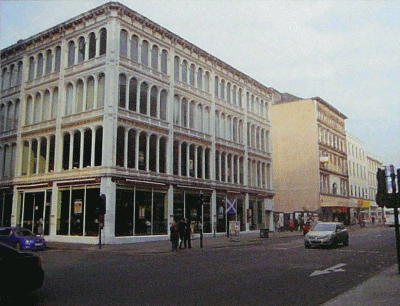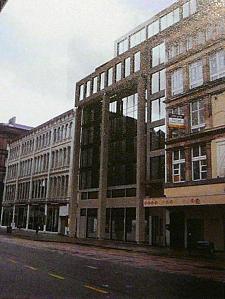 Opinion
Recessed bay and columns are the schemes strongest feature, yet compromised by excessive subserviance to adjacent properties. The 6th floor pediment, designed to bridge a height differential between warehouses, is clunky and muffles elegant classical proportion.


Hamilton Multiplex/Hotel

Developer - Unick
Architect -
Height - 10 floors
Floor space - 20,438 sq/m
Total beds -
Cost -
Location - Hamilton
Status - Approved
Start date -
Completion date -
Part of the £215 million "Hamilton Ahead" initiative. Also in Hamilton, new retail and refurbished council chambers.




Howard St hotel : Published 06/02/09

Planning ref. - 08/03196/DC
Developer - North Ltd
Architect - Farrell and Clark
Materials - Limestone, polished blockwork and colour coated metal
Height - 8 floors
Rooms - 229
Cost - £12m
Location - 28-38 Howard St, 11-19 Dixon St
Status - Planning submitted
Start date - To be reviewed
Completion date - 2014
A hotel operator is being sought for this bookend plot at St Enoch Sq, height is dictated by the junction of Howard and Dixon St, regarded as a feature corner that should respond to the six storey datums framing St Enoch Sq. A tower element (pictured right) was refused on grounds that it would "contravene Glasgow's high buildings policy". An internal atrium rises through the hotel portion of the L-plan footprint from the second floor. Ground and first floor spaces will be given over to retail and restaurant accommodation.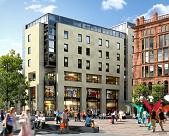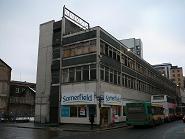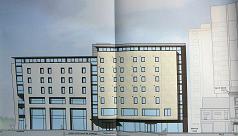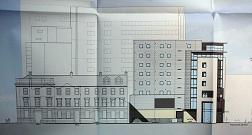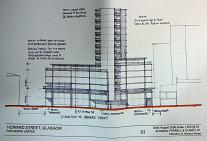 11 Oswald St : Published 17/05/08
Planning ref. - 08/01273/DC
Developer - Carmelite Hotels
Architect - g5
Height - 8 floors
Total beds - 85
Materials - Smooth acrylic render & black ceramic granite tiles
Cost -
Location - 11 Oswald St
Start date -
Completion date -
Recent commercial expansion of the IFSD makes viable renovation of this warehouse into boutique hotel accommodation following a succession of failed leisure & retail ventures from the 1990's. An independant steel frame will support a 3 storey rooftop spa extension, permitting continuity of roofscape along Oswald St when read in relation to Fusion.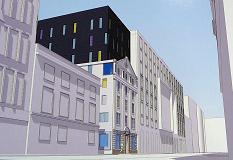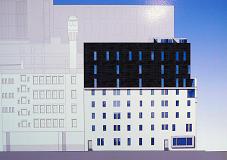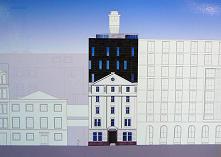 Contrasting silhouettes of old and new aim to ghost the extension under cloak of darkness leaving window apparitions to flicker below the ornate Clydeport chimmney, commandeered as visual signpost by feature lighting. A diverse mix of individual suites will be created including gothic styled interiors in the basement benefitting from restoration of brick vaulted ceilings.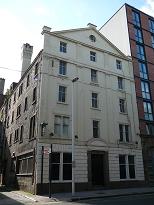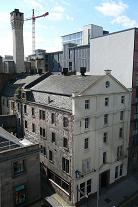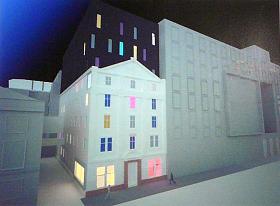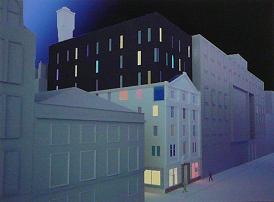 Opinion
Sombre Classicism looks to be rudely awoken by a top heavy granite monolith and Crazy House lighting. Eroded stonework is to be repaired but overpainting strips character, exposed stone would have sat more readily alongside granite.


The Hamilton : Published 09/05/09
Official site
Planning ref. - 08/02572/DC, 08/03290/DC
Developer - Applecross, Esk Properties & Blackrock
Materials - Buff ashlar stone, precast stone panels, render, clay tiles and zinc
Height - 6 floors
Total flats - 155
Hotel rooms - 120
Cost - £37 million
Location - Queen Margaret Drive
Status - Approved
Start date -
Completion date - 2011
The Hamilton hotel will restore three listed buildings – The James Miller Building, the Anatomy Building of Queen Margaret College and North Park House – alongside a newly-constructed bedroom wing. The remainder of the site being cleared for flats and 4 townhomes. The revised planning application sees the total volume of flats reduced from 185 with a corresponding reduction in site massing and footprint. A central boulevard with courtyards above 2 levels of underground parking contributes to extensive landscaping around clearly defined streetscape.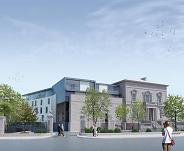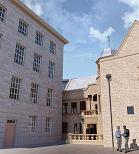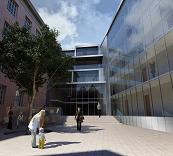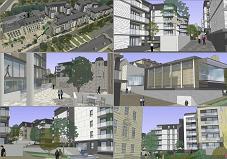 easyHotel : Published 16/02/09

Planning ref. - 09/00057/DC
Developer - Jam Hotels
Architect - TCA Design Associates
Materials - Channel glass facade system, grey metal cladding
Height - 7 floors
Total rooms - 130
Cost -
Location - 1 Hill St
Status - Proposed
Start date - April 2009
Completion date - Late 2009
Drummond House is to be reclad and a new penthouse floor added in a conversion from office to hotel usage.






Ingram St Hotel : Published 18/01/08

Planning ref. - 07/03983/DC
Developer - Allan Murray Architects
Architect - Montgomery Property Development Ltd
Materials - Natural Sandstone, granite, glazing & metal louvres
Height - 6 floors
Total beds - 200
Cost - £19 million
Location - 65 Ingram St/Albion St & Candleriggs
Status - Proposed
Start date - Early 2009
Completion date -
An embarrassing NCP looks set to finally meet erasure thanks to James Montgomery's scheme to supply a hotel with street level bar, restaurant, retail and underground parking under internal roof terrace to this long dormant corner of Merchant City.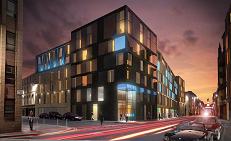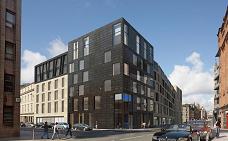 Opinion
The hotel follows a collage of individual gables housing 79 homes from AWG & CMM. collectively interesting if individually poor they marked an attempt to marry contemporary architecture with historic styles, and not particularly succeeding. Current plans offer a more cohesive, conservative and arguably tasteful solution. A seamless shear surface of polished granite sets a playful fenestration of mixed flush and deep set glazing, continuation of traditional sequential window alignment abrubtly juxtaposes with a staggered chessboard itself now routine but with ground and upper level significance imparted by extruding to double height. Above the tenement roof line design has been freed from convention to allow a penthouse floor of full height glazing broken by random angled louvres. A sequence of Mondriaan dark metal enclosures and colour highlights outline the retail frontage which serves to interlock light and dark build elements.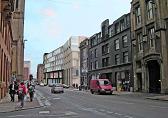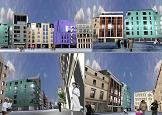 Custom House : Published 17/05/09
Planning ref. -
Developer - Ashbourne Properties
Architect - Keppie Design
Height -
Materials -
Total bedrooms - 250
Cost -
Location - 298 Clyde Street
Status - Pre-application
Start date -
Completion date -
A three star hotel is in the offing for the former Custom House on Clyde Street, developed behind a retained facade. Adjacent to Howard Street Hotel on the Somerfields site the scheme complements an ongoing hotels mania in the area.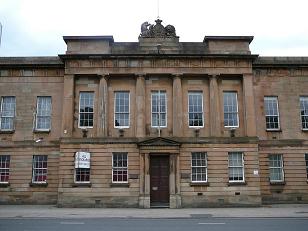 Lorne Hotel : Published 03/04/09


Developer - Modern India
Architect -
Materials - granite, copper & sandstone
Total rooms - 115
Height -
Cost - £3.5m
Location - Sauchiehall St
Completion date - May 2009
A redeveloped Kelvin Park Lorne hotel will house the largest curry house in Glasgow.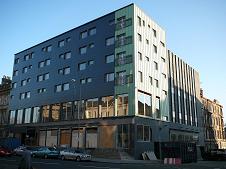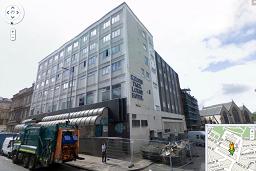 Arc : Published 07/10/07

Planning ref. -
Developer - Forrest
Architect -
Height -
Total beds - 150
Cost - £40 million
Location - 200 Finnieston St
Status - Proposed
Start date -
Completion date -
An "iconic hotel for the Glasgow skyline" with mixed commercial and retail is proposed for land opposite the Finnieston Bridge, Lancefield Quay and City Inn.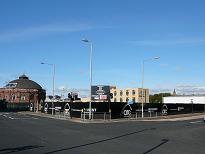 Stuart Hotel : Published 09/01/08
Developer - G1 Group
Architect - 3D Reid
Height - 8 floors
Total beds - 100
Cost -
Location - 2 Cornwall Way
Start date - 2008
Completion date - 2010
Following announcement of a revamped Olympia Shopping Centre, G1 Group have revealed plans to replace the current dilapidated Stuart Hotel with a cutting edge new build housing restaurant, bar, cafe and function rooms below hotel accommodation.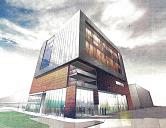 Opinion
A striking cube of mettalic and glass elements could soon grace East Kilbride. A distinctive look is achieved by visualising distinction of use in interlocking silver and bronze halves to form a whole that aims for gold in East Kilbride's leisure circuit.





Blythswood Square : Published 11/08/07
Official site

Planning ref. -
Developer - The Town House Company
Architect -
Materials -
Height -
Total beds - 88
Cost - £17 million
Location - 11 Blythswood Square
Status - U/C
Start date -
Completion date - March 2008
A 5 star hotel conversion is in progress for the former Royal Scottish Automobile Club.




The Point : Published 29/12/08

Planning ref. -
Developer - Benmore Developments
Architect -
Materials -
Height - 6 floors
Total beds - 153
Cost -
Location - Morrison Street
Status - Proposed
Start date -
Completion date -
Proposed restoration of a listed building to a hotel.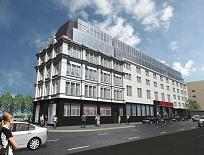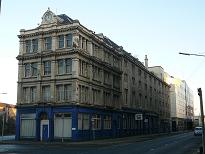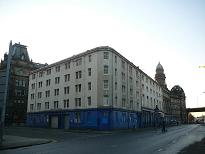 Hotel Indigo : Published 24/04/09

Planning ref. - 09/00837/DC
Developer - Intercontinental Hotels Group
Architect - ICA Architects
Height -
Total beds -
Materials -
Cost - £5.5 million
Location - 75 Waterloo St
Status - Proposed
Start date -
Completion date -
Hotel Indigo have spied opportunity in a derelict former office block, substantially remodelled in the 1930's in an art deco inspired makeover. Fortunately all of these features will be retained and indeed the only appreciable difference from the street will be the addition of an obligatory glazed rooftop appendage, maximising those all important floor areas. The in vogue "boutique hotel" will cater for that growing proportion of travellers who remain unappreciative of the charms of more established chains.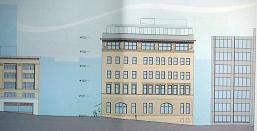 Bath St Hotel
Developer -
Architects - Riach
Cost -
Location - 204 Bath St
Total beds - 179
Materials - Brick
Height -
Status - Proposed
Construction date -
This B listed building comprises a section of Adelaide Place, designed by Robert Black around 1839 which will be augmented by a contemporary block of accommodation to the rear access at Snewmilnsiehall Lane. This melds with the town house by way of a top lit atria space to improve internal circulation. Many original features such as decorative staircases, cornicing, doors, skirting and skylights remain present although spaces have been subdivided, this will be reversed. The street will be activated by public use of the impressive brick vaulted basement and ground floor areas.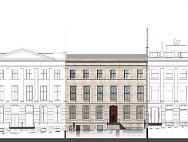 Inn on the Green
Planning ref. - 06/04180/DC , 06/04200/DC
Developer - Campsie Property Developments Ltd
Architect - CMM
Materials - Copper, stone and brick
Height - 5 floors
Usage - 31 flats/75 room hotel
Cost - £3.1 million
Location - 25 Greenhead Street/McPhail Street
Status - Approved
Start date - May 2007
Completion date - Oct 2008
The existing hotel will be demolished to make way for the new build behind retained facade.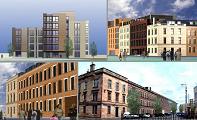 Holiday Inn : Published 25/12/06

Planning ref. -
Developer - Intercontinental Hotels
Architect - ICAA
Usage - Hotel
Materials - Ceramic granite rainscreen
Height - 6 floors
Cost - £7 million
Location - Hamilton
Completion date -
This 104 bed hotel forms part of the Hamilton Ahead initiative which includes new retail and cinema multiplex. Supplements Intercontinental's Glasgow plans.