High-rise Residential Developments
---



Distribution of planned commercial residentials shows displacement to the south and west of the city centre, central densities will need to be upped considerably going forward if they are to fufill the sectors status as lead growth area and compete with inner city areas and their richer land banks. Interestingly volume of Non suburban market led residentials covered (as of 09/06/06) stands at ~2,300 U/C with a further ~9,000 in the pipeline.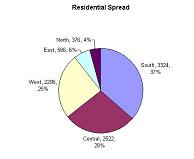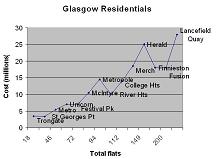 Ingram Street Masterplan
Collegelands and enclosed by railway expansion. Awkward terrain is mitigated by investment in roads and footpath infrastructure. Architecture is as yet still subject to design but it is proposed to create a series of "figurative object" buildings culminating in the gateway tower set against more traditional building blocks. Internal streetscape is well thought out with ground floor commercial outlets fronting a green boulevard with the Molendinar burn bridged over. Densities decrease to western plots where urban garden townhouses will be built with access to private gardens.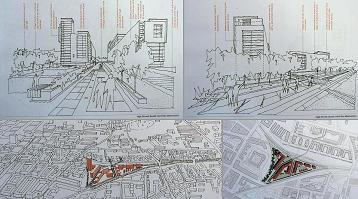 13 Degrees : Published 07/06/08 RMJM have devised a series of concepts to play with this angle for a new housing development one of which ingeniously exposing southerly aspect to a proportion of North facing flats. Tight geography affords slender profile abetted by welcome height extension competing for presence alongside Custom House Quay. It supercedes Page and Park's 43 home, 15 floor, 51.5m bee hive an interesting concoction of Stainless steel perforated sheets, glass and red sandstone.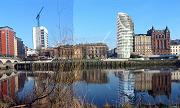 Duo : Published 05/05/08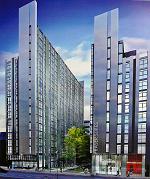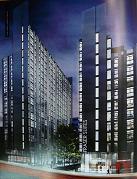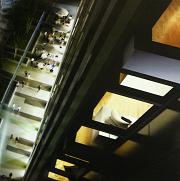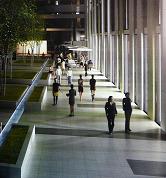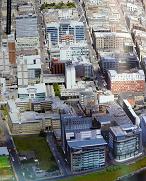 Commercial functions populate ground floor areas and basement parking is provided.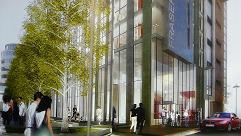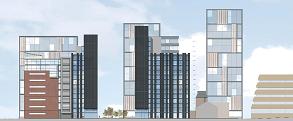 Previous scheme
Duo is immediately adjunct to 200 Broomielaw and adjacent to 220 Broomielaw & Glasgow City Mission. Frasers Property had indirect involvement with Ferry Village through aquisition of Fairbriars catalogue.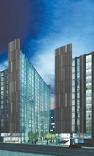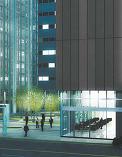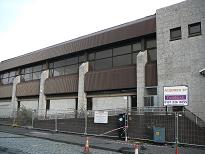 Graving Docks
Present site Science Centre to the docks along a linear park. The unique nature of the site requires parking to be split between silo spaces in two reclaimed docks (the third will be kept as a water feature) and split level undercroft parking with planted roof. The riverfront will be refurbished to prevent flooding and provide public access, focussed on a new plaza. Cutting edge architecture in Govan? Believe. An extended gestation has survived loss of a hotel, but the site remains a tremendously awkward build, something of a ZM speciality. Anticipating some flesh on these bones.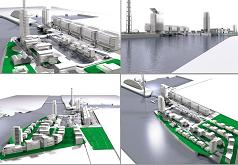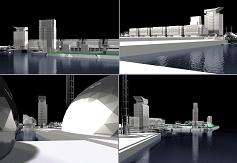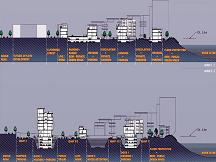 82-90 Clyde Street : Published 14/06/06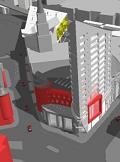 Dixon Street Residential : Published 10/07/06
Dixon Street Tower and Custom House Quay tower (also RMJM), taken together these will greatly contribute to the St Enoch areas renaissance. It is unclear whether adjacent massings on Howard Street represent successive phases.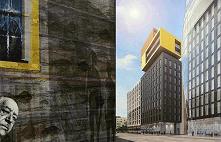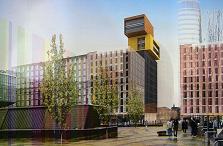 Aurora Tower
Residential will rise across the street.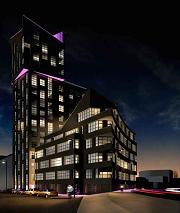 River Heights (Phase 2) Lancefield Quay and Cooper Cromar's Lancefield Quay.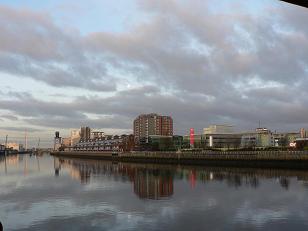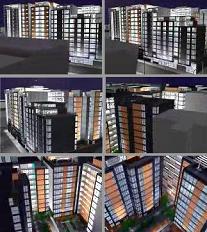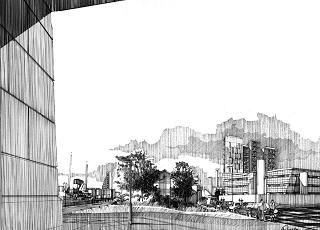 Unicorn Tower : Published 24/10/07 Icon building and Hans Scharoun's Berlin Philharmonic concert hall, the characterful gold gables are clad in powder coated anodised aluminium panels and the front facade has frits and colours resembling a large artwork delivering spectacular night lighting, something of a gm+ad speciality. The future Dixon Street tower will rise on the site of 3 storey tenement left and the architects Clyde View Hotel is sited immediately adjacent.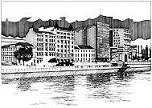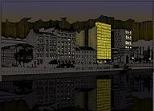 43 Oswald St : Published 22/03/07
Evolution House this development splits into "block" and "tower" elements, the latter bookends the site maximising advantage of a southerly aspect whilst the low rise element defers to Fusion. Materials and cornice line respect adjacent development while the penthouse steps up in height to align with the Radisson facade. Proportions are enhanced by contrasting use of vertical and horizontal bands of sandstone and slate, blurring distinction between two disparate halves. White tiled walls to the courtyard are intended as interpretation of the tenement close with a dual function of reflecting sunlight downward. The development is car free.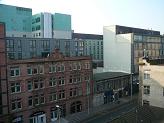 Argyle Street
Atlantic Square is visible in the background, with The Bridge facing across Argyle St.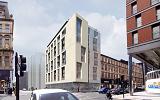 100 Osborne Street : Published 01/09/06
Casino.





City Quay
Official site Neptune's way, this has been scrapped due to cost overruns favouring a new cost effective design. The scheme incorporates basement parking with sports/recreation facilities in the courtyards of blocks 1 and 3. Far future plans for possible tower to complement current Tradeston regeneration. The tower would rise on the site of suburban housing to the west.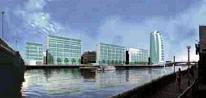 Opinion
The central Anderson Bell Christie block lacks the lightness of touch shown in the earlier glazed design though not as a cost saving measure, that's all sandstone, reminiscent of the Merchant Building. The blank wall protruding from the O'Muire Smyth block is unconvincing and the roof no longer extends over the pedestrian access below overhead walkways, which looked to be the original designs strongest feature, a contemporary reworking of the city centre wynds akin to Butlers Wharf. There is a disappointing symmetry of height, tower elements would enliven visual appeal but I concede towers would be better suited to sites deeper in land such as the Tradeston tower or nearer to the Kingston Bridge rather than have the river crowded out by towers right on the banks ala Custom House Quay.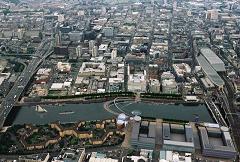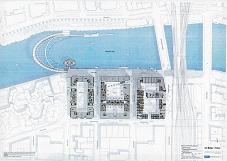 There are four structures of historic value encompassed by the site:

What the scheme does achieve is to redress the urban imbalance between north and south banks with an above average specification, McAslan's block in particular has an interesting profile. The ensemble will go a long way to reurbanising the city centre hinging on a relandscaped Clyde walkway particularly with road traffic diverted to Kingston Street, although the developer would have done well to afford additional metres of width.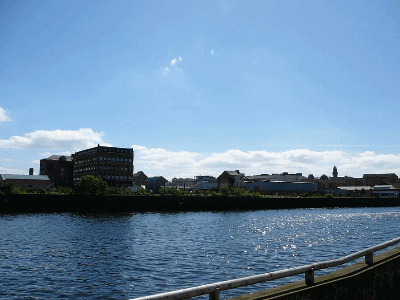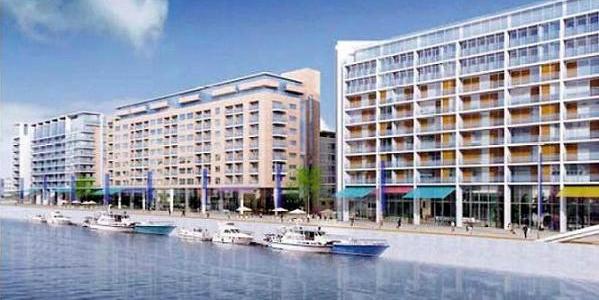 Vienna Apartments : Published 22/11/07
Official site

Construction work has commenced at Vienna Apartments.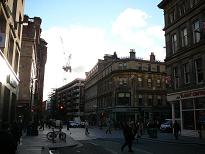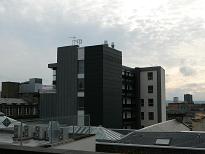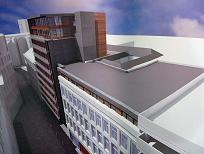 Templetons Masterplan
Official site (Verde)
Official site (Templeton on the Green)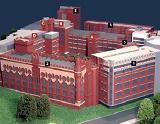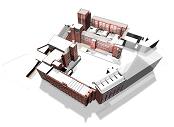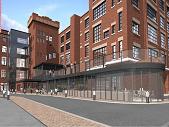 Lancefield Quay (Park Lane)
River Heights and Broadway Malyan's Elliot Street proposal. Current design is to the left.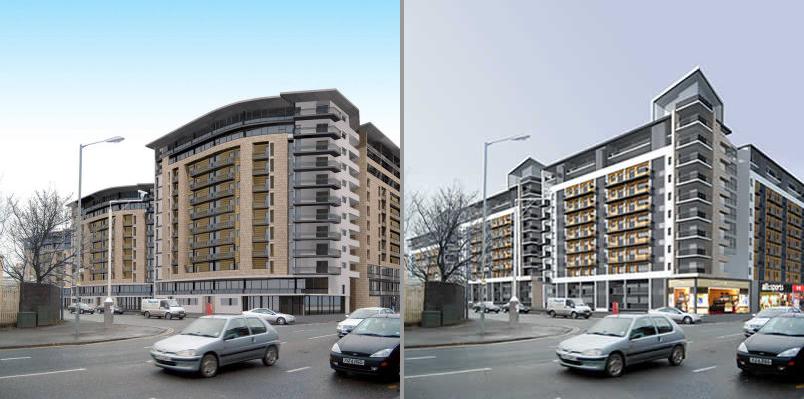 5 Miller Street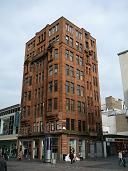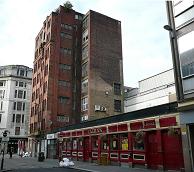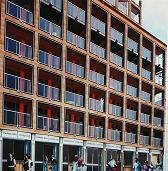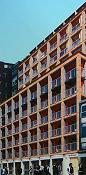 Great Dovehills : Published 10/08/07
Official site The Merchant Building. The first phase College Heights is complete.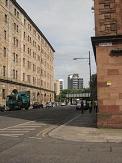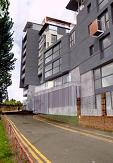 St Georges Point