Education
---



Strathclyde University : Published 03/12/07

Planning ref. - 07/03155/DC (Biomedical Bdg)
Developer - Strathclyde University
Architect - Page and Park (Masterplan) Sheppard Robson (Biomedical Bdg)
Cost - £200 million (Total)/ £50 million (Faculty of Education)/ £19.4 million (Biomedical Bdg)/ £17.6 million (Sport Centre)
Location - Cathedral Street/George street
Status - Proposed
Materials - Curtain wall and aluminium coloured soffit panels (Biomedical Bdg)
Start date -
Completion date - Summer 2010 (Faculty of Education)
Strathclyde University propose substantial expansion across their Townhead estates. The first fruits of this program will emerge on the Cathedral/Taylor St intersection where existing surplus buildings will be demolished to make way for a new Biomedical facility bringing together a multi disciplinary team to tackle drug discovery and development, architecturally this will sit on an elevated glass podium interlinked with the existing John Arbuthnott Building via link bridges. This will rise opposite the planned Sports Centre featuring 25m pool, two halls, fitness suite, treatment rooms and a climbing wall adjacent to the existing Library.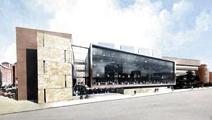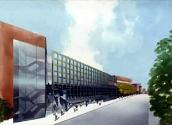 Works in the longer term involve demolition of the 17 floor Livingstone Tower for a new McCance Building, the Faculty of Education is intended for either North Frederick Street or the City Science Park. A new "Front door" will rise on site of the old Rottenrow maternity Hospital facing a landscaped garden area and the existing Colville building is to be refurbished.










Anniesland College : Published 26/01/07

Planning ref. - 06/04127/DC
Developer - Anniesland College
Architect - BDP
Materials - Zinc with copper drum
Cost -
Height - 4 floors
Location - 19 Hatfield Dr
Status - Proposed
Start date -
Completion date -
The annexe will house flexible teaching spaces and workshops for construction and engineering, learning resource space, dance and art studios, sports and fitness areas, catering facilities, and a 50 place nursery for staff and student childcare. In design the college employs similar usage of colour and drum signature feature to BDP's Motherwell College, being developed in tandem.




Glasgow University : The Hub : Published 20/05/07


Developer - Glasgow University
Architect - Page and Park
Cost - £10.5 million
Location -
Status - Approved
Start date - Spring 2007
Completion date - Summer 2008
The redeveloped Hub building will offer coffee bars, food court, bookstore and medical/dental practices. See also the Biomedical research centre.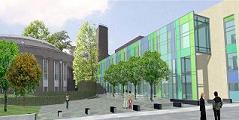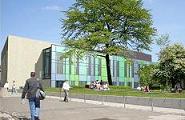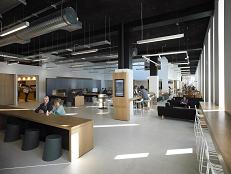 Glasgow University : Computing Science Extension
The Computing Science Extension is situated close to Lilybank Apartments, Artizan, the Huband a Biomedical research centre.

Glasgow University : Masterplan
Published 19/11/06
Developer - Glasgow University
Architect - BDP
Cost -
Location - West end
Status -
Start date -
Completion date - 2012
Glasgow University is seeking to capitalise on the opportunity created by clearance of the Western infirmary to reconnect kelvingrove park with the university campus and wider west end.




Clydebank College : Published 03/01/08 Clydebank College now stands complete upon the former John Brown Shipyard. Custom specification has been achieved through close liaison with College staff whilst extensive landscaping works see the Clyde reconnected to town by a sequence of squares, streets and walkways.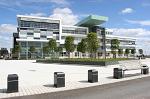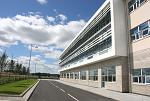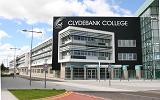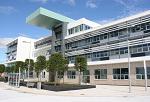 Opinion
Close collaboration with end users has produced a College successful not only in efficient delivery of curriculum but in wider community engagement. Horizontal emphasis of teaching space encourages formation of new streetscape, perhaps compromised by ground level blockwork which falls below the standard attained in landscaping, but enlivened by bold feature atria delineating points of entry. Tenemental proportions foster a new urban context for the Titan Crane, re-engaging Clydebank with its forgotten docks and exposing the latent potential of river as tool for economic invigoration.


North Glasgow College

Developer - North Glasgow College
Architect - RMJM
Materials - glazed enamel panneling, glass, timber and stone.
Floor space - 16,900sq/m
Cost - £30 million
Location - Springburn
Status - Approved
Start date - Sept 2006
Completion date - Early 2008
Internally College departments will be organised around a central atrium to draw natural light. The building will incorporate a Sports hall and conference facilities.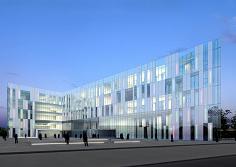 Hazelwood School : Published 11/05/07
Developer - Glasgow City Council
Architect - gm+ad
Materials - Timber and slate
Cost - £6 million
Location - Dumbreck, Bellahouston Park
Status - U/C
Start date -
Completion date -
A school for children with severe sensory impairment is nearing completion at Bellahouston Park, the first in Europe to incorporate tactile, auditory and visual distinction between class areas.







The school occupies a self contained garden enviroment naturally sheltered from the outside world by working with the contours of the land and preserving existing tree cover, this blurring of traditional indoor/outdoor boundaries allows sunlight to penetrate classrooms through specially designed screens contributing to an open, less intimidating learning environment. The building eliminates harsh angular forms for a soft sweeping crescent, by occupying only the ground level the building is humanised, the stress of stairs and lifts are eliminated and teaching environments are brought closer to the gardens.
















Langside College : Published 08/01/08 A design and build contract is to be signed for a purpose built teaching block, sports hall, music and drama building and nursery for Langside College. Public access to Mount Florida railway station is enhanced by new courtyards between buildings with existing structures demolished between construction phases. the site neighbours an under construction Victoria ACAD unit.









Opinion
An undoubted enhancement of accommodation and facility is tempered by a muted palette of yellow tiling that does not exhibit the playfulness of character evident in the superior Clydebank College. An apparent steel mesh screening device is employed presumably for privacy aka 236 Clyde St but doesn't aid the creation of a welcoming environment, nor does the build engage with the important Battlefield Rd being segregated by landscaping and surface parking whilst a spartan brick finish to ground floor levels does not invite entry. Sport and Arts halls to the rear are utilitarian in appearance with extensive blue render though helping to reflect light and colour are unlikely to age gracefully. Public spaces are more successful in opening the site up to pedestrain activity and increasing the attractiveness of Mount Florida Station.







Glasgow School of Art
Developer - Glasgow School of Art
Architect - ZM/Page & Park
Cost - £18 million (minimum)
Location - Renfrew/Scott and Dalhousie Street
Status - Fundraising
Start date -
Completion date -
From clockwise the Newbery tower, foulis building and library in addition to the Bourdon building are all set to be demolished as the School of art upgrades its campus. Charles Rennie Mackintosh's landmark school will be refurbished.

College "Super" Campus
Developer -
Architect -
Cost - £150 million
Location - Cathedral Street and Thistle Street
Status -
Start date - 2008
Completion date - 2012
Plans are being drawn up to house an amalgamated college catering for some 46,000 students drawn from the College of Nautical Studies, Metropolitan College, Central College of Commerce and Stow College on a site at Cathedral Street between Strathclyde and Caledonian Universities. The Nautical Studies College will retain a presence at Thistle Street.