Commercial Developments
---


At 2,500.000sq/ft Glasgow had the third highest rate of projected office completions up to 2009 within the UK, behind London and Manchester with 3,500,000sq/ft, (source GVA Grimley). This represents a rate of activity not seen since the boom years of the late 1980's except this time grounded in a stronger economy and greater diversity of active sectors indicating entry to a more sustained period of growth. The bulk of new development is centred on Glasgow's emerging banking quarter, the International Financial Services District (IFSD) in an attempt to lure business from historic banking centres.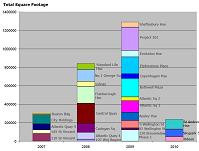 220 Broomielaw : Published 20/04/07
236 Broomielaw
Fastlink stop will open nearby.










Opinion
220 Broomielaw presently stands as the tallest proposed commercial premises in the city and marks a significant upscaling in ambition by developer, evidenced by the employment of Make a practice known for pushing architectural boundaries, although on subdued form here. The design's depth sets it apart from previous schemes and the effort gone into creating an active streetfront avoiding sterile flood defence is noble as is expanded investment and scale from Elder and Cannons £60 million, 220,000sq/ft 2006 scheme.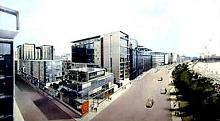 Project 301 : Published 08/02/08
Elphinstone Place will be rising simultaneously in 2008. Quite the prospect.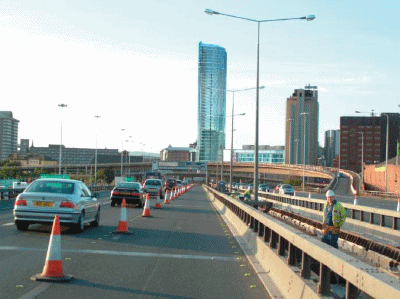 A newly configured internal vehicle access ramp to the Abbey building and demolition of a single storey health club extension will facilitate construction of twin basement levels accommodating 200 spaces. A terrace garden will be created between St Vincent and William St on the eastern site boundary creating a pedestrian connection with ramps and steps bridging a high gradient. Outdoor spaces will be dressed with planting to mitigate an elevated slip road and activated by a cafe/restaurant overlooking the area. The western site boundary will consist of a pedestrian through way hard landscaped with large rocks to create a sculptural juxtaposition of rough and smooth lending impression of being anchored to the bedrock.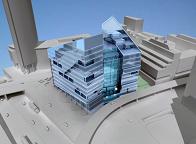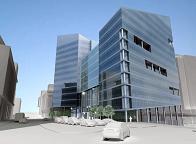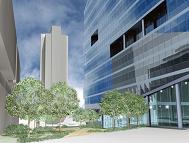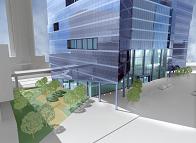 Historical perspective
Apocalyptic scenes from the 1970's have been tempered through intervening decades by successive investment, notably the Britoil building in 1984 and 1992's Hilton. A continued removal program of barren post war development should finally integrate the one true asset of the era, the M8.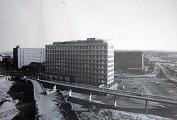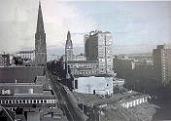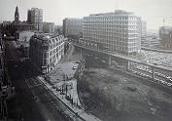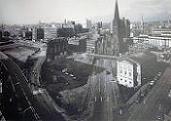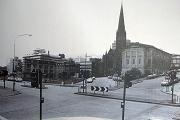 Opinion
Crystaline facets of glass help nudge Glasgow's skyline void with the City Council pushing for height, the resultant ambition demonstrating flair not evident in Hugh Martin's lumpen Franborough House. Irregular aspect generates dynamic views as height and mass change with perspective, piercing the curvature of Elphinstone with a prominent jagged shard on the important St Vincent St corridor in so doing projecting a contemporary commercial pairing to frame the pious twins of a past generation.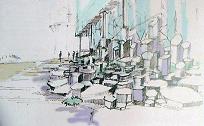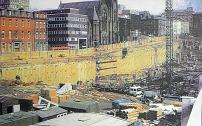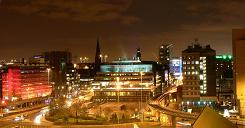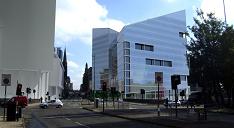 George House : Published : 17/06/07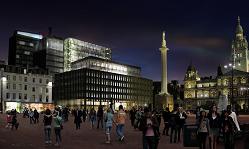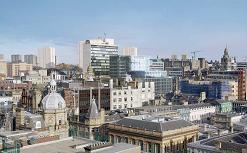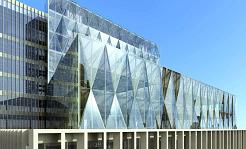 The George Street frontage is dressed in heavy limestone clad fin-like features which switch to slender anodised aluminium equivalents to the sides. A central atrium facing onto George Sq bridges three office blocks with a grand public arcade leading to roof gardens and restaurant/bar facilities in an elevated pavilion space. In broad terms the design is inspired by a "geode", an unprposessing lump of rock that reveals crystaline veins of glass when shattered.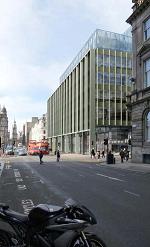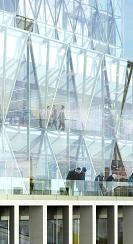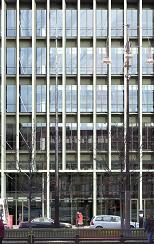 Opinion
An austere and regimented George Square facade does not radically improve upon the unremarkable George House, hampered further by a continued absence of street interaction. Instead the schemes high point, an organic lattice of glazing, is hidden from majority view on upper floors. Greater emphasis of this stand out feature from the street would be to the schemes benefit.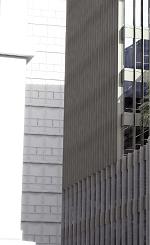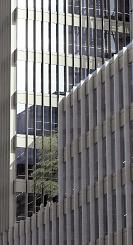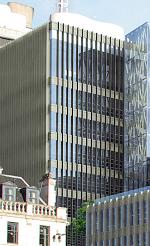 The development maximises an under-developed site with a pleasing stepping stone symmetry of height in relation to the College of Building and Printing, in an idealised world the railway cutting bisecting both would be decked over as a public plaza.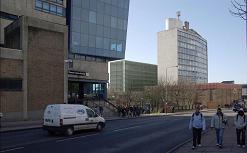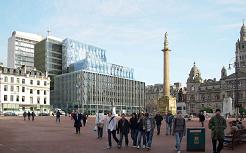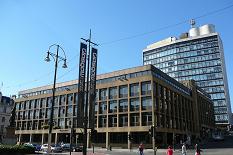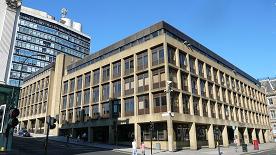 110 Queen Street : Published 23/06/08 Olympic House. Smooth sandstone punched through with deep set windows. The building line will be brought out to align with the prevailing line of Ingram Street to properly frame the setting of GOMA. Mass of the Ingram Street façade is split by a vertical line of glazing, to reflect the width of neighbouring properties. Capless fritted glazing is sculpted to avoid a monolithic outline against the sky and enlarged vehicular access to the basement will accommodate two way traffic. Approval clears the way for demolition of the unloved former HBOS offices, present decay a sad metaphor for the banking giants waning fortunes as staff decamp to 110 St Vincent St.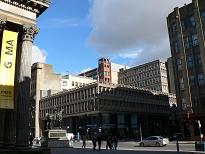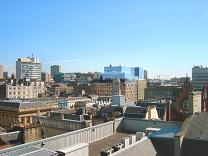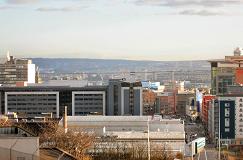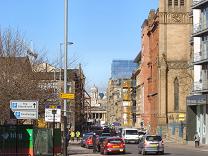 Weighty masonry along the southern flank of George Square is soon to be augmented by the accruence of organic steel banding on g1 and an iridescent terrace above 110 Queen St, ushering in an invogorating new vista to arrivals at Queen St. An irregular profile of glazing at 110 Queen St will be strongly lit above stone shoulder reflecting a changing scheme of colours currently under investigation. Lacking inherent beauty of symmetry the effect is enhanced by stairwell division exposing internal motion although some external elevators would have added greater dynamism to the view of hi tech protrudences.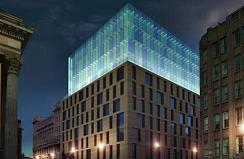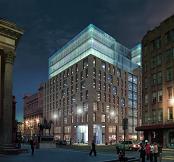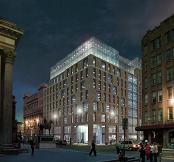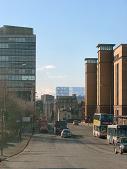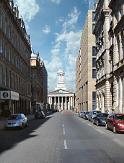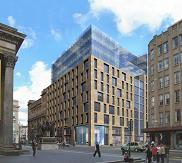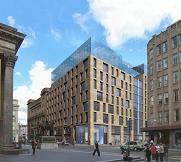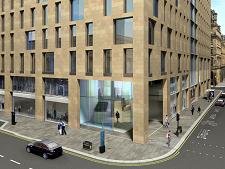 Redevelopment presents a trebling in floorspace from existing premises with the introduction of 12,000sq/ft of retail and 7m main reception space. A steel lattice structure constructed within the stone facade supports open plan U shaped floor plates around 2 central light wells. Deep soffits and ingoes give a sense of solidity echoing Victorian masonry whilst cornices and key building lines are extrapolated through horizontal signatures.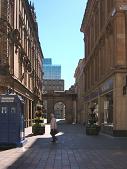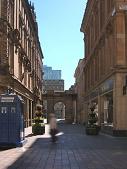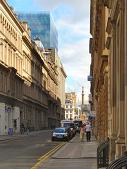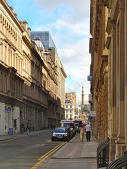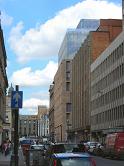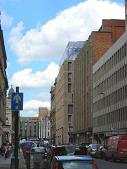 Opinion
Clam shell innovation of 3DReid's competition entry has been superceded by conservative stone and glass from Holmes Partnership. Doubtless oiled by projected rental income Holmes demonstrate confidence of scale in refusing to be cowed by historic limitations, netting a new landmark at George Square by dint of mass and quality. Although this daring do houses a by the numbers corporate solution largely indistinguishable from the likes of Cornerstone, albeit on a grander scale. A fussier design loses symmetrical consistency and set back upper floors dilute the crown, a more brazen celebration of height would have eaten bulk and contributed soar. Representing a new breed of streetscraper rising to prominence in a buoyant commercial marketplace hopes are high that an innovative translucent turquoise sheath will further illuminate an already spectacular Exchange Square.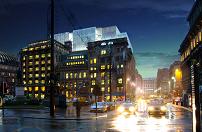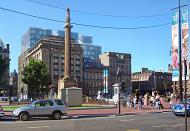 Skypark : Published 15/07/08
Official Site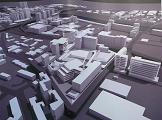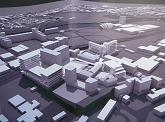 SP5: 45 Finnieston St (Refurbishment)
A 3 level rooftop extension of SP5 has been cancelled. Originally overcladding with an undulating ribbon of glass across the front facade, bookended by an aqua glass layer detached from existing gables such that new build and refurbishment could not be distinguished. Pastel hued gables and dramatic red cross bracing injected much needed colour to a presently drab Finnieston. The combination of height and width impress Finnieston st, particularly when read within context of future proposals. Night lighting would have been a key feature of the design. Infiniti is has completed further down Finnieston St.







SP7: AMEC site, twin 7 storey hotel development
SP7 previously saw a an £18 million, 185 home, 15 floor tower from Elder and Cannon Comprising two rectangular blocks of Aluminium cladding panels (silver/grey), masonry cladding and render (portland colour) with curtain wall glazing above one and two storey parking decks, the adjoining block fronts West Greenhill Place. The scheme is situated adjacent to Exhibition Centre station and over the road from Mizu. It succeeded the Icon.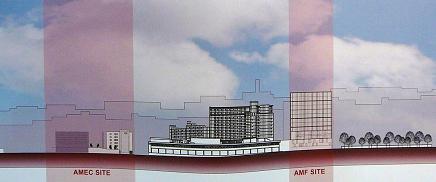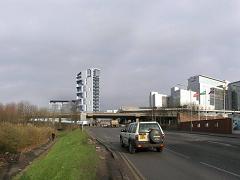 SP8: AMEF site, 11 storey office development
SP8 had been anticipated to contain a 17 storey residential from Quality Street, it will now contain a phased office block with ground floor retail around an expanded Finnieston Square. Previous design (right) by Curious Group.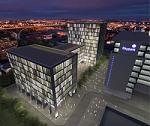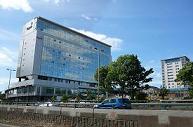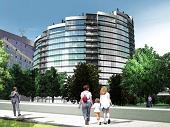 SP9: Houldsworth Street site A stepped profile concedes to adjacent gable elevations to defer to a listed building and allow daylight penetration to street level. A corporate blue fin will be uplit in LED lights adorned by the Skypark brand. Unfortunately the grey dressing of SP9 is more liable to deaden than sparkle in low light blending with the drab SP5, not cogniscant or consciously abandoning its scrapped revamp.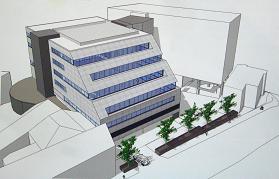 SP10: MSCP site. 17 floors (potentially)
The existing MSCP and main entrance ramp is both accessible and visible with a high rise development on the site considered to be beneficial. Note large tower left is an early massing for SP8, SP10 lies centre.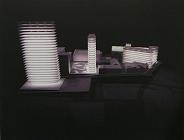 2 West Regent Street : Published 26/04/08
Official site Odeon and General Accident building.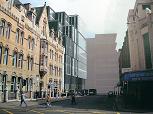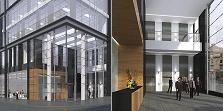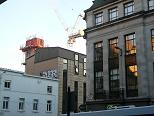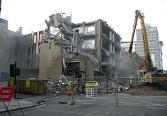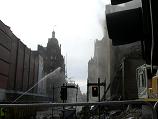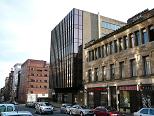 Opinion
A stepped cut back on West Nile St constitutes the strongest design element of the winning competition entry athough this would have achieved greater drama if repositioned to the West Nile St corner and extended further in height. Loss of a basement level isn't acceptable for what ought be a required feature of all city centre builds. Horizontal indents distinguish second floor intervals and ceramic rainscreen cladding breaks the monotony of glass, a welcome addition to the city.

Competition entries
gm+ad and Elder and Cannon's competition entries of Spring 2006.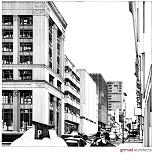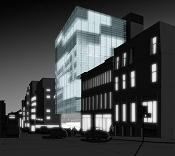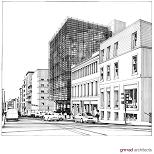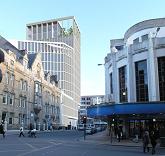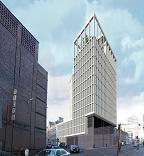 Clarion : Published 02/12/07
Official Site futureglasgow and so fresh sightings of these potent totems to urban virility are always cause for celebration.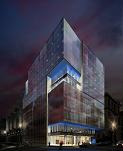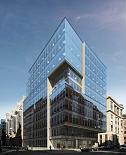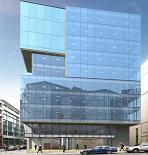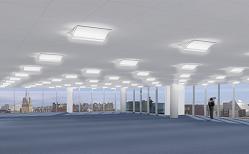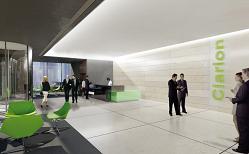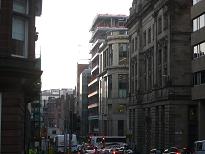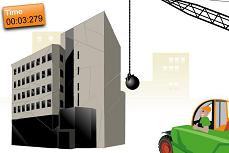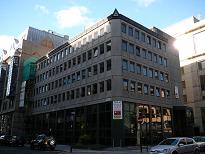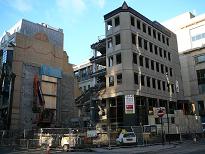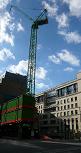 Opinion
Revised images depict the reborn Apsley House with a dramatic geological fissure zig zagging to the schemes full height, breaking the potential sterility of glass and simple geometry with a layer of limestone, this references Alhambra House and in so doing draws the eye to a central recessed balcony. With the spread of cut away facade elements eliminated the build has now aquired a strong focal point with this central balcony area which exposes inner office floors to the pedestrian. Terracing to the rear brings the scheme into rooftop alignment with less ambitious neighbours whilst furthering available balcony space and mitigating the cubic impact of a build generously proportioned to take full advantage of site. The dramatic recessed foyer has been carefully aligned with the atrium of adjacent offices. Clarion will hopefully meet with greater success than 3D's earlier Infiniti project, which is being taken to completion by gm+ad. The scheme neighbours 82 Wellington St.

Prior Designs.
A previous finish of pink granite has been amended to a lighter golden hue lending a more conservative appearance. An all round first floor overhang has been limited to Wellington St only, eliminating the top heavy appearance of early designs. The scheme to the far right is a failed competition design from gm+ad.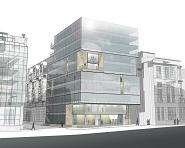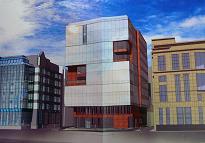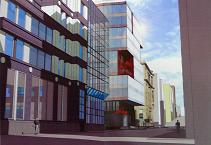 Evolution House : Published 26/01/08
Official site 43 Oswald St.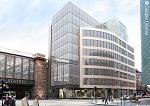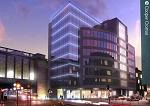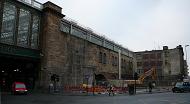 Opinion
A varied treatment of stone and slate breaks the monotony of curtain walling and successfully details the curved and angular sections of build elements particularly the graceful retail curve connecting through to Oswald St making for an interesting anchor piece at Hope St. The neon accentuated floor levels are visually impressive and furthers the trend set by Sentinel for all such schemes to consider after hours impact. Height is dictated by the prevailing standard in the neighbouring vicinity, disappointing in such a landmark site where opportunity existed to punch above this datum particularly with the Argyle International further down Argyle St. Building out the available footprint has maximised floorplates but represents lapsed opportunity to punch through to Midland St.


The Copenhagen Building : Published 13/02/08
Official site Shaftesbury House redevelopment neighbours.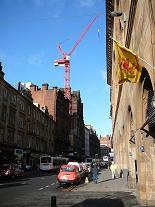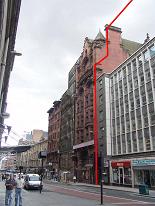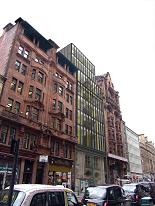 Opinion
An enlightened planning approach elsewhere is not carried through to the central conservation area which suffers draconian limitations on height and flair. Maintenance of existing status falls at price of failure to enhance, evidenced by a stereotypical glass box archetype which manages to seamlessly meld adjoining Edwardian elements to a greater whole whilst contributing little on its own terms, a truncated Staybridge. The site offered sufficient depth to continue height via a further series of set backs in a manner not dissimilar to Manhattan zoning ordinance. As is interest is limited to coloured panels but not being intrinsic to the curtain walling these lack authenticity, considered feature blonde and red glazing could have brought about a stained glass effect not inappropriate to Edwardian character.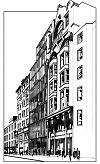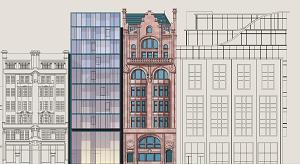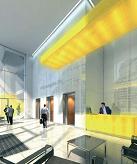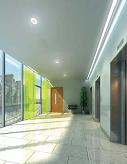 Centro : Published 22/11/07
Official site infill. Basement parking and ground floor retail are provided. The design succeeds Keppie's prior Clydesdale Bank Exchange.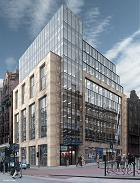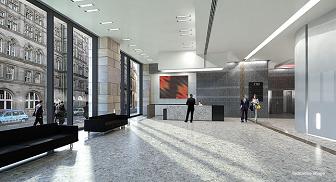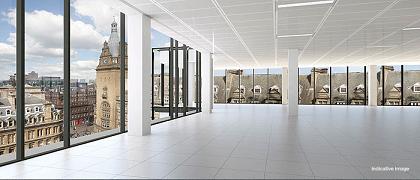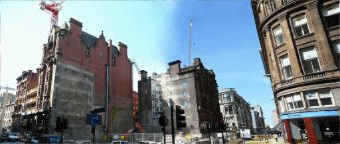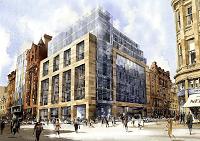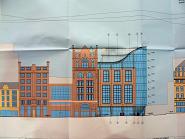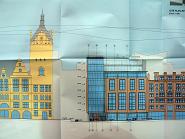 Project 141
Official site Aurora. The adjacent Douglas House is being redeveloped by the same architects and Crowne Plaza will have significant impact upon the area.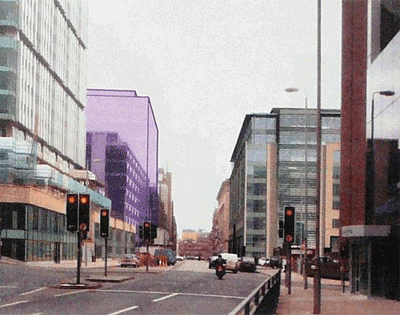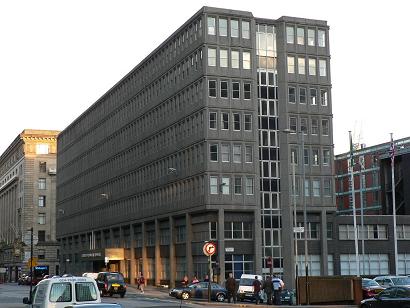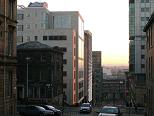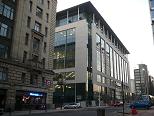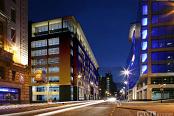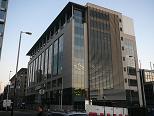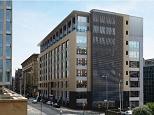 number 9 : Published : 22/09/07 Argyle International will rise on the adjacent Argyle St intersection and Apsley House is scheduled one block north. The site is vacated by a Grade B listed Thomson inspired warehouse, image provided courtesy Crusty Bint.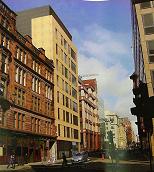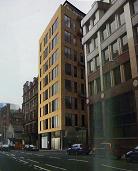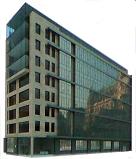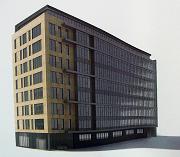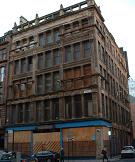 Opinion
A quality finish cannot mask a disappointingly dull design which falls back on height and weight to awe the pedestrian. Nonetheless the cumulative effect of the present office rush on Wellington Street should see it emerge as one of the city's most urban throughfares, although the drought of residential, retail and leisure is cause for concern. Something only 82 Wellington St addresses.


g1 George Square : Published : 03/12/07
Official site

NOTE: Requires Flash 7 or higher to view
With thanks to HFD for kindly submitting their visualisation of g1 and George Square as they will be. Offering a unique window to the future for tourists, shoppers and office workers along St Vincent Street, we are pleased now to present the full presentation in high resolution exclusively here at futureglasgow.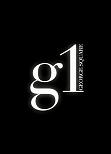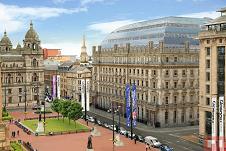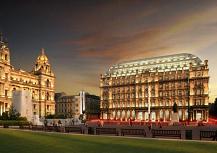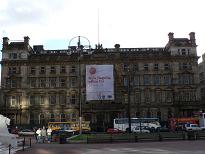 g1 commands the scene with a sympathetic reflection of the domed City Chambers, bringing height equilibrium to St Vincent St. By night the cumulative impact of 110 Queen Street transforms George Sq to a radiant spectacle of light. A four storey glass extension is to be incorporated to the grade A listed General Post Office building along with rooftop terraces and ground level cafe/bar. Originally proposed to provide boutique hotel accommodation for Stefan King's G1 Group, ownership has since passed to HF Developments who are taking the scheme forward as Headquarter's office space. Olympia House neighbours.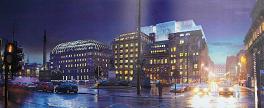 Opinion
A regal crown of glass dramatises the superior nature of this office redevelopment reflecting primary position on both Glasgow's premier office address, St Vincent Street, and civic centre. The potent combination of old world glamour, elegant engineering and streetside cafe should lend a touch of Parisian chic to the Merchant City and is a textbook example of how to revitalise historic building stock without compromising contemporary aesthetics. The dramatic rooftop will play an important role in revitalising an increasingly forlorn George Square reinforcing just what a missed opportunity 110 St Vincent St represents.


Stanley St Schoolhouse : Published : 09/04/06
Official site








City Science Park : Published 19/10/06 Faculty of Education and College Business Park should create an urban business quarter for science and technology, fittingly on the same site as Glasgow's medieval University. The Herald and Headline buildings occupy Albion Street whilst G1 is present at the junction of High Street and Ingram Street. The Park will incorporate underground parking, 128 flats, retail, leisure and a new public square served by Crossrail through High Street Station.









CZWG's original plans even accommodated a tram link running through the buildings!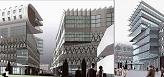 John Smith House : Published 24/04/09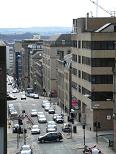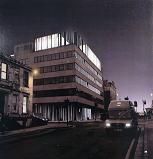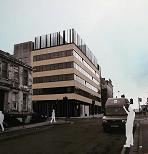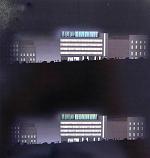 82 Wellington St : Published : 08/11/07 Central Exchange, Shaftesbury House and Apsley House all in close proximity.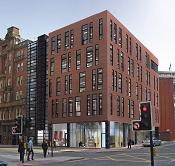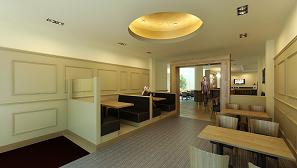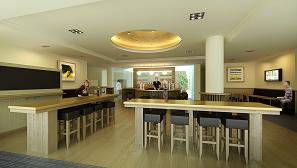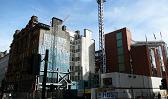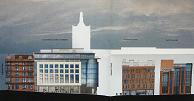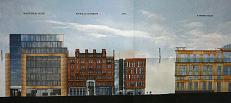 Opinion
Unfortunately financial limitations deny opportunity to maximise full potential of a desireable corner position. Nevertheless a higher specification build should bring the site closer to the prevailing parapet line and a rich palette of fine materials successfully dress a conservative design to produce an elegant piece of infill and brings to happy conclusion a long neglected corner of city.


Westergate : Published 11/01/08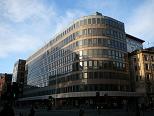 Central Quay & Hotel La Tour : Published : 22/11/06
Official site

Spearheading the next phase of Central Quay development comes the 4* Hotel La Tour. This follows the NHS's merciful decision not to proceed with the horrific office blocks originally penned to the immediate north. Natural stone is not an option on budget grounds leaving a moderately dismal edge of town solution, albeit embarrassingly central. Top floors will nudge the road deck of the Kingston Bridge, blotted by City Wharf in any event. By nightfall pencil spots of light will rise from the riverfront terrace across the face of the building, the terrace concealing flood defence for a basement level accommodating 100 space parking. A sculptural canopy delineates entrance. Daily Record HQ image provided courtesy of Stuart Neville @ Glasgow Pictures, refurbishment proposal put forward by Wylie Shanks Architects.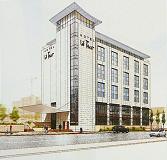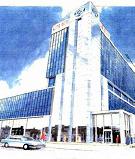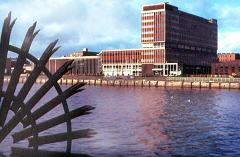 The final phase of Central Quay will entail construction of two office blocks and a hotel built atop landscaped podium with undercroft parking. The first office block will house redeployed and consolidated NHS staff, the 2nd is to be built speculatively with the 4/5 star hotel subject to a further application. Proposed public realm improvements include landscaping of the Clyde walkway, new footbridge across Clydeside Expressway, upgrade to Anderston station and lighting, hard landscaping of the M8. Site adjacent to Cheapside and just south of the Anderston estate regeneration.






A public walkway will run the spine of Central Quay, landscaped with high quality concrete and aggregate stone paving with granite banding while a pavilion area around the hotel will provide cafe facilities.







Opinion
Akeler have set a new low in commercial architecture with a sequence of bottom grade blocks finished to the cheapest standards. The hotel design has not been settled but (predictably) the original oval (the sole point of interest) appears to have been dropped for a cost effective block. The one bright spot is a new linear park connecting Anderston to the river. The designers apparently met with gm+ad for allegedly "constructive" talks on their neighbouring visions, gm+ad/Dandara must have been spitting tacks.


Cornerstone : Published 02/03/08
Official site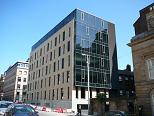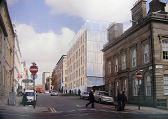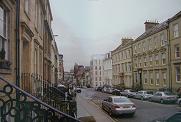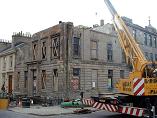 101 St Vincent Street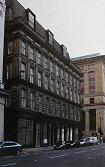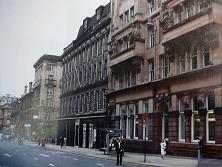 Clifton House : Published 03/04/09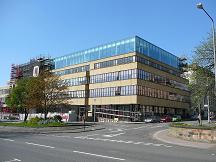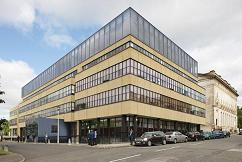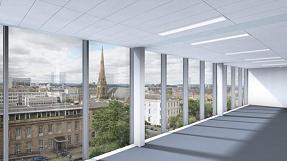 Digital Media Quarter : Published : 05/11/07
Medius
The Hub







Opinion
The original masterplan envisaged buildings occupying linear plots reminiscent of traditional warehousing oriented to allow through views from Pacific Drive to the Science centre. Each block elevated on stilts to mitigate flood risk and provide ground level parking with a finish of translucency, supergraphics and lighting mirroring the creativity of the industry. Unfortunately accountants seem to have won at expense of media enterprises as visions of psychedelic caterpillars crawling out of the Canting Basin are superceded by conventional buildings ill equipped to engage with the creative industries it is hoped to attract. Suburban in ambition and commercial in character, only a dramatic overhang on Aedas's Digital Media Studio stimulates.


Pacific Quay : Published : 05/11/07
Official site Scottish TV and the BBC have both decamped to new premises at Pacific Quay, recently connected to North bank via the Finnieston bridge. It is now proposed to build a landcaped business park with complimentary residential and hotel on vacant ground adjacent to Festival Park and the Science Centre.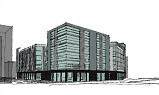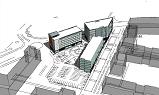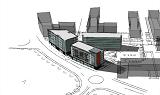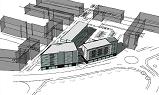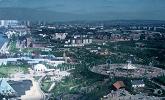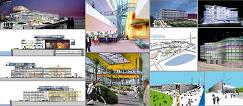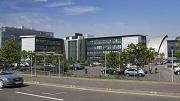 Opinion
Pacific Quay is still largely swamped by the Science Centre's needless surface car park, not helped by BBC cost cutting which saw schemes of greater flair by Mecanoo and Allan Murray excised. The result is a glass box shrouded by access yards, sheds and plant, a background building on a foreground site saved only by an expansive Escher-esque internal break out space.


Maxim
Official site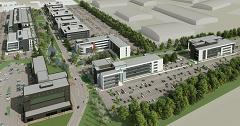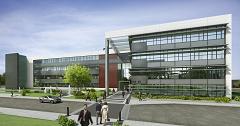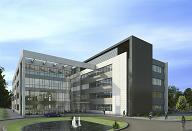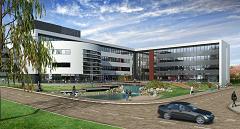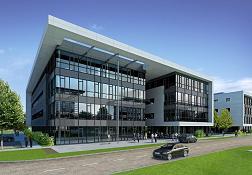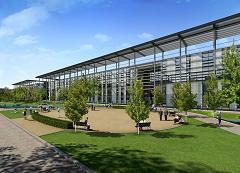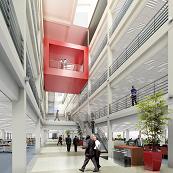 Moda : Published : 06/04/08
Official site




West of Scotland Science Park : Published 27/08/09
Official site